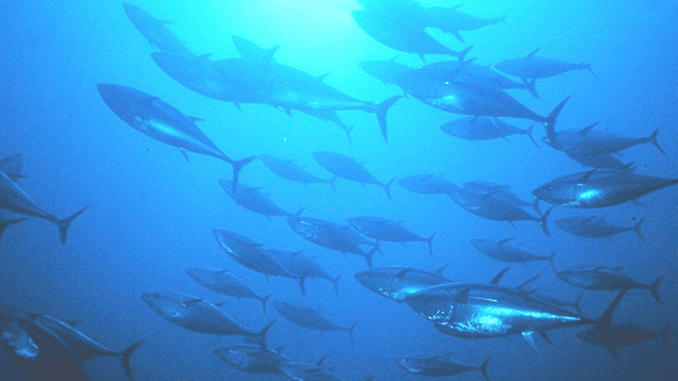 MAJURO, Marshall Islands, October 17, 2021 (ENS) – In an advance for tuna conservation, Walmart, the world's largest retailer, has chosen Pacific Island Tuna, based in the Marshall Islands, to supply sustainably-certified canned skipjack tuna for its in-house brand, Great Value.
Pacific Island Tuna, a partnership between The Nature Conservancy, based in Arlington, Virginia, and the Republic of the Marshall Islands, will soon begin supplying Walmart's store brand canned tuna.
Pacific Island Tuna operates to ensure that Pacific Island countries have direct ownership of their tuna catch from the dock to retailers. As part of the Pacific Island Tuna deal, at least 40 percent of the company's net income distributions will directly support community-based conservation and climate resilience projects, including the development and management of Marine Protected Areas and coral reef restoration.
The other 60 percent of profits will be returned to Pacific Island governments.
Pacific Island Tuna requires best-in-class environmental and labor standards in its supply chain. A prohibition of the use of fish aggregating devices reduces bycatch of juvenile tunas and at-risk species like sharks, rays, and turtles.
Dockside offloading – Pacific Island Tuna's requirement that all fish passes through a port in the Pacific to verify catch volumes – eliminates the possibility of illegal, unreported, and unregulated, IUU, fishing and provides workers on fishing vessels the added safety measure of being able to leave the vessel if necessary.
These standards are validated through Pacific Island Tuna's commitment to 100 percent on-the-water transparency through human observers and electronic monitoring coverage on all fishing vessels.
The Marshall Islands' economy relies on revenue from the tuna industry. Nearly 90 percent of its non-aid income comes from the tuna industry, but this income represents a tiny fraction of the US$26 billion global canned tuna market.
Small Island States Seek to Strengthen Tuna Value Chain
A sparsely populated, low-lying country of coral islands and atolls spread out over 750,000 square miles of ocean between Hawaii and the Philippines, the Marshall Islands is becoming a center for sustainable management of tunas not only for Pacific Island nations, but also ocean-going nations in Africa and the Caribbean.
In July, government and private sector representatives met virtually with development partners in Majuro to review the results of an assessment of the tuna sector in the Marshall Islands and find ways to add tuna fishing value to the Pacific island nation and make its sector more sustainable.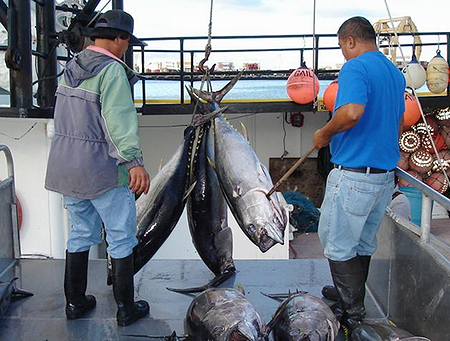 The tuna value chain assessment was conducted by FISH4ACP, a €40 million (US$46.6 million) global initiative in support of fisheries and aquaculture value chains, that spells out Fish For Africa, the Caribbean and the Pacific.
FISH4ACP is an initiative of the Organisation of African, Caribbean and Pacific States aimed at making fisheries and aquaculture value chains in Africa, the Caribbean and the Pacific more sustainable. FISH4ACP is implemented by the UN's Food & Agriculture Organization and partners, with funding from the European Union and the German Federal Ministry for Economic Cooperation and Development.
FISH4ACP investigators based their assessment on focus group discussions with fishermen, fish sellers and workers in containerization and cold storage, interviews with private sector and government stakeholders and an extensive desktop review of report and data sources.
"Tuna accounts for almost all national fisheries production and exports from the Marshall Islands," said Glen Joseph, director of the Marshall Islands Marine Resources Authority, MIMRA, who welcomed the assessment as an important first step towards a stronger national the tuna sector. "It will help us increase the economic and social benefits of tuna for the people of the Marshall Islands," he said.
The assessment shows that Majuro has become the world's leading transshipment port for tuna. An average of 360,000 tonnes of tuna passes through this chain of islands each year, representing nearly one-fifth of all tuna catches in the West and Central Pacific Ocean.
But it also shows that the bulk of this catch comes from offshore industrial fishing while only small amounts are landed on the Marshall Islands for exports in containers.
"This is the first step towards the formulation of our plan to support the Marshallese tuna sector in the coming years," said Gilles van de Walle, manager of FISH4ACP.
"FISH4ACP will work closely with the Marshall Islands Marine Resources Authority to bring added value onshore, while expanding exports to markets such as the European Union," van de Walle said.
To increase containerized exports managers will consider expanding cold storage capacity and establishing a competent authority to access EU markets.
"The European Union supports the ambition of the Marshall Islands to reinforce its tuna sector," said Noa Sainz-Lopez, program manager at the EU Delegation for the Pacific. "With FISH4ACP, we aim to achieve this by ensuring sustainable management of fisheries resources, allowing people to improve their livelihoods while preserving their natural assets."
Climate Change Changes the Equation
Redistribution of key commercial tuna species due to climate change will deliver an economic blow to the small island states of the Western and Central Pacific and threaten the sustainability of the world's largest tuna fishery, a major international study released July 30 has found.
Researchers from institutions and organizations across the Pacific, North America, and Europe conducted the study, including the University of California at Santa Cruz, the University of Wollongong, Conservation International, the Pacific Community, the Pacific Islands Forum Fisheries Agency, and the Parties to the Nauru Agreement Office.
Published in the journal "Nature Sustainability," the study combines climate science, ecological modeling, and economic data to provide a comprehensive analysis of the impact of climate change on Pacific tuna stocks and on the small island states that depend on them.
The 10 island states of the Western and Central Pacific: Cook Islands, Federated States of Micronesia, Kiribati, Marshall Islands, Nauru, Palau, Papua New Guinea, Solomon Islands, Tokelau, and Tuvalu, are so reliant on their tuna fisheries for economic development and food security that they are considered "tuna dependent."
Around half of the world's tuna catch comes from the waters of the Western and Central Pacific, and for those 10 small island states, fishing fees from industrial fishing fleets to gain access to their waters accounts for an average of 37 percent of all government revenue.
The management of most of the islands' tuna fisheries through a cooperative agreement has been a sustainable development success story over several decades, providing reliable revenue for development while preventing the depletion of fish stocks through overfishing.
But as the climate changes, key species like skipjack, yellowfin, and bigeye tuna that are currently found within the waters of Pacific Island states are projected to shift eastward, out of sovereign waters and into the high seas.
"Under a continued high greenhouse gas emissions scenario, as more fish move into the high seas, the total biomass of skipjack, yellowfin, and bigeye tuna in the waters of the 10 Pacific Island states could decline by an average of 13 percent by 2050," said study lead author Johann Bell, the senior director for Pacific Tuna Fisheries at the Conservation International Center for Oceans and a visiting professorial fellow at University of Wollongong's Australian National Centre for Ocean Resources and Security.
The potential implications for Pacific Island economies in 2050 include an average decline in purse-seine catch of 20 percent, a loss in regional tuna-fishing access fees of up to $140 million, and reductions in government revenue of up to 17 percent for individual Pacific Island states.
"The greenhouse gas emissions of these small island states are negligible, and yet they are among the most vulnerable to the impacts of climate change," Bell said.
"Many of the island states have very few opportunities to earn income other than from their tuna resources, which are expected to move from their jurisdictions due to ocean warming," said Bell. "This is a climate justice issue that should be raised at the United Nations Climate Change Conference in Glasgow later this year."
Featured image: A school of tuna swims in the Pacific Ocean. Large scale changes to the climate, biogeochemical processes, ocean currents, and the increased acidification of ocean waters are expected to have profound impacts on marine ecosystems, including fisheries. January 29, 2013 (Photo by Danilo Cedrone courtesy UN Food & Agriculture Organization)
© 2021, News Editor. All rights reserved.