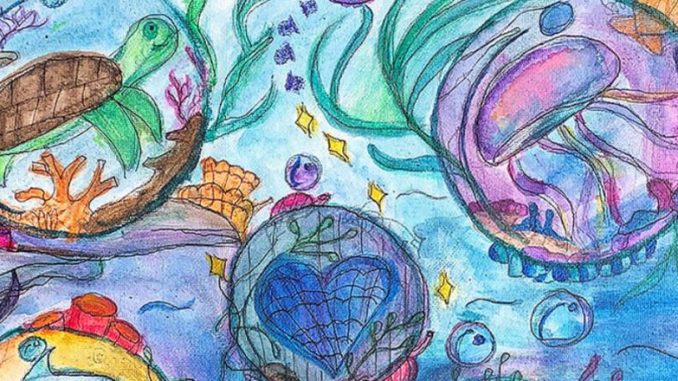 SANTA ANA, California, June 8, 2021 (ENS) – After a year when distance learning became standard in California schools, hundreds of elementary students from across the state have joined virtually to send an artistic message of protection to the oceans, as the high point of the 27th Annual Kids Ocean Day Program.
On June 8, World Oceans Day, the students are gathering through a collective art project that communicates what the ocean means to all of us.
Due to the pandemic, the annual program shifted to live online presentations this year, reaching 4,503 students who learned about watersheds and how they, as individuals, are connected to their watershed and the ocean.
"We are grateful to have found a way to inspire our students to express their love for the ocean and to come together as a community during a time when the pandemic has made it difficult to feel connected," said Dyana Peña, Orange County Coastkeeper's deputy director of programs.
In a typical year, Kids Ocean Day coordinators in five regions up and down the coast would host in-school presentations, which would be followed by a beach cleanup, and culminate with the students forming a work of aerial art to be photographed from above to communicate the need for clean beaches.
This year, instead of a student-led aerial art formation, students who attended an online classroom presentation were encouraged to create an original artwork illustrating what they love about the ocean for submission to the 2021 Kids Ocean Day Art Contest.
"Kids Ocean Day 2021 is different from past years but is still very impactful," said Chris Parry, educator with the California Coastal Commission. "With each student's ocean-themed artwork forming part of a collective art project, together they are making a powerful statement about their shared commitment to care for California's beaches and the Pacific Ocean."
Each art entry is included as an individual image in a giant online mosaic. The statewide first-place winning artwork is the main image of the mosaic. Contest winners and their teachers received gift cards and other prizes.
A total of 13 schools and 1,184 Orange County students participated in a virtual assembly program, and 184 of those students submitted photos to the mosaic project and art contest. Tracy N., a fifth grade student from Garden Grove, won first place and her art will be the main photo for statewide mosaic project.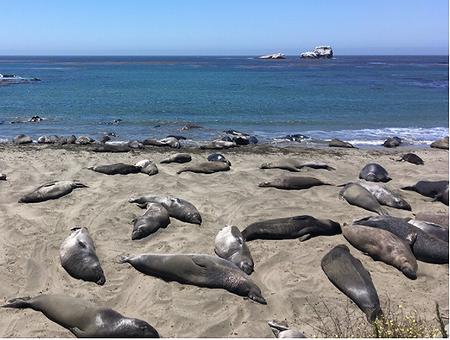 Local Orange County teachers were instrumental in providing the best experiences for their students, even while virtual.
"While we have not been able to gather students for in-person school assemblies or a beach cleanup this year, our mission to educate young people continues," said Michael Klubock, founder of the Malibu Foundation for Environmental Education and the annual Kids Ocean Day event.
"We are thankful we can still get the message out to elementary students online that they have the power to make a positive difference every day in keeping our environment clean," Klubock said.
Organizers for the Kids Ocean Day event include Friends of the Dunes; the Marine Science Institute; the Malibu Foundation for Environmental Education; the City of Los Angeles Department of Public Works and LA Sanitation and Environment, Watershed Protection Program; Orange County Coastkeeper; and I Love A Clean San Diego.
The statewide program is sponsored by the California Coastal Commission and its Whale Tail® Grants Program. The Coastal Commission provides financial support to Kids' Ocean Day efforts statewide with proceeds from the Whale Tail® License Plate and voluntary donations on the state tax return to the Protect Our Coast and Oceans Fund.
"It's natural for us to protect what we love, like our families and our homes," said Jack Ainsworth, executive director of the California Coastal Commission. "These kids are showing the ocean some love and appreciation and encouraging us to follow their lead."
"They understand that our home doesn't end at our doorstep and that we also need to tend to our wider home – the environment where we all live," Ainsworth said, "since we depend on the ocean being healthy, and the ocean depends on us to keep it that way."
Check out the 2021 Kid's Ocean Day Picture Mosaic and animation video here.
Art pieces from statewide art winners and finalists are online at: www.oceanday.net
Featured image: A portion of the first place winning artwork in the 2021 Kid's Ocean Day event by Tracy N., a fifth grade student in Garden Grove, Orange County, California. 2021 (Photo courtesy California Coastal Commission)