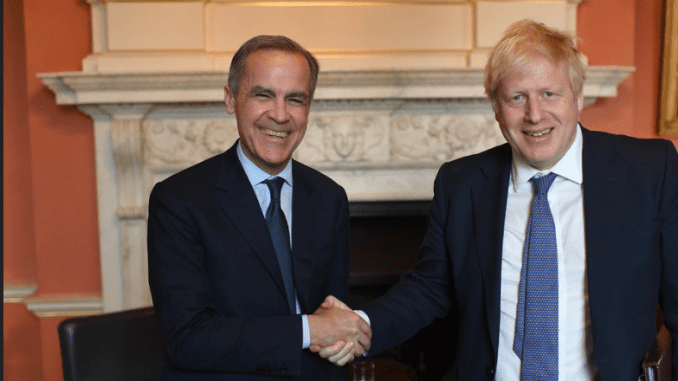 OTTAWA, Ontario, Canada, October 25, 2021 (ENS) – Canada's largest banks are jointly taking action to limit global warming. As part of a worldwide, industry-led initiative to accelerate and support efforts to address climate change, the Big Six – the Bank of Montreal, the Canadian Imperial Bank of Commerce, the National Bank of Canada, the Royal Bank of Canada, Scotiabank and Toronto Dominion – are responding to climate change by joining the United Nations Net-Zero Banking Alliance, NZBA.
Reaching net zero means achieving an overall balance between the greenhouse gases such as carbon dioxide (CO2) emitted and emissions removed from the atmosphere. The Canadian banks say that they will help clients "develop and implement their own transitions to a low-carbon economy, recognizing the complex and interdependent efforts of many stakeholders across the economy."
First convened in April, the Net-Zero Banking Alliance is led by Canadian economist Mark Carney, a former Bank of Canada and Bank of England Governor. "A transformation of the financial system to ensure a prosperous and just transition to net-zero is needed," said Carney, who now also serves as the UN Special Envoy on Climate Action and Finance, and chairs the Glasgow Financial Alliance for Net Zero, GFANZ.
"Canadian banks, by joining Net-Zero Banking Alliance and GFANZ are bringing their deep expertise and strong balance sheets to drive solutions for the sustainable economy that Canada and the world needs," Carney said.
GFANZ is broad in its reach; it gathers net-zero initiatives from across the financial system to accelerate the transition to net-zero emissions by 2050 at the latest.
And the Canadian banks are not alone in their net-zero direction. The Net-Zero Banking Alliance links 43 of the world's leading banks, and it is hosted by the UN Environment Programme Finance Initiative and co-launched by the Financial Services Taskforce of the Prince of Wales' Sustainable Markets Initiative.
Members of both alliances, NZBA and GFANZ, include major asset owners and managers as well as banks with the power to mobilize trillions of dollars behind the transition to net zero.
Over 160 firms with US$70 trillion in assets have joined forces behind a common objective – steer the global economy towards net-zero emissions and deliver the Paris Agreement goals. The primary goal of the accord is to limit the rise in planetary temperature to 1.5°C, or at most 2°C, above pre-industrial levels.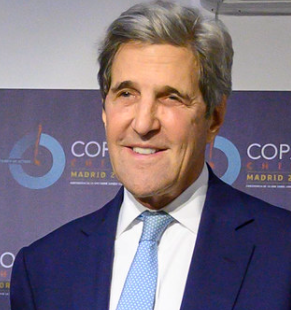 U.S. Special Presidential Envoy for Climate John Kerry said, "The largest financial players in the world recognize energy transition represents a vast commercial opportunity as well as a planetary imperative."
"As countries around the world move to decarbonize, the large sums these institutions are dedicating to climate finance also reflect a growing understanding of how critical a low-carbon global economy is to their business models, said Kerry, a former U.S. secretary of state.
"Ultimately," Kerry said, "their commitment of capital and assets, as well as adherence to high standards and reporting, will accelerate the transition to this new economy, create a massive number of new jobs, and increase our collective ability to tackle the climate crisis."
All Alliance members will set science-aligned interim and long-term goals to reach net zero no later than 2050 in line with the criteria of the UN's Race to Zero campaign.
UK Prime Minister Boris Johnson, said, "Uniting the world's banks and financial institutions behind the global transition to net zero is crucial to unlocking the finance we need to get there – from backing pioneering firms and new technologies to building resilient economies around the world."
"The Glasgow Financial Alliance for Net Zero will lead this charge ahead of COP26 to scale up our ambition, accelerate our shift and help us to build back greener together," Prime Minister Johnson said.
"This is the breakthrough in mainstreaming climate finance the world needs," said Carney, who is serving as Prime Minister Johnson's Climate Finance Advisor for COP26, the UN climate conference that opens in Glasgow on October 31.
"I welcome the leadership of the Financial Services Task Force and other global banks for their new commitments to net zero and for joining forces with GFANZ, the gold standard for net zero commitments in the financial sector," Carney said. "Most fundamentally, GFANZ will act as the strategic forum to ensure the financial system works together to broaden, deepen, and accelerate the transition to a net zero economy."
Featured image: Britain's Prime Minister Boris Johnson, right, meets with Canadian banker Mark Carney at No.10 Downing Street, to discuss his new position with COP26. January 16, 2020. London, United Kingdom (Photo by Andrew Parsons courtesy No10 Downing Street)