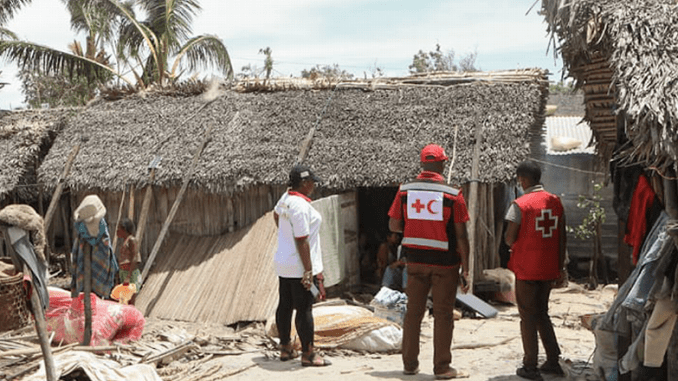 ANTANANARIVO, Madagascar, February 27, 2022 (ENS) – Cyclone Batsirai smashed into the east coast of Madagascar on February 5, destroying many buildings and disrupting power and communication services to the island nation lying close to southern Africa's east coast. The storm killed at least 123 people, and left some 140,000 others in urgent need of assistance.
Then, late in the evening of February 22, Madagascar's east coast took another hit from another cyclone. Tropical Cyclone Emnati brought heavy rainfall, strong winds, and storm surge to central-southern Madagascar.
As a result of Emnati, the Madagascar's National Office for Risk and Disaster Management, BNGRC, counted 51,308 disaster victims and 45,196 displaced persons in 12 regions of the island's South and Southeast. No death has been reported from Emnati, but the cyclone devastated thousands of houses and fields.
And these disasters befell Madagascar just days after Tropical Storm Ana in January killed 115 people and displaced 130,000 others from their homes.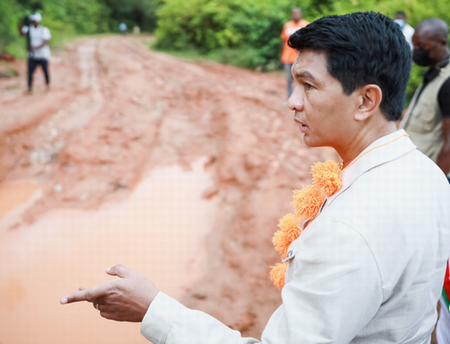 All of this suffering brought President Andry Rajoelina out to the towns affected by the storms to inspect the destruction.
"It is time to rebuild the damage left by cyclones Batsirai and Emnati over the past three weeks in the south-east of the country," President Rajoelina said Saturday as he viewed the smashing that two cyclones in 10 days inflicted on the town of Marolambo with a delegation of technical and financial partners such as the UN World Food Programme.
The largest town on the Nosivolo River, Marolambo, population 26,000, was a prosperous local center for commerce, education, and health, with a public and private high school, public and private hospital, and a few merchants. But it was 85 percent destroyed this month after being hit by two tropical cyclones in a row – Batsirai and Emnati,
Farafangana, a town of 34,600 in the Atsimo Atsinanana region, also suffered much damage.
In the commune of Sahakevo, the impact of this month's cyclones on schools and roads was evident. The World Food Programme chartered a helicopter to help the victims there, bringing in the materials necessary for the rehabilitation of Sahakevo's destroyed infrastructure.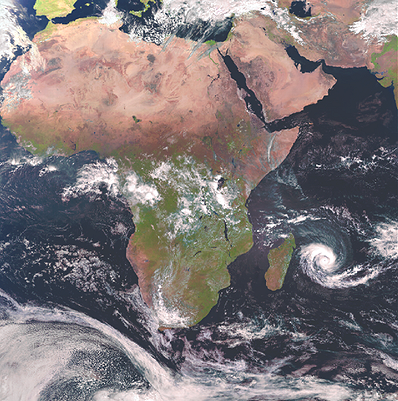 Alina Atemnkeng, who leads the Red Cross and Red Crescent response to the Cyclones Batsirai and Emnati, is already thinking ahead to prepare for the future.
"As we respond, we need to think short-term and long-term at the same time: more cyclones will come, and we need to ensure that communities are adequately protected from the inevitable, subsequent storms," Atemnkeng said.
"Given the overall challenges caused by climate change, we reiterate our call to governments, regional intergovernmental bodies and our partners to strengthen their investments in disaster risk reduction, with a particular focus on preparedness actions," she said.
Madagascar is one of the 10 countries most vulnerable to disasters worldwide and faces compounding hazards. While the eastern parts of the island nation are battling cyclones, the southern parts are experiencing severe drought leaving at least 1.3 million people in need of food assistance.
UN World Food Programme Executive Director David Beasley is urging the world to step-up and take action after bearing witness to the invisible crisis enveloping Southern Madagascar, where whole communities are teetering on the edge of starvation.
"I met women and children who were holding on for dear life, they'd walked for hours to get to our food distribution points. These were the ones who were healthy enough to make it," said Beasley from a nutrition center in the region.
"There have been back-to-back droughts in Madagascar which have pushed communities right to the very edge of starvation. Families are suffering and people are already dying from severe hunger. This is not because of war or conflict, this is because of climate change. This is an area of the world that has contributed nothing to climate change, but now, they're the ones paying the highest price.''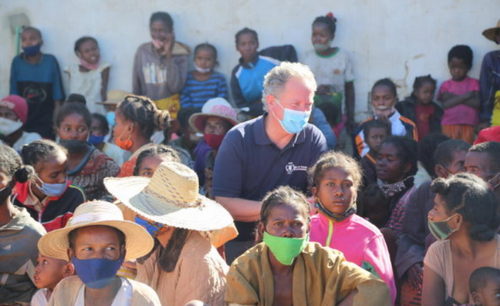 Southern Madagascar is experiencing its worst drought in four decades with more than 1.14 million people food insecure. Of those, an estimated 14,000 people are already in catastrophic conditions and this will double to 28,000 by October.
The gravity of the situation has forced thousands of people to leave their homes in search of food while those remaining have resorted to extreme coping measures for survival, like foraging for wild food.
Due to the remote location of the communities and weak road infrastructure, few people have been able to access the area – a life-threatening scenario for many children.
"This is enough to bring even the most hardened humanitarian to tears," said Beasley. "Families have been living on raw red cactus fruits, wild leaves and locusts for months now. We can't turn our backs on the people living here while the drought threatens thousands of innocent lives. Now is the time to stand up, act and keep supporting the Malagasy government to hold back the tide of climate change and save lives.''
WFP has been working closely with the Malagasy government and other partners since late last year to address severe hunger. However, as the crisis deepens those efforts must be intensified. Last week Beasley met with the Prime Minister and senior officials to identify immediate and long-term solutions to this crisis.
Beasley said, "The World Food Programme needs US$78.6 million dollars to provide lifesaving food in the next lean season in order to stop a preventable tragedy from unfolding before our eyes."
Chikondi Chabvuta, the advocacy advisor for the nonprofit humanitarian organization CARE's Southern Africa region, said, "The increased frequency of cyclones in Madagascar is causing a lot of fear in an already traumatized community, as the memory of past natural disasters is not only visible but also persistent. People are losing their lives and livelihoods due to climate change and its impacts. Entire communities become vulnerable to these shocks."
"In a country where poverty is extremely high and inequality deep, climate change intensifies the impact of these emergencies on the community," Chabvuta explained. "The Malagasy people need the world to do better; this world belongs to all of us. When cyclones pass, the rains and flooding that follow cause tremendous loss and damage."
Featured image: The French Red Cross is mobilizing and launching an appeal for donations to help the hard-hit population of Madagascar, a former French colony. Donations will support the Malagasy Red Cross and the International Federation of Red Cross and Red Crescent. (Photo courtesy IFRC)
© 2022, News Editor. All rights reserved.