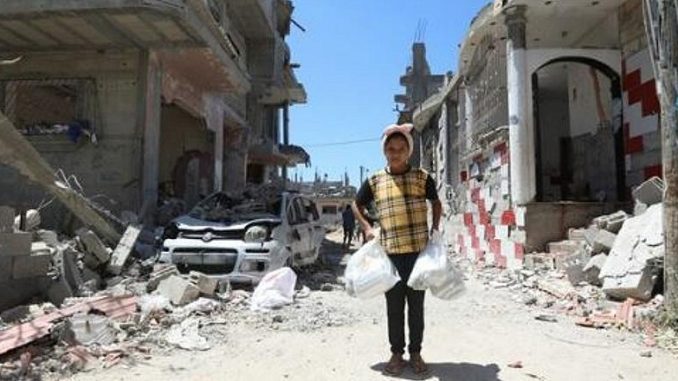 GAZA CITY, May 28, 2021 (ENS) – During the past week, close to 100,000 people were displaced in Gaza due to escalating violence and airstrikes between Israel and Hamas and many are now hungry. At least 2,800 families have lost their homes completely and many more are dealing with power and water outages, making it difficult to access food.
The recent destruction compounds Gaza's longstanding humanitarian crisis due to chronic food insecurity and the added toll of the COVID-19 pandemic.
To prepare thousands of fresh, nourishing meals for people displaced or unable to access food in Gaza, the World Central Kitchen, WCK, is partnering with the American Near East Refugee Aid organization Anera, an American nonprofit that provides humanitarian and development aid to the West Bank, the Gaza Strip, Lebanon and Jordan.
Together, they are working with the Cooperative Society for Savings and Lending, a women's cooperative and vocational training center, to deliver the meals.
Beginning with a kitchen in Beit Hanoun in North Gaza, about 50 women are preparing the meals at five kitchens with produce coming from 25 local farmers.
Meal production started on Saturday, May 22, the day after the ceasefire between Hamas and Israel was announced for Friday at 2am local time.
On the first day of meal delivery, the local team prepared fresh chicken, rice, salad, and fruit. "In the coming days," said WCK, "we will be expanding our efforts to reach more families with nutritious, comforting meals. Our teams will also activate local restaurants in Gaza as needed, paying them to help prepare meals for impacted communities."
World Central Kitchen, a non-profit devoted to providing meals in the wake of natural disasters, was founded by Spanish-American chef and restaurateur Jose Andrés in 2010. "Wherever there is a fight so that hungry people may eat, we will be there," is the group's motto.
In response to the surge of COVID-19 cases across India, WCK has been preparing meals for healthcare staff working under incredibly difficult conditions. In early May, as India saw more than 400,000 infections a day, the WCK Relief Team joined Chef Sanjeev Kapoor to begin cooking in Mumbai.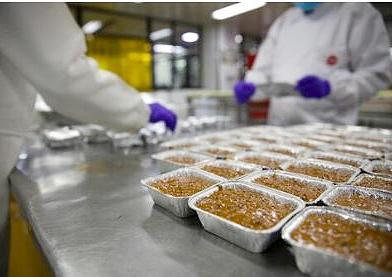 In partnership with chefs across India, the World Central Kitchen effort expanded to Ahmedabad and Delhi, and is now active in 10 cities across India, including Kolkata, Gurgaon, Hyderabad, and Bengaluru. WCK teams are serving 20,000 fresh meals daily to frontline hospital workers and to COVID quarantine centers.
"The frontline workers at hospitals are in an environment where the viral load is very high so we have to provide what is good for their health. The freshness of the food and vegetables are really important," Chef Kapoor said. "Things rich in vitamin D, zinc, vitamin C are really important. We make sure there is fruit and use seasonal vegetables."
"As chefs, we want to bring diligence, thought, and intelligence to the menu. We have to have local sensitivities in mind," he said.
In addition, to support India's urgent and immediate relief needs and help to build resilience, a Community Relief Center in India is being created as part of World Central Kitchen's ongoing philanthropic partnership with Prince Harry and his wife Meghan, the Duke and Duchess of Sussex, through their nonprofit Archewell Foundation.
This new relief center will be established in Mumbai, which is also home to Myna Mahila, an Indian NGO focused on women's health and employment opportunities, which The Duchess of Sussex has supported for many years.
Featured image: A child in Gaza City carries food from the World Central Kitchen to other hungry residents through the rubble of former homes destroyed by bombing earlier in May. (Photo courtesy World Central Kitchen)
© 2021, News Editor. All rights reserved.