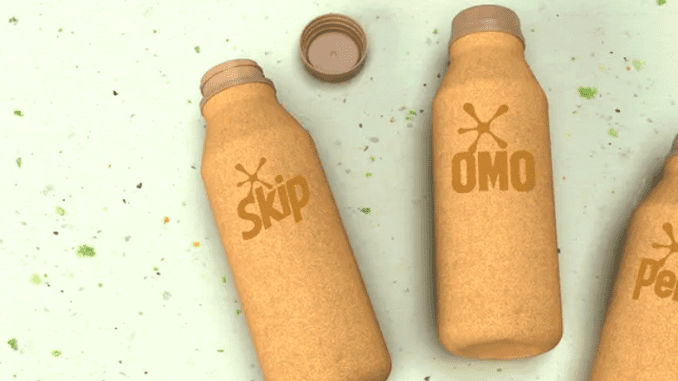 LONDON, UK, December 15, 2021 (ENS) – The British multinational consumer goods company Unilever is using a new technology to create the first paper-based laundry detergent bottle made of sustainably sourced pulp and designed to be recycled in standard paper waste streams. The company says it is determined to reduce the avalanche of plastic inundating landfills and polluting the oceans.
"Despite challenging conditions, we must not turn our backs on plastic pollution. It is vital for us, and for the rest of the industry, to stay the course, cut the amount of plastic we use and rapidly transition to a circular economy," Unilever CEO Alan Jope said.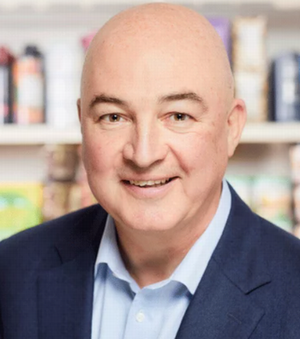 The new paper bottle technology has been developed in partnership with the Pulpex consortium, a new packaging technology company based on a collaboration between Unilever, Diageo, Pilot Lite and other industry members.
Soon, says Pulpex on its website, its paper bottles will be cheaper than most glass bottles, capable of taking carbonated products, and also capable of taking hot-fill products.
The bottles are sprayed inside with a proprietary coating that repels water, enabling the material to hold liquid products like laundry detergent, shampoo and conditioners which contain surfactants, fragrances and other active ingredients.
While creating recyclable, paper-based packaging without additional plastic layers is a challenge, the Pulpex solution offers a promising way to reduce plastic use in line with the company's commitments to a waste-free world.
"To tackle plastic waste, we need to completely rethink how we design and package products," says Richard Slater, Unilever's Chief R&D Officer. "This requires a drastic change that can only be achieved through industry-wide collaboration. Pulpex paper bottle technology is an exciting step in the right direction, and we are delighted to be working together to trial this innovation for our products."
The company plans to debut the paper-based bottles in Brazil by early 2022 for its OMO detergent brand, also known as Persil, Skip or Breeze depending on where you live in the world. The company is also working with the technology to create paper-based hair care bottles.
Less Plastic, Better Plastic, No Plastic
The new bottles are part of Unilever's policy of "reducing the amount of packaging needed for our products while closing the loop on plastic."
In the UK today, bottles holding Unilever brands use 20 percent less plastic and 70 percent less plastic in the company's tubs than before the new policy took effect. The company is also committed to using 100 percent recycled plastic in its packaging.
By 2025, Unilever has committed to:
– Halve its use of virgin plastic, by reducing its absolute use of plastic packaging by more than 100,000 tonnes.
– Help collect and process more plastic packaging than it sells.
– Ensure that 100 percent of its plastic packaging is designed to be fully reusable, recyclable or compostable.
– Increase the use of post-consumer recycled plastic material in its packaging to at least 25 percent.
The company says that's why it has adopted a "less plastic, better plastic and no plastic approach."
Less plastic is about cutting down how much is used in the first place. The company give thes example of OMO Concentrate, Unilever's first dilute-at-home laundry detergent. The six-times concentrate is designed to be poured into a standard 3-liter OMO bottle to dilute with water at home. The concentrated bottle contains 72 percent less plastic and 50 percent Post-Consumer Recycled plastic. It's not only good for the environment, it's also better value for the consumer, saving 20-25 percent per wash compared to the standard OMO offering.
Better plastic is about making products recyclable, increasing recycled content, and eliminating problematic materials. Examples include Dove's move to 100 percent recycled bottles across Europe and North America, Hellmann's switching to 100 percent recycled bottles and jars in the United States and Europe, and plans to convert Unilever's entire toothpaste portfolio to recyclable tubes by 2025.
No plastic is about thinking differently, the company says, using alternative materials such as aluminium, glass, paper and board where possible and removing plastic where it is not necessary. Seventh Generation has launched a zero-plastic range, while PG Tips is removing the plastic film from boxes in 2021, having already launched fully biodegradable teabags.
In Chile, Unilever has partnered with Algramo to deliver a refill model directly to consumers at home, and in the UK the company recently launched its biggest refill trial to date in Europe, in partnership with retailer Asda and sustainability experts Beauty Kitchen.
The ability to package liquid products in paper-based bottles will be a huge achievement, but before they hit the shelves, Unilever says its packaging scientists will run a range of tests to see how the new bottles perform in real-life situations, from transportation to storage in damp environments. The bottles will be tested for durability, user experience and reduction of environmental impact.
Consumers are becoming increasingly aware of the impact of products on the planet and are making purchasing choices based on sustainability factors, including packaging. The company says that, "Delivering functionally superior products that address environmental issues that people care about – such as innovative sustainable packaging – will make Unilever a stronger, more successful business."
With more than 400 household name brands, Unilever products are available in over 190 countries, and the company says 2.5 billion people use its products daily.
Working with a 25 million retailers, Unilever turnover in 2020 was €51 billion (a little over US$57 billion).
The company has been the target of environmental activists for its utilization of palm oil and single use plastic.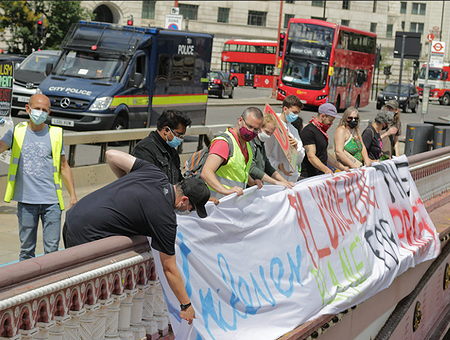 In July 2020, Earth Strike UK, a grassroots movement for workers, youth, and community organizers challenging the root causes of the climate crisis, demonstrated against Unilever, saying, "The majority of Unilever products are packaged in single-use plastic. Unilever's annual plastic packaging footprint is over 700,000 tonnes. Unilever is the largest plastic polluter in the Philippines, which bears a disproportionate amount of environmental and water degradation from being used as a dumping ground by large multinationals."
In response to public pressure, the company appears to have embarked on a new path – environmental sustainability.
In June 2020, Unilever pledged to achieve Net Zero emissions from all its products by 2039. "We will also empower, and work with, a new generation of farmers and smallholders, driving programmes to protect and restore forests, soil and biodiversity; and we will work with governments and other organisations to improve access to water for communities in water-stressed areas," the company said in a statement.
To accelerate action, Unilever's brands will collectively invest €1 billion in a dedicated Climate & Nature Fund. The company said, "This will be used through 2030 to take meaningful and decisive action, with projects likely to include landscape restoration, reforestation, carbon sequestration, wildlife protection and water preservation."
Featured image: Paper bottles lined with a water-repellent coating will replace plastic OMO, Skip and Breeze laundry detergent containers beginning next year in Brazil. (Photo courtesy Unilever)
© 2021, News Editor. All rights reserved.