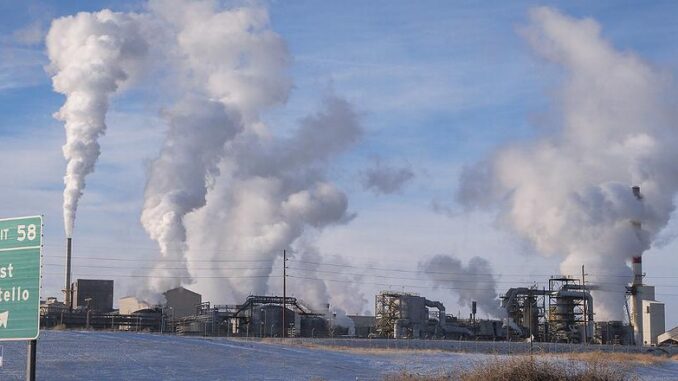 BOISE, Idaho, July 13, 2023 (ENS) – J.R. Simplot Company, a fertilizer manufacturer based in Boise, has reached a settlement agreement with the U.S. Justice Department and the Environmental Protection Agency involving Simplot's Don Plant facility located near Pocatello, Idaho.
The settlement agreement resolves federal government allegations that Simplot failed to properly identify and manage certain waste streams as hazardous wastes.
The settlement requires Simplot to implement process modifications to enable greater recovery and reuse of phosphate, a valuable resource.
Simplot will also pay a civil penalty of $1.5 million.
The settlement requires Simplot to ensure that financial resources will be available when the time comes for environmentally sound closure of the facility. The settlement requires Simplot to immediately secure and maintain $108 million in dedicated financing to ensure that funding will be available when the facility is eventually closed.
Josh Jordan, associate director of global communications and public relations at J.R. Simplot, told the Minnesota media outlet DTN that the company was pleased to reach the settlement.
"This more than 500-page settlement, which took over 15 years to achieve, provides for additional recovery of phosphate in our production process and other environmental protection measures associated with the handling of our ore processing materials and wastes," Jordan said in a statement to DTN.
This is not the first settlement agreement Simplot has made with the federal government.
"After our 2020 settlement with Simplot's phosphoric acid and fertilizer plant in Wyoming, we are pleased to reach this settlement with Simplot's other major phosphoric acid and fertilizer operation at the Don Plant in Pocatello, Idaho," said Assistant Attorney General Todd Kim who works in the Justice Department's Environment and Natural Resources Division.
"This proposed consent decree will comprehensively address the waste management, air emissions and reporting issues EPA identified with respect to the Don Plant's operations," Kim said.
Simplot's Don Plant facility manufactures phosphate products for agriculture and industry, including phosphoric acid and phosphate fertilizer, through processes that generate large quantities of acidic wastewater and a solid material called phosphogypsum.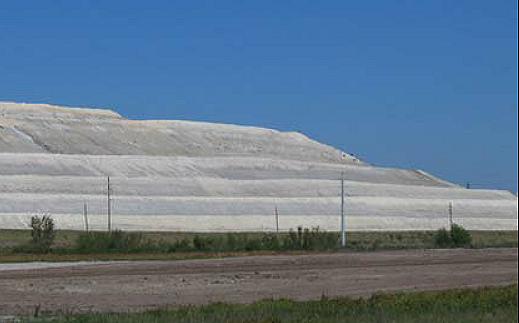 The phosphogypsum is deposited in a large pile known as a gypstack, and acidic wastewater is discharged to the gypstack. Simplot's Pocatello gypstack, which has a capacity to hold several billion gallons of acidic wastewater, was fully lined in 2017 in accordance with a previous consent order Simplot entered into with the State of Idaho and the United States.
"This is an important settlement which reduces the environmental impacts from one of the leading fertilizer manufacturers," said Acting Assistant Administrator Larry Starfield of the EPA Office of Enforcement and Compliance Assurance.
"This settlement advances EPA's goals by creating environmentally beneficial waste management practices and ensures that the U.S. taxpayer will not be responsible for future costs associated with closure of this facility," Starfield explained.
Additionally, this settlement ensures that any future expansion of Simplot's operations will be conducted according to strict requirements to minimize impacts to surrounding communities, including the Fort Hall Indian Reservation, he said.
The settlement also resolves alleged violations of the Clean Air Act that relate to fluoride emissions from the facility, and of the Comprehensive Environmental Response, Compensation, and Liability Act (CERCLA) and the Emergency Planning and Community Right-to-Know Act (EPCRA) that relate to reporting and notification requirements for hazardous substances and toxic chemicals.
Under the settlement, Simplot agrees to implement specific waste management measures it has valued at nearly $150 million. These measures include extensive new efforts to recover and reuse the phosphate content within these wastes and avoid their disposal in the gypstack.
Simplot will implement requirements that ensure gypstack stability and containment that will protect the environment even should climate change result in more severe weather events. The settlement also includes a detailed plan setting the terms for the future closure and long-term care of the gypstack.
Simplot also agrees to cease operation of the facility's cooling towers no later than June 27, 2026, and replace them with one or more newly constructed cooling ponds, which will reduce fluoride emissions to the air.
Additionally, Simplot agrees to submit revised Toxic Release Inventory forms for the years 2004-2013 that include estimates of certain metal compounds manufactured, processed or otherwise used at the facility.
In addition to paying the $1.5 million civil penalty, Simplot is providing $200,000 in funding for environmental mitigation work that will be administered by the Idaho Department of Environmental Quality in conjunction with the City of Pocatello and the Shoshone-Bannock Tribes.
The mitigation work will address habitat degradation on the Portneuf River that has resulted in part from excess phosphorus releases, especially from the facility's formerly unlined gypstack.
U.S. Attorney Josh Hurwit for the District of Idaho said, "We are grateful that our state partner, the Idaho Department of Environmental Quality, helped formulate and will oversee work that Simplot will fund to mitigate the impacts of its phosphate operations on water quality and the environment along the Portneuf River, working in cooperation with both the Shoshone-Bannock Tribes and the City of Pocatello."
EPA previously required extensive injunctive relief through judicial and administrative settlements at 14 phosphate fertilizer facilities across the United States. It has required the companies to establish financial assurance and bring their operations into compliance with RCRA.
A consent decree formalizing the Simplot settlement was lodged July 11 in the U.S. District Court for Idaho and is subject to a 30-day public comment period and approval by the federal court. For a copy of the consent decree, click here.
Featured image: J.R. Simplot Company's fertilizer manufacturing plant near Pocatello, Idaho. January 9, 2019. (Photo by Charles Peterson)
© 2023, News Editor. All rights reserved.