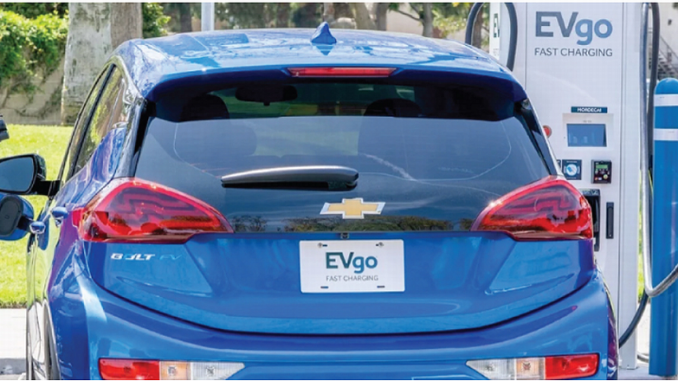 WASHINGTON, DC, December 20, 2021 (ENS) – The strongest vehicle greenhouse gas emissions standards ever established for the U.S. light-duty vehicle sector were set today by the U.S. Environmental Protection Agency for vehicles sold in model years 2023-2026.
The EPA said it expects today's final standards to result in average fuel economy label values of 40 miles per gallon, while the Trump-era standards they replace, the SAFE rule standards issued in March 2020, would have achieved only 32 mpg in MY2026.
"The final rule for light duty vehicles reflects core principles of this administration: We followed the science, we listened to stakeholders, and we are setting robust and rigorous standards that will aggressively reduce the pollution that is harming people and our planet – and save families money at the same time," said EPA Administrator Michael Regan, announcing the new standards.
"At EPA, our priority is to protect public health, especially in overburdened communities, while responding to the President's ambitious climate agenda," Regan said. "Today we take a giant step forward in delivering on those goals, while paving the way toward an all-electric, zero-emissions transportation future."
The final standards issued today leverage advances in clean car technology to unlock $190 billion in net benefits to Americans, including reducing climate pollution, improving public health, and saving drivers money at the pump, the EPA said in a statement today.
Showing that it has been listening to public comments, EPA strengthened the model year 2026 standard by an additional 10 grams per mile, or six percent, relative to the agency's August 10 proposal.
The new standards are "based on sound science and grounded in a rigorous assessment of current and future technologies," EPA asserted, predicting, "The updated standards will result in avoiding more than three billion tons of GHG emissions through 2050."
John Bozzella, president and CEO of the Alliance for Automotive Innovation, which represents the manufacturers of roughly 99 percent of new cars and light trucks sold in the United States, said the auto industry is investing $330 billion in electrification by 2025. "While the challenge before us is great, we are committed to achieving a cleaner, safer, and smarter future," he said.
Calling the EPA's final rule for greenhouse gas emissions is even more aggressive than originally proposed, Bozzella said it would require an increase in light-duty electric vehicle sales that will be way above the four percent of sales that electric cars and trucks attract today.
"Achieving the goals of this final rule will undoubtedly require enactment of supportive governmental policies," predicted Bozzella, "including consumer incentives, substantial infrastructure growth, fleet requirements, and support for U.S. manufacturing and supply chain development."
"Collaboration between industries across the economy and government will be essential to achieving our shared goals for a cleaner transportation future that benefits all communities and enhances U.S. economic competitiveness," Bozzella said.
Some experts predict that in 2025, drivers will have 130 EV models available in the U.S. to choose from, more than double the 50+ models available today.
Jeff Alson, former senior engineer and policy advisor with the EPA Office of Transportation and Air Quality is a member of the Environmental Protection Network, EPN. More than 550 former EPA officials are members of the network, which states its commitment to "protecting the integrity of the agency, safeguarding the environment and public health, combating climate change and advancing environmental justice."
Alson supports the new standards and the process that generated them. "I commend the Biden administration and EPA Administrator Michael Regan for allowing EPA staff to once again use its world-class scientific and technical expertise to protect public health and the planet."
"Given that transportation is the leading source of climate pollution," he said, "EPA's new car greenhouse gas standards for model years 2023 through 2026 represent an important first step to address the climate crisis and protect the health and future of Americans.
EPA must now immediately turn its attention to the critical challenge of developing multi-pollutant emissions standards for 2027 and later that will drive US car sales to near-100-percent zero emissions by the early 2030s in order to meet national climate and air quality goals, and provide a level playing field for those automakers who want to be leaders in the emerging global electric vehicle market.
"The uncertainty around the Build Back Better legislation means that strong rulemaking for 2027 and beyond is both more challenging and more critical," Alson said.
Another member of the network of former EPA officials is Mustafa Santiago Ali, PhD. Now serving as vice president for environmental justice with the National Wildlife Federation, Dr. Ali is a former assistant associate administrator, EPA Office of Environmental Justice.
"Over 100,000 people die prematurely from air pollution every year in America and because of failed policies riddled with racism and biases, Black, Brown and lower wealth children are constantly bombarded with polluted air from the tailpipes of cars and trucks that is slowly asphyxiating them one toxic breath at a time," he said today.
"Those same emissions are playing a significant role in warming our planet and driving the climate crisis, which hits environmental justice communities first and worst, over and over again," Ali said.
He sees the tougher standards as "critical" and hopes they can lead to long-overdue systemic change in the form of "ending of the sacrifice zones that have damaged vulnerable and lower wealth communities for decades."
"Now is the time to do better and provide our next generation with a cleaner and brighter future," he says, quoting his grandmother, who says, "when you know better, do better."
"Now is our opportunity to act," Ali said, "to save lives, save our planet, and create new jobs."
Dan Lashof, director of the nonprofit World Resources Institute, WRI, said, "Today the Biden administration made history by setting the strongest national vehicle emissions standards the United States has ever seen. Responding to formal comments from WRI and many others, the final rule is significantly stronger than the proposal made last August, reflecting the dynamic growth of the electric vehicle market as battery prices fall."
"The American people are the real winners as the new rules will reduce air pollution that harms public health and contributes to climate change, while also saving consumers money at the pump, creating good-paying American jobs and accelerating vehicle electrification across the country," said Lashof.
"Transportation is the number one source of greenhouse gas emissions in the U.S. and rapid progress toward a 100 percent zero emissions vehicle future is needed to achieve the nation's 2030 emissions target and address the climate crisis," Lashof said.
"While further action must be taken by Congress and the administration to reduce transportation emissions and ensure that the benefits of electric vehicles and clean transportation are accessible to all Americans, the new rules steer the country toward a cleaner, healthier and more prosperous future."
The EPA is planning to initiate a separate rulemaking to establish multi-pollutant emission standards under the Clean Air Act for MY 2027 and later that will speed the transition of the light-duty vehicle fleet toward a zero-emissions future consistent with President Joe Biden's Executive Order 14037 of August 5, 2021, "Strengthening American Leadership in Clean Cars and Trucks." https://www.federalregister.gov/documents/2021/08/10/2021-17121/strengthening-american-leadership-in-clean-cars-and-trucks
This executive order sets the goal that half of all new passenger cars and light trucks sold in 2030 be zero-emission vehicles.
Featured image: An electric Chevrolet Bolt gets a charge at an EVgo fast-charging station. 2019 (Image courtesy EVgo)
© 2021, News Editor. All rights reserved.