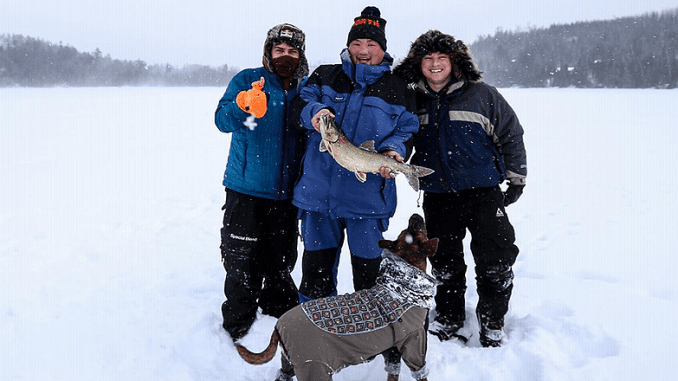 ST. PAUL, Minnesota, February 7, 2022 (ENS) – "From shorter winter ice seasons to shifting fish populations, climate change is transforming Minnesota lakes as we know them," the Minnesota Pollution Control Agency is warning.
These changes are becoming more and more noticeable, particularly for Minnesotans who enjoy winter sports like ice fishing or pond skating, the agency said January 27.
Over the last 50 years, lakes across the state have lost an average of 10-14 days of ice coverage.
For instance, Medicine Lake in Plymouth is a popular destination for Twin Cities ice anglers and outdoor enthusiasts who enjoy sports like kick-sledding and snowshoeing on lake ice. Over the last 50 years, Medicine Lake has lost roughly 12 days of winter ice coverage.
For Nick Sacco, a recreation program specialist with the Three Rivers Park District, the shifting winter conditions require flexibility in case there is not enough ice or snow coverage for winter activities on Medicine Lake and others in the district.
"We are absolutely adjusting our programming to meet the un-predictableness of our winters," said Sacco. "Twenty or 30 years ago, I don't think outdoor educators and recreation guides always had to make back-up plans. We just had winter. That has changed greatly, especially over the past 10 years."
For locals of the Mankato region, Lake Washington is the perfect place to catch crappies, bass, northern pike, and walleye. It's also a popular residential lake, with about 450 homes, most occupied by full-time residents. Over the last 50 years, Lake Washington has lost nearly 14 days of winter ice coverage.
Homeowner Jim Folden has lived on Lake Washington for nearly 15 years and has long-standing family ties to the lake.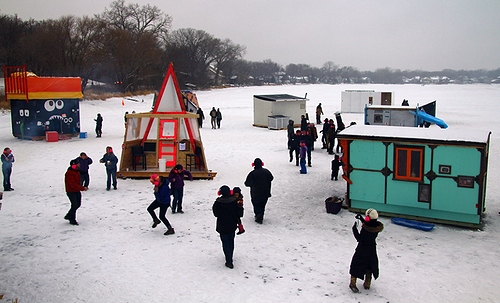 "My mother-in-law had a place on the lake too, just across the bay from us. We've been coming out here for a long time. When we would go visit her at Christmas, we almost always could shovel out a skating rink in front of her place," said Folden.
"The last 10 years or so, we're fortunate to have ice at Christmas that's trustworthy," he said. "I've got grandkids now, and we try to do the same thing, but you can't count on the ice like you used to be able to."
Siseebakwet Lake, just southwest of Grand Rapids, has seen its ice cover season shorten by nearly two weeks over the last 50 years, but the lake's depth, a robust walleye stocking program, and exceptional water quality have made it more resilient to climate change than other area lakes.
According to DNR Fisheries Supervisor Dave Weitzel, the changing climate has made Siseebakwet Lake more uniquely resilient than shallower area lakes that are suffering more drastic impacts of climate change.
Shallower lakes warm faster, which can accelerate weed and algae growth, decrease water quality and oxygen, and put more stress on aquatic food chains. This combination makes it harder for cold water fish species to survive.
Shorter ice seasons also increase the intensity of ice fishing, which Weitzel says, "has put pressures on fish populations that we could never have anticipated even 10 years ago."
Fish populations may shift. Warm-water species like large-mouth bass and carp may migrate north, while cold-water species like brook trout and cisco may decline, the agency says. Walleye prefer water temps at 65 to 70°F during the summer, and smaller, warmer lakes may become too warm for them, driving their populations north.
The changing climate has many impacts, according to the Minnesota Pollution Control Agency.
– Two weeks of lost ice-coverage for safely recreating on lakes in the winter.
– Loss of cold-water habitat for species such as trout, cisco, and whitefish. These fish species may decline in some lakes and increase in others.
– Potential for more fish kills. Fish will squeeze into smaller zones for access to oxygen, with lakes too warm at the surface and too little oxygen at the bottom. This competition for limited oxygen leads to fish kills.
– Longer open water and growing season that can lead to additional algal blooms.
– Potentially increased densities of aquatic invasive plants, such as curly leaf pondweed and Eurasian watermilfoil.
All these changes will affect both Minnesota's environment and the state's economy.
Featured image: Happy ice fishermen with a catch from a Minnesota lake, but the state pollution control agency says climate change is making Minnesota ice fishing a thing of the past. Undated (Photo courtesy Explore Minnesota)
© 2022, News Editor. All rights reserved.