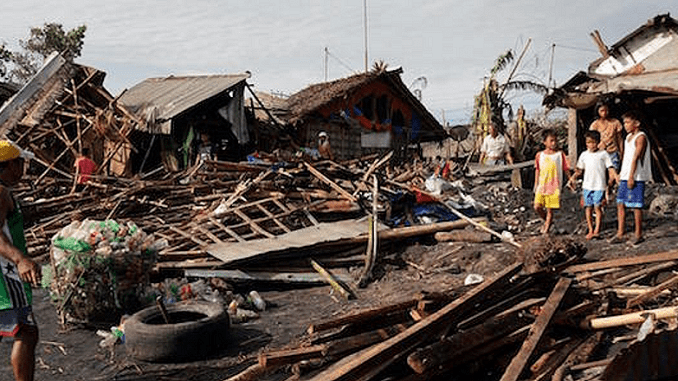 MANILA, Philippines, December 25, 2021 (ENS) – More than 100 towns in areas devastated a week ago by Typhoon Odette, internationally known as Typhoon Rai, have no electricity this Christmas. Communities hit hardest by the typhoon endured 195 kilometer-an-hour (121 miles per hour) sustained winds, with gusts of up to 270 kph (168 mph) in central island provinces.
The National Disaster Risk Reduction and Management Council, NDRRMC, said Friday that electricity has been restored in just 149 of the 273 towns and cities where power lines were downed by Odette's furious winds.
NDRRMC spokesman Mark Timbal said the death toll from the typhoon has risen to 367 people, with most of the fatalities coming from the Visayas. At least 62 individuals are still missing, and 732 were injured, he said.
The government's initial estimated number of people living in the affected areas is 15.9 million, of which 9.1 million people live in the worst affected areas.
Now, Philippines President Rodrigo Duterte worries that another big storm will strike the island chain during the Christmas season.
"What I'm worried about is that another one would be coming up during Christmastime. We would be walloped," he told his officials, according to transcripts of the briefing released to the media. 
"It's Christmastime, people are happy and we have this one after another. I hope not. It will dampen the spirit of the people during Christmastime," the President said. 
Meanwhile, people are taking stock of the damage, cleaning up, and traveling to visit family and friends. A total of five airports were reported non-operational and local flights were cancelled, but these airports have now reopened. In this island nation, a total of 126 ports were reported non-operational or have suspended trips. Of these, 72 ports have now resumed operations.
At least 765,300 people were pre-emptively evacuated, and 1,407 evacuation centers along with several quarantine facilities were established.
Efforts at clearing and recovery are underway, but they are hampered by the coronavirus, which has infected many residents. The government is conducting a vaccination campaign to get eight million vaccines in arms by year's end.
Timbal said 371 areas are still experiencing communication problems, and water service has yet to be restored in three areas.
A total of 44 roads in provinces hit by the typhoon have been reopened, the Department of Public Works and Highways reported Friday.
Yet, seven roads are still impassable to all types of vehicles due to damaged bridges, fallen trees and electric posts, debris, and washouts.
A total of 36 million Philippine pesos (US$720,000) was sent by the local governments of Quezon City and Valenzuela City to 10 municipalities ravaged by the typhoon in the Visayas and Mindanao.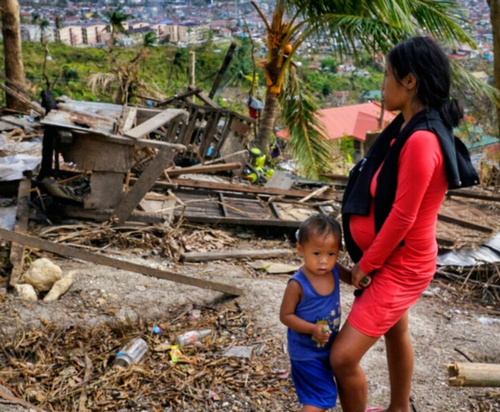 These donations are apart from the 100 million peso fund from the savings of the Metropolitan Manila Development Authority that National Capital Region mayors agreed to release to local government units affected by the typhoon.
The Technical Education and Skills Development Authority is providing relief efforts in areas hit by the typhoon and will conduct construction-related skills training.
In the Western Visayas, field office workers are being deployed to help rebuild damaged buildings and conduct clearing operations. Workers in Negros Occidental have installed a solar-powered charging station for residents to recharge their mobile phones.
The top United Nations humanitarian coordinator in the archipelago, Gustavo Gonzalez, said that aid assessment teams have reached communities in need of emergency assistance for the first time last weekend after they endured for a week with no assistance.
Gonzalez said his role is to coordinate the response by UN agencies in the Philippines, along with NGOs and private sector partners in the country, which are working with the government "to meet immediate needs in shelter, health, food, protection" and other life-saving actions.
President Duterte is wishing that the Christmas celebration will inspire Filipinos to "realize their dreams and aspirations" for the country.
"May the light that this season brings fill us with hope and courage as we continue to recover from the Covid-19 pandemic," Duterte said in his taped Christmas Eve message on Friday. "We have been blessed much by the birth of Christ. Let us share this blessing with others. Merry Christmas to all of us."
In a separate statement, he called on Filipinos to have "stronger faith and hope" as the nation continues to recover from the effects of Typhoon Odette and the Covid-19 pandemic.
"May we all be united in spreading love, compassion, and happiness to our families and friends, and even those whom we need to reach out to," he said.
With Christmas being a "time for peace", he urged Filipinos to help one another heal and rebuild their lives.
The President said, "This will lead us to open our hearts and our homes, especially for those who are most in need so that they, too, may have joy and hope while we all work together towards better days ahead."
Scientists warn that typhoons are becoming more powerful and strengthening more rapidly as the world warms due to climate change.
The Philippines, one of the world's most vulnerable countries to climate change, copes with an average of 20 storms and typhoons a year, which destroy harvests, homes, and infrastructure across the island chain.
Featured image: Residents salvage belongings from the ruins of their homes in the coastal town of Dulag in Leyte province. December 17, 2021, the day after Typhoon Odette struck the Philippines. (Photo © UNICEF courtesy UN)
© 2021, News Editor. All rights reserved.