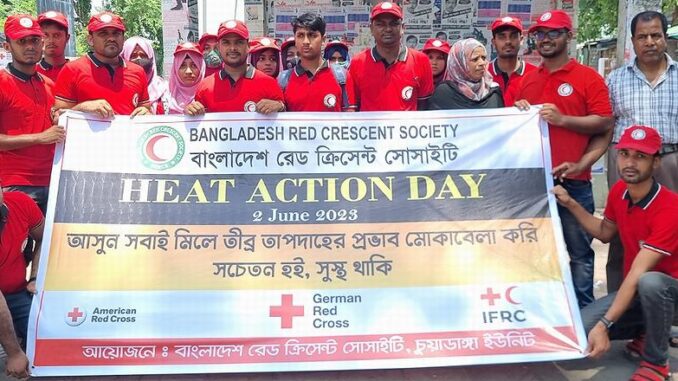 GENEVA, Switzerland, July 17, 2023 (ENS) – "Scorching temperatures are engulfing large parts of the Northern hemisphere, while devastating floods triggered by relentless rainfall have disrupted lives and livelihoods, underscoring the urgent need for more climate action," the UN World Meteorological Organization, WMO, said Friday.
The UN weather agency reports that June 2023 experienced the warmest global average temperature on record, and heatwaves persist into July. Torrential rains and floods have resulted in dozens of fatalities and affected millions in the United States, Japan, China and India, reports the WMO, calling for "greater climate action" to deal with the "extreme weather."
"The extreme weather – an increasingly frequent occurrence in our warming climate – is having a major impact on human health, ecosystems, economies, agriculture, energy and water supplies," said WMO Secretary-General Petteri Taalas of Finland.
"We have to step up efforts to help society adapt to what is unfortunately becoming the new normal," urged the head of the WMO, an intergovernmental organization with a membership of 193 member states and territories.
The WMO is ringing alarm bells for preparedness as thousands of people each year succumb to heatwaves, among the deadliest of natural hazards. Currently, a heatwave is parching the southern United States, the U.S. National Weather Service reports, saying some locations could register all-time temperature records.
California's Death Valley, among the hottest places on the planet, hit close to the record temperature on Sunday with a recorded 128 Fahrenheit (53.3 Celsius).
"The heat wave across the West and Southern tier of the U.S. continues early this week, focusing across the Desert Southwest and Four Corners region into Texas and south Florida. Expect possible record high temperatures and very dangerous conditions," two U.S. forecasters wrote Monday.
"Canadian wildfire smoke continues to push through parts of the Northern and Central U.S. into East and widespread air quality alerts are in effect, according the the National Weather Service.
Elevated temperatures raise the risk of forest fires, as Canada has been experiencing. The country has lost more than nine million hectares of forests in 2023 to date, far surpassing the 10-year average of about 800,000 hectares.
The resulting air pollution and haze has spread across much of the heavily populated northeastern United States, affecting the health of millions.
Above-normal temperatures, with the mercury rising more than five degrees Celsius (41 degrees Fahrenheit) above the long-term average, are forecast in the Mediterranean region over the next two weeks, as well as in many places in North Africa, the Middle East and Türkiye.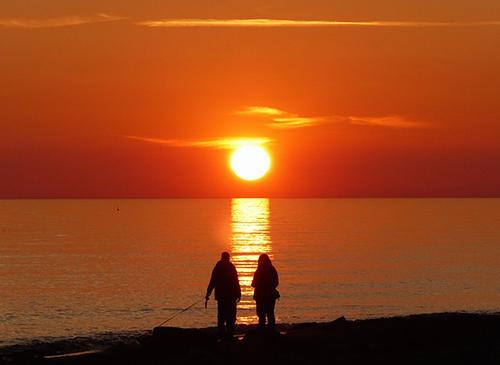 Europe, the planet's fastest-warming continent, is bracing for record temperatures, according to the European Space Agency, ESA.
Italy, Spain, France, Germany and Poland are all facing a major heatwave with air temperatures expected to climb to 48°Celsius (118°Fahrenheit) on the islands of Sicily and Sardinia, potentially the hottest temperatures ever recorded in Europe.
Italians are being warned to prepare for "the most intense heatwave of the summer and also one of the most intense of all time." The health ministry issued a red alert for 16 cities including Bologna, Florence, and Rome.
An anticyclone, a high-pressure area, named Cerberus – named for the monster from Dante's Inferno – coming from the south will cause temperatures to rise above 40°C across much of Italy. This comes after a spring and early summer full of storms and floods, the ESA reports.
Flooding Rains
Heavy rains and flooding have caused severe damage and loss of life in several parts of the world.
The northeastern United States, including New York state and the whole New England region has experienced deadly torrential rains. New York issued a flash flood emergency and more than four million people were under floods alerts on July 11.
The Japanese Meteorological Agency, JMA, has issued heavy rain emergency warnings for the Fukuoka and Oita prefectures, on Kyushu, the country's third largest island, together with a new daily rainfall record two days ago.
"It's raining like never before," JMA said.
Low-income Countries at Higher Risk
The World Meteorological Organization report emphasized that while developed countries have an increased level of preparedness, such as warnings, and management of floods, low-income countries remain vulnerable.
"As the planet warms, the expectation is that we will see more and more intense, more frequent, more severe rainfall events, leading also to more severe flooding," said WMO Director of Hydrology, Water and Cryosphere Stefan Uhlenbrook.
"Developed countries like Japan are extremely alert, and they're also very well prepared when it comes to flood management measures. But many low-income countries have no warnings in place, hardly any flood defense structures and no integrated flood management. WMO is committed to improving the situation," Uhlenbrook said.
Elsewhere, floods in northwest China killed a reported 15 people. And in northern India, roads and bridges have collapsed and houses were washed away as rivers overflowed during heavy monsoon rains and flooding, claiming dozens of lives.
Warming Trend Pressures South America
Earth's "long-term warming trend" and sea level rise are both accelerating and showing up in Latin America and the Caribbean as extreme weather and climate shocks, finds a new WMO report.
Extreme heat combined with dry soils to fuel periods of record wildfires at the height of summer 2022, leading emissions of the greenhouse gas carbon dioxide (CO2) to spike to the highest levels in 20 years, thereby locking in even higher temperatures, the WMO warned in the first week of July during a meeting in Havana, Cuba where the report was issued.
Temperatures over the past 30 years have warmed an average 0.2° Celsius per decade – the highest rate on record, the WMO explains in, "State of the Climate in Latin America and the Caribbean 2022."
"Glacier melt has worsened, threatening ecosystems and future water security for millions of people. There was a near total loss of snowpack in summer 2022 in the central Andean glaciers, with dirty and dark glaciers absorbing more solar radiation which in turn accelerated the melt," the report states.
The document highlights what the authors call "a vicious cycle of spiraling impacts" on countries and local communities.
For instance, prolonged drought has led to a drop in hydroelectricity production in large parts of South America, prompting an upsurge in demand for fossil fuels in a region with "major untapped potential for renewable energy," according to the WMO.
"Tropical cyclones, heavy precipitation and flooding events, and severe multi-year droughts resulted in loss of life and billions in economic damages throughout 2022. Increasing sea-level rise and ocean warming pose increasing risks to coastal livelihoods, ecosystems and economies," warned WMO Secretary-General Taalas.
"Many of the extreme events were influenced by the long-running La Niña but also bore the hallmark of human-induced climate change. The newly arrived El Niño will turn up the heat and bring with it more extreme weather. Early Warnings for All will be vital to protect lives and livelihoods," he said.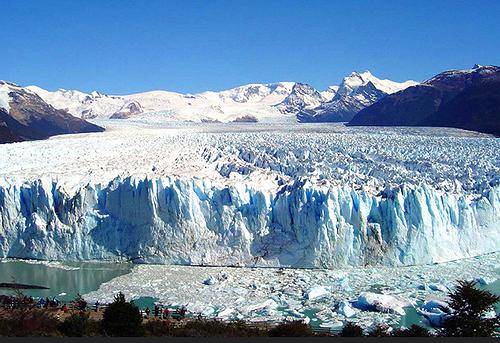 "The top priority areas for climate change adaptation and mitigation in the region are agriculture and food security, and energy. The report addresses these key topics, highlighting the impacts of the persistent droughts in the region on agricultural production and the unexploited potential of renewable energy, especially solar and wind resources," said Taalas.
Latin America and the Caribbean region plays a vital role in producing food and ecosystem services that benefit not only the region itself, but the entire planet. It is highly vulnerable to climate risks, explained the WMO, because about three quarters of the population lives in informal urban settlements and about eight percent of the population is undernourished.
The report was released during an international Convention on Environment and Development organized in La Havana, Cuba, ahead of a Conference of Directors of Meteorological and Hydrological Services from Iberoamerica. It showcased the importance of National Meteorological and Hydrological Services and regional climate centers in providing enhanced services to support climate adaptation and mitigation.
Accompanied by an interactive Story Map, it is the third such annual report for the region. The WMO reports are intended to provided decision-makers with regional and localized information to inform action.
This time, the WMO concludes that, "The Latin American and Caribbean population must be made more aware of climate-related risks, and early warning systems in the region need to be strengthened and to reach communities who need them most. Only 60 percent of the population are covered by Multi-Hazard Early Warning Systems, according to 2020 data."
in 2022, 78 meteorological, hydrological and climate-related hazards were reported in the region, according to the Centre for Research on the Epidemiology of Disasters Emergency Events Database.
Of these, 86 percent were storm and flood related events and accounted for 98 percent of the 1 153 fatalities documented in the database.
The US$ 9 billion economic damages reported to EM-DAT were mainly due to drought (40 percent) and storms (32 percent). The real figures related to the impacts of extreme events are presumed to be worse because of under-reporting and because data on impacts are not available for some countries.
WMO extends its gratitude for all the dedicated hard work from WMO's network of experts who ensure that this report is an authoritative source of information.
The agency expressed its appreciation to Dr. Jose Marengo of Brazil's National Centre for Monitoring and Early Warning of Natural Disasters, who acted as lead author.
Information used in the WMO reports is sourced from a large number of National Meteorological and Hydrological Services and associated institutions, as well as Regional Climate Centres.
The following organizations contributed:
* – Caribbean Institute for Meteorology and Hydrology (CIMH)
* – National Centre for Monitoring and Early Warning of Natural Disasters (CEMADEN), Brazil
* – National Institute for Space Research (INPE), Brazil; Copernicus Climate Change Service (C3S)
* – Food and Agriculture Organization of the United Nations (FAO)
* – Inter-American Institute for Global Change Research (IAI)
* – International Research Institute for Climate and Society (IRI)
* – Centre for Research on the Epidemiology of Disasters (CRED)
* – International Centre for Research on the El Niño Phenomenon (CIIFEN)
* – Regional Climate Centre for Western South America (RCC-WSA)
* – Regional Climate Centre Network for Southern South America (RCC-SSA)
* – ReliefWeb; National Oceanic and Atmospheric Administration (NOAA)
* – Global Precipitation Climatology Centre (GPCC)
* – Laboratory of Space Geophysical and Oceanographic Studies (LEGOS), France;
* – School of Earth Sciences, Energy and Environment, Yachay Tech University (Ecuador);
* – Universidade * – Federal do Rio de Janeiro (UFRJ), Brazil
* – United Nations Environment Programme (UNEP)
* – United Nations Office for Disaster Risk Reduction (UNDRR)
* – United Nations Office for the Coordination of Humanitarian Affairs (OCHA)
* – World Glacier Monitoring Service (WGMS)
Featured image: Bangladesh Red Crescent volunteers were distributing drinking water and offering advice on how to stay safe during the latest extreme heat to affect the country. Heat Action Day 2023 came as many countries in Asia saw another round of extreme temperatures from late May, normally the start of the cooler monsoon season, after earlier punishing heatwaves in April. June 2, 2023 (Photo courtesy BDRCS)
© 2023, News Editor. All rights reserved.