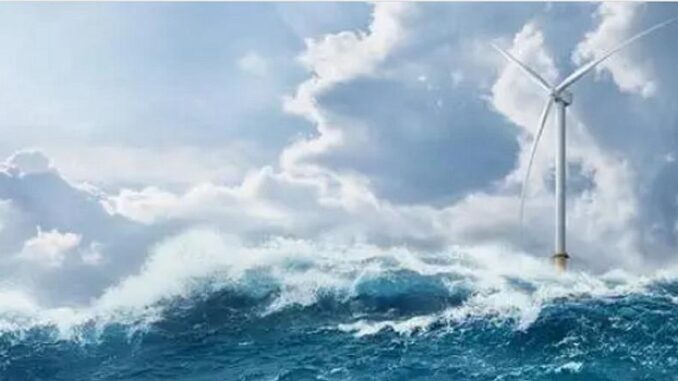 RICHMOND, Virginia, November 15, 2023 (ENS) – Siemens Gamesa Renewable Energy, the European supplier that leads the global market for offshore wind turbines, has suspended plans to build a US$200 million turbine blade factory at Virginia's Portsmouth Marine Terminal, a major container port.
Citing problems meeting "development milestones," Siemens Gamesa confirmed Friday that at this time it will not continue to develop the 80-acre manufacturing site first announced in October 2021.
Siemens Gamesa's Portsmouth plant would have produced turbine blades for the massive Coastal Virginia Offshore Wind project, CVOW, a 2.6 gigawatt wind farm planned for a site about 25 nautical miles off Virginia Beach, among other projects.
The turbine blades for CVOW and other Siemens Gamesa-supplied wind projects in North America will now come from the supplier's factories in Europe, and the switch is not expected to have a material effect on the developer, Dominion Energy.
Dominion Energy says that the two wind turbines currently in operation at the CVOW site are the first installed in U.S. federal waters and are avoiding up to 25,000 tons of carbon dioxide emissions annually.
On October 31, the Biden-Harris administration announced its approval of the Coastal Virginia Offshore Wind commercial project – the fifth approval of a commercial-scale, offshore wind energy project under President Joe Biden's leadership. The announcement supports the administration's goal of deploying 30 gigawatts of offshore wind energy capacity by 2030,
The approval and the Bureau of Ocean Energy Management's issuance of the final environmental impact statement in September means the 2.6 gigawatt project with its 176 wind turbines and three offshore substations is on track for construction to begin early next year, with a completion date in late 2026.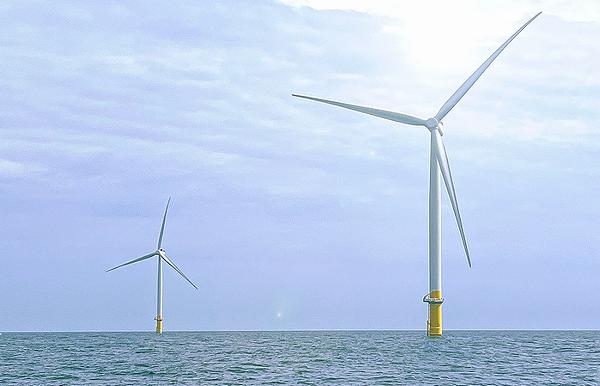 "The completion of our environmental review marks another step towards a clean energy future – one that benefits communities and co-exists with other ocean users," said BOEM Director Elizabeth Klein in a statement. "The best available science and knowledge shared by Tribes, other government agencies, local communities, ocean users, industry, environmental organizations and others informed the analyses contained in this document."
"When fully constructed in 2026, the CVOW project will deliver up to 8.8 million megawatts per year of clean, renewable energy to the grid, powering up to 660,000 Virginia homes. Providing this power with wind energy will avoid as much as 5 million tons of carbon dioxide emissions annually – the equivalent of planting more than 80 million trees," Dominion said.
When it was first announced in 2021, Siemens Gamsea's Portsmouth, Virginia site was the first major investment by a wind turbine manufacturer in the United States. "Make no mistake: Virginia is building a new industry in renewable energy, with more new jobs to follow, and that's good news for our country," then-Governor Ralph Northam said at the time.
But times are different today. Siemens Gamesa faces a difficult business environment in the U.S. market, and it's not the only offshore wind company backing away.
East Coast Offshore Wind Projects in Transition
On October 31, the Danish multinational energy company Orsted, the world's largest wind energy developer, canceled two large Ocean Wind offshore wind power projects off the coast of New Jersey,
Orsted CEO Mads Nipper said in a statement the company was disappointed to be halting the projects because it believes the United States needs wind power to reduce carbon emissions. "However, the significant adverse developments from supply chain challenges, leading to delays in the project schedule, and rising interest rates have led us to this decision," Nipper said.
David Hardy, group executive vice president and CEO Americas at Orsted, explained, "Macroeconomic factors have changed dramatically over a short period of time, with high inflation, rising interest rates, and supply chain bottlenecks impacting our long-term capital investments. As a result, we have no choice but to cease development of Ocean Wind 1 and Ocean Wind 2."
"We are extremely disappointed to have to take this decision, particularly because New Jersey is poised to be a U.S. and global hub for offshore wind energy," Hardy said. Thanking New Jersey Governor Phil Murphy, Hardy said that Orsted "remains committed to the U.S. renewable energy industry, including offshore wind and land-based technologies."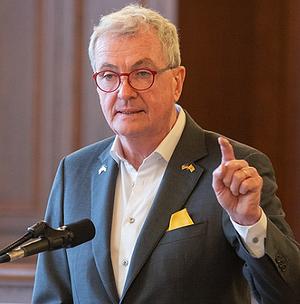 But Governor Murphy expressed his frustration with the move, saying, "Today's decision by Orsted to abandon its commitments to New Jersey is outrageous and calls into question the company's credibility and competence," the Democratic governor said. "As recently as several weeks ago, the company made public statements regarding the viability and progress of the Ocean Wind I project."
He observed that Orsted was required to put up an additional $200 million to benefit the state's offshore wind industry, and said he would make sure the company abides by that obligation.
The Siemens Gamesa wind turbine factory at Portsmouth Marine Terminal was set to supply three other American offshore wind farm projects: Revolution Wind, South Fork Wind and Sunrise Wind. Each is in a different stage of completion and ownership.
Revolution Wind is under construction and on track for completion, according to the developer, Orsted. Revolution Wind is a 704 MW project that is expected to provide enough renewable energy for more than 350,000 homes in Connecticut and Rhode Island beginning in 2025.
South Fork has installed its first turbine and is moving ahead. The offshore wind farm is expected to fully go into service in early 2024. The onshore construction is complete and connected to the export cable. An underground transmission line will deliver power to the local electricity grid in the town of East Hampton, New York. Construction on the wind farm started in January 2022 and is expected to be completed by the end of this year.
Sunrise Wind's future is up in the air. A 50/50 partnership between Orsted and Eversource, the project recently applied for a subsidy increase with New York regulators, but was not approved. A 924 megawatt offshore wind farm, with the potential capacity to power nearly 600,000 homes, it is planned for an offshore area 30 miles east of Montauk Point, the easternmost extremity of New York State.
Developers Shuffle Offshore Wind Projects
South Fork and the other two offshore wind developments have been owned as a 50/50 partnership between Orsted and the U.S. company Eversource Energy. But Eversource is selling the 50 percent stake it has held jointly with Orsted in the three offshore wind projects: South Fork Wind, Revolution Wind and Sunrise Wind.
Eversource Chairman, President, and Chief Executive Officer Joe Nolan told a 3rd Quarter earnings call on November 8 that the company has an unnamed buyer for its 50 percent share in these developments.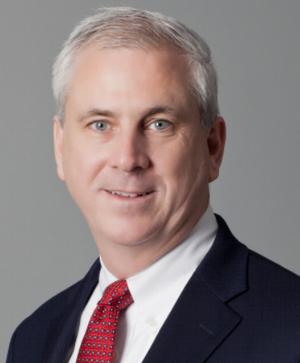 "In the three projects which are under development, we have substantially completed our contract negotiations with a buyer and continued to make good progress on this front. What remains to be completed is for the buyer and Orsted to finalize several documents, such as their new joint-venture agreement. We expect this process to wrap up shortly, allowing us to execute our sales agreement with the buyer and announce the terms of the sale," Nolan said.
Eversource Energy announced in May that it had completed the sale of its 50 percent of an uncommitted lease area of 175,000 developable acres located 25 miles off the south coast of Massachusetts to Orsted for US$625 million in an all-cash transaction. The deal closed in September following approval from the Committee on Foreign Investment in the United States.
The uncontracted offshore wind area includes the rights for the area located 40 kilometres (25 miles) off the Massachusetts South Coast that has not been allocated to a specific project. Orsted also will be the sole bidder in the ongoing New York and Rhode Island offshore wind solicitations.
Along with the seabed lease rights, Orsted will also take full ownership of partnerships with the Port of Providence, the Port of Davisville, and Quonset Point, all in Rhode Island, and with Connecticut's New London State Pier.
Orsted also will become the sole owner of the operations and maintenance hub in East Setauket, New York, and the charter agreement for the first American-built offshore wind service operations vessel, which is now under construction at Edison Chouest's facility in Houma, Louisiana.
U.S. Offshore Wind Market Changing Fast
The churn in the U.S. offshore wind market creates uncertainty for all suppliers in the near term, and Siemens Gamesa also faces its own internal challenges. Quality problems with its legacy onshore wind turbines are estimated to cost Siemens Gamesa US$2.4 billion to fix, and the company is grappling with unrelated manufacturing delays.
The Portsmouth, Virginia turbine blade factory was not Siemens Gamesa's largest planned investment in the U.S. market. In February, Siemens Gamesa announced plans to build a $500 million nacelle plant at Port of Coeymans in Upstate New York and the company has not announced any changes to this initiative.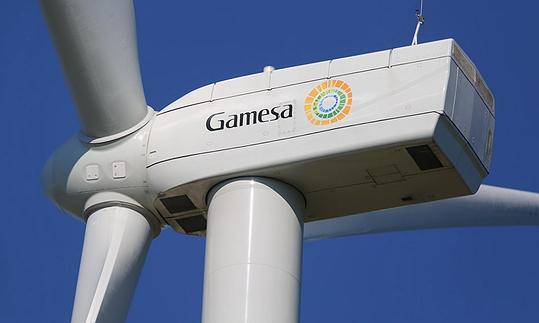 Wind turbines consist of the blades attached to a hub, called the rotor. The rotor is connected to the nacelle, which holds the key electrical and mechanical equipment at the top of the tower including the main shaft, gearbox and generator.
"The announcement of this proposed facility in New York is a major step forward in our desire to lead the massive U.S. offshore wind market. We're excited by the opportunity presented by the State of New York to further develop our manufacturing footprint. We have a solid history in delivering on our commitments across the globe, including the establishment of offshore wind-focused plants in Denmark, France, Germany, Taiwan and the United Kingdom. The numerous economic, employment, and environmental benefits that offshore wind presents are enhanced by solid policies and frameworks, which are critical for financial success," Marc Becker, CEO of Siemens Gamesa's offshore business, said.
A deepwater marine terminal about 100 miles north of New York City, the proposed facility at the Port of Coeymans and its supplier network in New York would supply components for all Siemens Gamesa offshore wind power projects along the U.S. East Coast.
Featured image: Offshore wind turbine in the turbulent Atlantic Ocean. undated. (Photo courtesy Siemens Gamesa Renewable Energy)