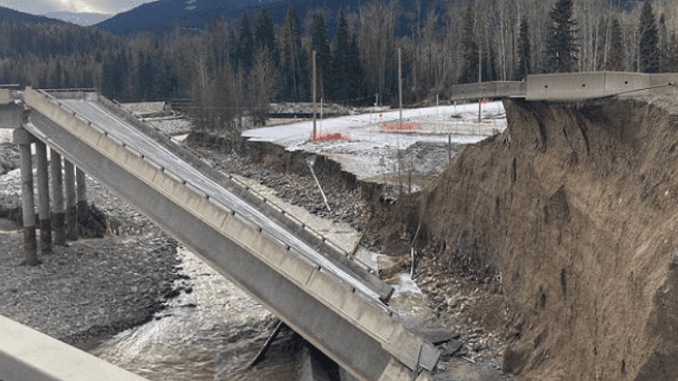 VANCOUVER, British Columbia, Canada, November 19, 2021 (ENS) – Vancouver, Canada's third-largest city, as well as smaller cities across southern British Columbia are blocked off from the rest of the world, and Canadian Prime Minister Justin Trudeau is sending in the military to help.
An intense rainstorm lasting for days has caused landslides, flooding, and washouts that have blocked all major roads and rail lines to Vancouver and affected travel across the southern BC from the coast eastward across half the province, and on Vancouver Island.
Much of the rain fell from November 13-15, the result of an atmospheric river over the region that added more water to already saturated soils.
The body of one woman was recovered from a mudslide that blocked the steep, winding curves of Hwy 99 north of Whistler Ski Resort near Lillooet on Monday and search efforts for four missing people continue.
Prime Minister Trudeau has activated the Royal Canadian Airforce and says that several hundred Canadian troops will help cope with the devastation.
Speaking from Washington, DC last night, where he was meeting with President Joe Biden, Prime Minister Justin Trudeau said 120 Canadian Armed Forces personnel had been dispatched to support relief efforts in Abbotsford, an agricultural and residential area that is flooded. A military reconnaissance group has been dispatched to the provincial emergency operation center in the Vancouver suburb of Surrey.
"Canadian Armed Forces members are on the ground in British Columbia helping out and we are sending more members to assist the communities that are most impacted, and support repair and mitigation efforts," said Anita Anand, Canada's Minister of National Defence. "We will be there for British Columbians to keep them safe and to recover from this tragedy."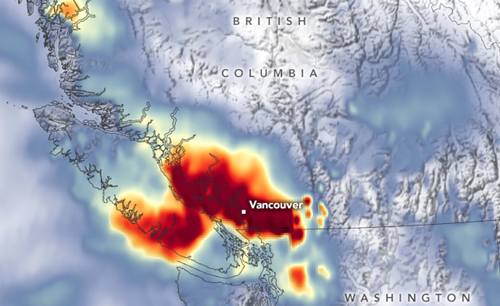 The Royal Canadian Airforce said 408 tactical helicopter squadrons were on their way to "deploy reconnaissance and coordination elements" to BC.
More than 200 troops are on standby in Edmonton, Alberta, awaiting orders to deploy to neighboring British Columbia.
According to the electric utility BC Hydro, at least 60,000 customers across the province were left without electricity by the night of November 15 .
A track washout caused the derailment of a Canadian National Railway freight train 25 kilometers (15.5 miles) north of the city of Hope. No injuries were reported.
On November 15, all 7,000 residents of Merritt were evacuated after the city's sewage treatment plant flooded and failed when the Coldwater River burst its banks
About 1,000 people trapped in the town of Hope were able to leave last night when single-lane emergency passage was permitted on Highway 7, but an estimated 17,000 people are still displaced under evacuation orders.
British Columbia Premier John Horgan declared a state of emergency at a news conference Wednesday.
Panic buying has emptied stores in Vancouver, which is cut off by debris on major highways and rail lines.
Premier Horgan told British Columbians, "Please, do not hoard items. What you need, your neighbours need as well."
Gas rationing in effect in BC's Lower Mainland and other areas as highway repairs continue. The province is prioritizing gasoline and diesel for essential vehicles, while working to keep fuel available for other people in British Columbia. An order restricting the purchase of vehicle fuel in certain regions of the province is in place until November 30 at midnight.
Drivers not operating essential vehicles are limited to purchasing 30 litres (eight gallons) of fuel per trip to the gas station in affected areas. Under the order, retail gas stations and wholesale distributors are prohibited from profit margin price gouging and people are prohibited from reselling fuel.
Essential vehicles will not have a fuel limit; they will be able to access gas at commercial trucking gas stations 24/7.
Construction experts told the CBC that repairing the British Columbia highways washed out by heavy rains and flooding will be complicated by the scale of the damage, the terrain and the coming winter. It has begun to snow in some of the affected areas and roads that are still open are slick and slushy, according to Drive BC.
It could be weeks before road clearance and repairs are begun and it could take months before the repairs are completed.
Featured image: The Coquihalla Highway collapsed about halfway between the British Columbia cities of Hope and Merrritt, November 16, 2021. (Photo courtesy BC Government)
© 2021, News Editor. All rights reserved.