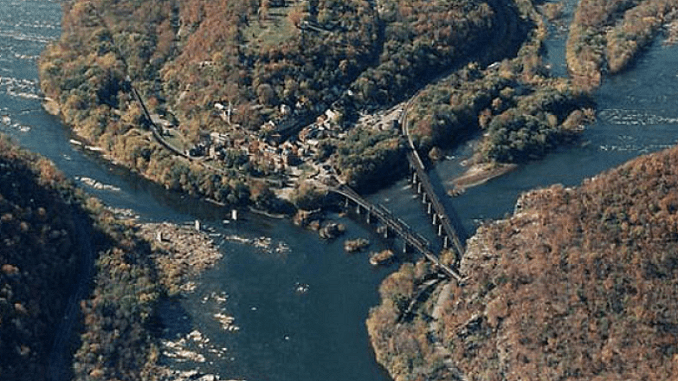 MARTINSBURG, West Virginia, November 17, 2021 (ENS) –  The largest sewage district in the state, located in West Virginia's Shenandoah Valley must make improvements to its sewer and stormwater systems worth an estimated $50 million, implement an environmental project valued at $1.14 million, and pay a $518,400 penalty, under a legal settlement with federal and state authorities.
The plaintiffs – the U.S. Department of Justice, U.S. Environmental Protection Agency and West Virginia Department of Environmental Protection, WVDEP – say that the settlement, lodged Wednesday in U.S. District Court in Martinsburg, resolves alleged violations of the federal Clean Water Act and the West Virginia Water Pollution Control Act by the Berkeley County Public Service Sewer District, PSSD.
In a federal complaint filed with the settlement, the United States and WVDEP cited the PSSD for exceeding pollution limits at its permitted wastewater treatment plants more than 1,300 times; allowing sanitary sewer overflows more than 500 times; failing to properly operate and maintain its sewage collection systems; and failing to develop and implement an adequate Municipal Separate Storm Sewer System, MS4, program.
Sanitary sewer overflows pose a "substantial risk to public health and the environment, because they can include pollutants such as bacteria, pathogens, nutrients, untreated industrial wastes, toxic pollutants, soil and pesticides and wastewater solids and debris," the Justice Department said in a statement..
Berkeley's wastewater and MS4 facilities, which include 245 miles of sewer pipes and multiple wastewater treatment plants, all discharge to the Potomac River or its tributaries, which are part of the Chesapeake Bay watershed.
"Today's settlement is a victory for protection of human health and the environment," said Acting Assistant Administrator Larry Starfield for EPA's Office of Enforcement and Compliance Assurance. "This settlement includes concrete requirements that will reduce discharges of sewage and other pollutants in Berkeley County, which directly translates to cleaner, safer water for local communities and communities downstream along the Potomac River."
Downstream communities include the large cities of Alexandria and Arlington, Virginia as well as Washington, DC.
"After years of continually modernizing the county's sewage system, ensuring our communities have clean water and working to exceed regulatory standards, we're relieved to finally reach this settlement," PSSD General Manager Curtis Keller said. "We can now tighten our focus even more on refining our sewer system, investing in long-term solutions and making Berkeley County an even safer and cleaner place to live and work."
The district was formed more than 40 years ago, and it has taken over several plants during that time, most in the past 20 years. Its stated goal was "to provide the best quality sewage service possible."
"In some cases, plants were dumping raw sewage and collection systems were overflowing as the county experienced tremendous growth," Keller said.
"We've continually moved away from that reality," said Keller. "The system is unquestionably better today. We're proud of that."
The nonprofit Potomac Riverkeeper has been calling public attention to violations by this sewer district since at least 2010, and is now relieved that the sewer district is being made to clean up its current operations.
"The issues surrounding the situation with Berkeley County Public Service Sewer District included empty promises to the public, false actions, and an initial lack of response by the State," Potomac Riverkeeper posted on its website in March 2015.
Under the new settlement, Berkeley County will satisfy penalties owed to WVDEP by providing treatment for sewage from two mobile home parks in Falling Waters, West Virginia, a project valued at $1,145,000.
The settlement requires $50 million worth of improvements to Berkeley County's sewer and stormwater systems to ensure compliance with federal and state pollution control laws, including:
• Establishing a comprehensive MS4 program
• Assessing capacity, mapping, and developing a medial measures plan for the sewage collection system
• Evaluating and taking corrective actions at under-performing treatment systems
• Training employees
• Developing and implementing a pump station inspection program and corrective action plan
• Conducting inspections and taking corrective actions to prevent stormwater and groundwater from entering sewer pipes
• Educating the public on handling/disposal of fats, oil and grease
• Requiring reports to keep EPA and WVDEP informed of problems and progress toward various consent decree milestones
The proposed consent decree, lodged with the U.S. District Court in Martinsburg, is subject to a 30-day public comment period and final federal court approval. Visit: https://www.epa.gov/enforcement/berkeley-county-public-service-sewer-district-west-virginia-clean-water-settlement.
For more information on sanitary sewage overflows, visit: https://www.epa.gov/npdes/sanitary-sewer-overflows-ssos .
Featured image:  The Shenandoah River (left) flows into the Potomac River (right) at Harpers Ferry, West Virginia. The Potomac then continues eastward toward the Chesapeake Bay and the Atlantic Ocean. December 6, 2016 (Photo by the National Park Service via Wikipedia)
Environment News Service (ENS) © 2021 All Rights Reserved.