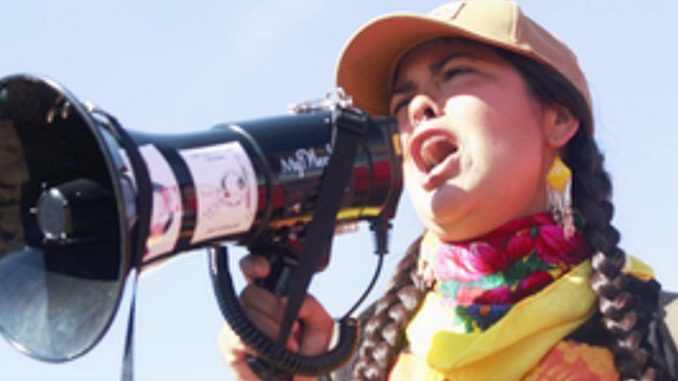 BEMIDJI, Minnesota, June 7, 2021 (ENS) – In Minnesota's largest ever anti-pipeline mobilization, water protectors Monday morning halted construction of Enbridge's Line 3 tar sands crude oil pipeline. Over 1,000 people marched with Indigenous leaders to the headwaters of the Mississippi River for a treaty ceremony at the site where the pipeline is proposed to cross.
Further south, over 500 Indigenous people, allies, and celebrities shut down an active Line 3 pump station in a direct action in solidarity with the Giniw Collective, a frontline land defense group of Indigenous women.
Analysis has shown that "building Line 3 would unlock the emissions equivalent to building 50 coal plants," the Indigenous water protectors say.
At least 2,000 people are participating in direct action and prayer vigils in multiple locations along the pipeline route today.
These actions are a part of the Treaty People Gathering, a mobilization planned by Indigenous-led groups, communities of faith, and climate justice organizations, and the beginning of a summer of resistance.
Participants are calling on President Joe Biden to stop Line 3, which opponents say threatens Northern Minnesota's waters, the global climate, and Anishinaabe treaty rights.
"Our ancestors made agreements to take care of this water and land forever together, and now is our time to do that," said Winona LaDuke of Honor The Earth.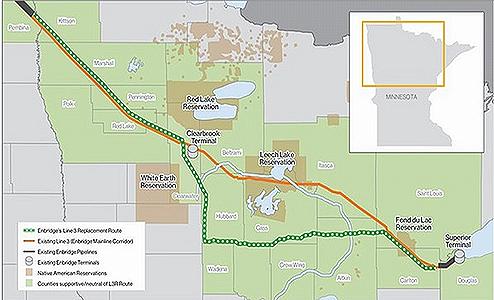 Line 3 is a proposed pipeline expansion that would bring nearly a million barrels of tar sands oil a day from Alberta, Canada to Superior, Wisconsin.
It was proposed in 2014 by Enbridge, a Canadian pipeline company responsible for the largest inland oil spill in the United States. On March 3, 1991, the Line 3 oil pipeline ruptured in Grand Rapids, Minnesota, spilling 1.7 million gallons of crude oil onto the frozen Prairie River. Thirty years later, it is still the largest inland oil spill in U.S. history.
Now, Enbridge seeks to build a new pipeline corridor through untouched wetlands and the treaty territory of Anishinaabe peoples, through the Mississippi River headwaters to the shore of Lake Superior.
The $2.9-billion U.S. portion of Enbridge's Line 3 Replacement Project would replace existing 34-inch pipe with new 36-inch pipe for 13 miles in North Dakota, 337 miles in Minnesota, and 14 miles in Wisconsin.
As Enbridge prepares to drill under 22 Minnesota rivers and over 200 water bodies, including the headwaters of the Mississippi River, the movement of water protectors opposing the Line 3 pipeline is growing.
At daybreak, hundreds of land defenders reached the Two Inlets Line 3 pump station. Some climbed ladders or locked themselves to equipment, while others blockaded the entrance, and held space.
Jane Fonda, Winona LaDuke, Tara Houska, Catherine Keener, Rosanna Arquette, Taylor Shilling, Siihasin Senior, and Big Wind issued remarks from inside the active pump station. Water Protectors are occupying the station and pitching tents.
Tara Houska for Giniw Collective said, "Our Mother is calling out, it's time for us to listen or do the work to remember how. It's also time for us to all stand with our words. The situation is urgent, it requires urgent response. Find your bravery, find your community, find your truth. Stand with us and Stop Line 3."
One locked down Water Protector said, "Think about the water you drink every day. Think about the fact that a human can't live more than three days without water. Think of what you would do if a corporation just took that from you. So many Indigenous bodies have gone towards protecting the resources that we all benefit from, and everyone should think about how they can be someone who actually defends the water and isn't just somebody who is using it."
The treaty ceremony at the headwaters, led by the RISE Coalition, was followed by remarks from visiting celebrities alongside Bill McKibben, author, professor at Vermont's Middlebury College and co-founder and senior advisor at the nonprofit 350.org, an international climate campaign that works in 188 countries.
Participants are now holding space on the easement along the banks of the Mississippi and are prepared to stay.
"For years we have tried to assert our sovereignty and speak out against Line 3. We still have time to save our sacred waters and land — our life sources," said Dawn Goodwin, co-founder of the nonprofit RISE Coalition, which fights human trafficking.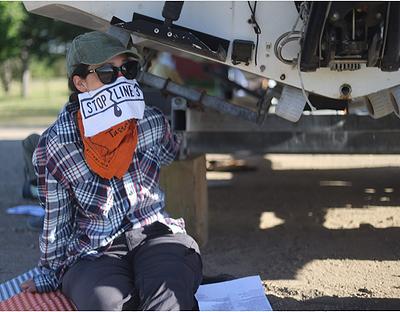 Nancy Beaulieau, Northern Minnesota organizer with MN350 and co-founder of the RISE coalition, said, "We called this mobilization the Treaty People Gathering because we are all treaty people. Our non-native allies have a responsibility to stand with us against projects like the Line 3 pipeline that put our Anishinaabe lifeways at risk. Today, we're taking a stand for our right to hunt, fish, and gather, and for the future of the climate."
Anishinaabe tribes and allied groups have been resisting the construction of Line 3 across Minnesota since it was proposed in 2014.
When pipeline construction began in December of 2020, more than 250 people had already been arrested protesting construction. On May 26, more than 300 organizations submitted a letter to the Biden Administration calling for President Biden to direct the Army Corps of Engineers to immediately re-evaluate and suspend or revoke Enbridge's Line 3 Clean Water Act permit.
Although Enbridge calls this project a "replacement," it includes 337 miles of new larger pipe, half of which is in a new corridor crossing more than 200 bodies of water, far from Enbridge's other pipes. The new pipeline would initially be able to transport almost twice as much crude oil as the existing Line 3.
Tribal governments, climate groups, and the Minnesota State Department of Commerce have sued in state court to revoke the pipeline's "Certificate of Need" arguing that the additional oil supply is not needed and the especially carbon intensive tar sands oil will contribute to catastrophic climate change.
"My people lived here for 10,000 years. I have a right to say this is a dumb idea," LaDuke told CBS News on May 31. "People say, who do you work for, I say I work for the swans, I work for Mother Earth."
"Nobody here supports that pipeline, nobody here supports that pipeline," LaDuke said, about the White Earth reservation. "These housing projects here are full of people harvesting wild rice. These are people that are saying no to a Canadian multinational corporation."
There is a lawsuit against the Minnesota Pollution Control Agency, MPCA, for issuing a water quality certification for the Enbridge Line 3 project.
The Minnesota Court of Appeals is expected to announce its ruling on the Commerce Department's appeal by June 21. The decision on the MPCA suit is expected in September.
Federal courts could also halt the project. A federal suit against the U.S. Army Corps of Engineers for approving a permit for the pipeline is ongoing.
Featured image: Water Protector Tara Houska communicates with other pipeline protestors through a bullhorn. June 7, 2021 (Photo courtesy Giniw Collective)
© 2021, News Editor. All rights reserved.