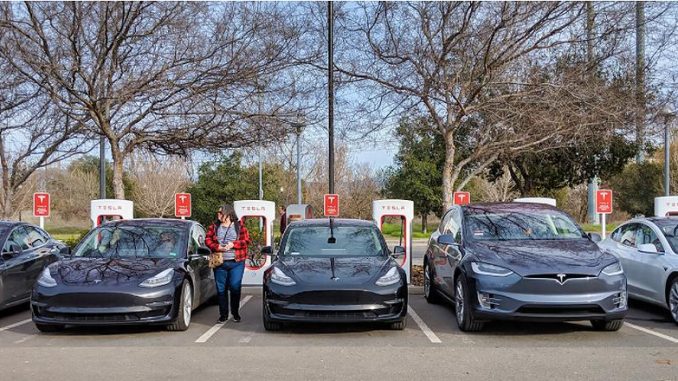 PARIS, France, June 6, 2021 (ENS) – Ten global business leaders have joined forces to promote sustainable mobility, and more than 250 other organizations committed to increase the sustainability of their transportation during a global summit organized by the French mobility giant Michelin.
"We are going to commit ourselves together to make it sustainable and inclusive," said Florent Menegaux, president of the Michelin Group and president of Movin'On, the communications platform created and inspired by Michelin.
Over four packed days from June 1-4, Movin'On hosted a virtual sustainable mobility summit that connected 300 organizations in 60 countries, and it was the scene of the launch of the new business organization.
Each of the other global business leaders heads a corporation that is a giant in its field.
They are:
Irish global digital, cloud and security services company Accenture
French international banking group BNP Paribas
French container transportation and shipping company CMA CGM S.A.
German international courier, package delivery and express mail service DHL
French global automotive parts manufacturer Faurecia
U.S. global computer software, services, and hardware supplier Microsoft
French automaker Renault
Belgian international chemical company Solvay
French concessions and construction company Vinci
The goal of the Movin'On 2021 summit was to establish concrete solutions to promote mobility with less impact: a content-based approach to generate actions.
Achieving carbon neutrality by 2030 is one of the issues on which mobility and transport actors began to work as soon as the summit opened.
On day two, summit participants learned of the creation of a new Movin'On community of interest, "Designing the streets for safe, inclusive and sustainable mobility," created by the International Road Federation and Essilor International.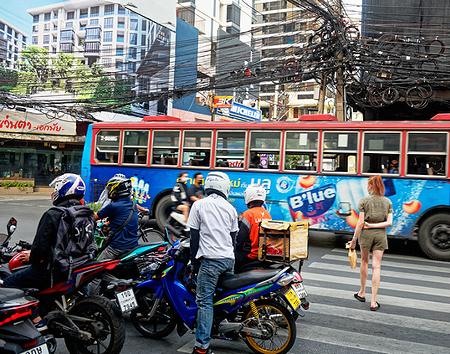 The way we design and manage cities and their streets affects the health, safety and well-being of people in many ways, said the designers. Urban centers do not have to "go to war with cars" to improve the quality of life! However, they must find inclusive solutions intended for cyclists, pedestrians and micromobility to integrate the new era of mobility, a booming field especially among young populations.
This community of interest, led by IRF Director Susanna Zammataro, explores innovative solutions and tools to harmonize urban space, infrastructure and the needs and behaviors of different road users, so that "we can all share the road and enjoy safer and healthier mobility."
"What if mobility time became quality time? Let's reinvent and re-enchant the travel experience in a simple and pragmatic way," remarked Alexis Offergeld, director of Movin'On LAB, organizer of the Movin'On summit.
During the Movin'On 2021 summit, Michelin presented two innovations in sustainable mobility.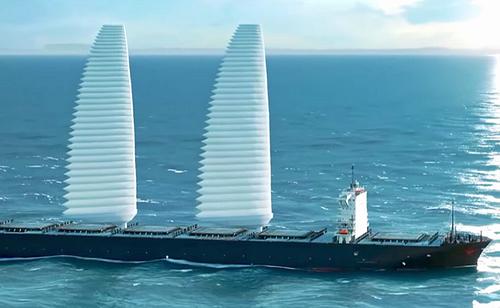 Known as WISAMO, the Wing Sail Mobility project, seeks to build on the growing interest in wind and wind-assisted propulsion to help decarbonize the maritime industry.
WISAMO is an automated, telescopic, inflatable wing sail system for merchant ships, ro-ro ships, bulk carriers, and oil and gas tankers as well as pleasure craft. Michelin says the first installation will be on a merchant ship in 2022 and expects the unique sail to go into production following the completion of a trial phase.
The WISAMO can be fitted as original equipment on new ships or retrofitted to vessels already in service.
Then, on the last day of the summit, Michelin unveiled a competition tire incorporating 46 percent sustainable materials, fitted to the GreenGT Mission H24 hydrogen-powered prototype developed for endurance racing.
The tire has high sustainable content and still delivers superior on-track performance. This was achieved by increasing the tire's natural rubber content and using recycled carbon black recovered from end-of-life tires.
Other bio-sourced or recycled sustainable materials used in the new tire include orange and lemon rind, sunflower oil, pine resin and recycled steel from aluminum cans.
"The two innovative solutions that we are presenting at the World Summit on Sustainable Mobility this year are tangible and concrete proof of our desire to make mobility ever more sustainable," Menegaux said.
"We share a cardinal value with Movin'On and its partners," he said, "the conviction that mobility, movement in the broad sense, is essential to life and sources of progress."
Featured image: Tesla electric cars charging their batteries, January 18, 2019, San Jose, California (Photo by Dale Cruse)
© 2021, News Editor. All rights reserved.