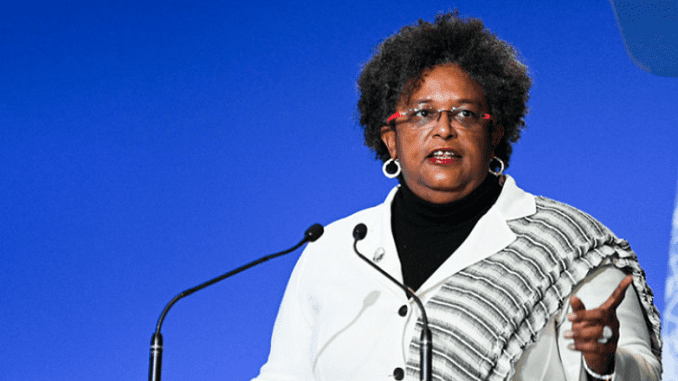 NAIROBI, Kenya, December 23, 2021 (ENS) – Barbados Prime Minister Mia Mottley has been awarded the 2021 Champions of the Earth Award, the United Nations' highest environmental honor, for her policy leadership. Mottley heads the first entirely female selection of awardees; the others were recognized for their work on coral bleaching in the Pacific, protecting wildlife health in Uganda, and entrepreurship in Kyrgystan.
When the Barbadian Prime Minister spoke to world leaders at the UN General Assembly earlier this year, she pulled no punches. She decried the "faceless few" pushing the world towards a climate catastrophe and imperiling the future of small-island States, like her own.
"Our world knows not what it is gambling with, and if we don't control this fire, it will burn us all down," she said in September. Drawing on the lyrics of Jamaican reggae great Bob Marley, she demanded, "Who will get up and stand up for the rights of our people?"
"I think that the combination of the pandemic and the climate crisis has presented a perfect political moment for human beings to pause and really examine what it is we are doing," Mottley said. "What I really, really want in this world is for us to be able to have a sense of responsibility towards our environment, but also to the future generations."
Her impassioned speech would grab headlines around the world. Mottley has spent years campaigning against pollution, climate change, and deforestation, turning Barbados into a frontrunner in the global environmental movement.
Under her leadership, Barbados has adopted ambitious renewable energy targets, committing to a fossil-fuel free electricity sector and transport by 2030. Her vision is for most homes on the island to have solar panels on the roof and an electric vehicle out front.
At the same time, Barbados is implementing numerous conservation and restoration projects, from forests, through cities, to the coastline and the ocean.
At Mottley's urging, Latin America and the Caribbean became the first region in the world to agree on the Action Plan for the UN Decade on Ecosystem Restoration, an effort to prevent and reverse the degradation of natural spaces worldwide.
Mottley also co-chairs the One Health Global Leaders' Group on Antimicrobial Resistance.
"Prime Minister Mottley has been a champion for those who are most vulnerable to the triple planetary crises of climate change, biodiversity and nature loss, and pollution and waste" said Inger Andersen, the executive director of the United Nations Environment Programme, UNEP. "Her passionate advocacy and policy achievements are prime examples of how world leaders can take bold, urgent action on environmental issues."
Mottley, who has said she finds inspiration in the forests that cover nearly 20 percent of Barbados, has also overseen a national strategy to plant more than one million trees, with participation from the entire population. The plan aims to foster food security and build resilience to a changing climate.
With Mottley's urging, Latin America and the Caribbean became the first region in the world to agree on the Action Plan for the UN Decade on Ecosystem Restoration, an effort to prevent and reverse the degradation of natural spaces worldwide. A UNEP report published in June found that for every dollar invested in ecosystem restoration, up to US$30 are yielded in economic benefits.
Champions of the Earth 2021: The Sea Women of Melanesia – Papua New Guinea and the Solomon Islands
The Sea Women of Melanesia, honored in the Inspiration and Action category, train local women to monitor and assess the impacts of widespread coral bleaching on some of the world's most endangered reefs, using marine science and technology.
The Sea Women work in the Coral Triangle, which covers 5.7 million square kilometers between the Great Barrier Reef and the island archipelagos of Melanesia and South East Asia.
"When you train a woman, you train a society," said Evangelista Apelis, a Sea Woman and co-director of the Sea Women program based in Papua New Guinea. "We're trying to educate women, get women on board, so they can then go back and make an impact in their own families and their society as well."
The Sea Women undergo a rigorous marine science training, which is supplemented by practical training in reef survey techniques and coral reef ecology. Then they learn to dive.
"What I love most about my job is being able to experience the beauty of the underwater world," said Apelis. "Before going down, you just imagine all sorts of things but the reality is even more mesmerizing – the fish, the shipwrecks… it's like everything just came alive."
The area is one of the world's premier destinations for underwater tourism and hosts a major fisheries industry. It is also seriously threatened by surging human populations and waste levels.
Healthy reefs are critical to withstand climate change impacts, including ocean acidification and extreme events. But unless drastic action is taken to limit global warming to 1.5°C, a 70 to 90 percent decrease in live coral on reefs could occur by 2050.
The good news is that coral reefs are resilient and can recover if the marine environment is safeguarded.
Champion of the Earth 2021: The Ugandan vet protecting people and wildlife
Dr. Gladys Kalema-Zikusoka, this year's Champion of the Earth for Science and Innovation, was the first wildlife veterinarian of the Uganda Wildlife Authority, and is a recognized world authority on primates and zoonotic diseases.
Dr. Kalema-Zikusoka has spent three decades helping to safeguard some of the world's rarest primates, including endangered mountain gorillas in the Bwindi Impenetrable Forest.
"When you show people that you care about them and about their health and well-being, you help them better co-exist with wildlife" she says.
That would become the guiding principle behind the organization that Kalema-Zikusoka founded nearly 20 years ago, Conservation Through Public Health. As the group's CEO, she leads the implementation of three integrated strategic programs using the "One Health" approach.
Now recognized globally for her work, Kalema-Zikusoka, says she hopes to inspire young Africans to choose careers in conservation. "There is a lack of local representation among conservationists. Not many are from the places where endangered animals are found," she said.
"We need more local champions, because these are the people who will become decision-makers for their communities and countries."
Champion of the Earth 2021: Kyrgystan's environmental entrepreneur
Maria Kolesnikova, honored in the Entrepreneurial Vision category, is an environmental activist, youth advocate and head of MoveGreen, an organization working to monitor and improve air quality in Central Asia.
A picture of the Krygyz capital Bishkek covered in air pollution spurred Kolesnikova to start an environmental movement.
MoveGreen started with three sensors to measure air quality. For the first time in the Kyrgyz Republic, they monitored levels of fine particulate matter (PM 2.5) from burning coal and other fossil fuels, combustion, and dust that can cause inflammation of the lungs and other respiratory illnesses.
When the first measurements came back, Kolesnikova and the team at MoveGreen took their message to a population that was ready to listen – Bishkek's schoolchildren.
UNEP says that globally, 93 percent of children live in environments where air pollution levels are above World Health Organization guidelines. Around 600,000 die prematurely each year because of air pollution, and exposure to dirty air can also impair cognitive and motor development and puts children at greater risk for chronic disease later in life.
In Bishkek, sensors were installed in schools to measure air quality so classrooms could keep their windows closed when the air pollution was high. Educators used the data to warn parents about preventing childrens' exposure to fine particulates. Today, there are over 100 sensors installed in the city and region.
The success of the school campaign encouraged Kolesnikova, now director of MoveGreen. The group developed an app, now available globally, called AQ.kg that aggregates air pollution data every 20 minutes from the two largest Kyrgyz cities, Bishkek and Osh.
"Our data has been challenged, our methods have been challenged by those who say that citizen monitoring data is unreliable," said Kolesnikova. "But we kept having meetings and we kept going back and now, they listen."
The entrepreneurial opportunities for alternative energy sources abound, and Kolesnikova is exploring them. Just 10 percent of Kyrgyzstan's hydropower potential has been developed; other renewable energy options could include boosting heating and electricity supply through wind, solar and biogas.
Since its inception in 2005, the annual Champions of the Earth award, the UN's highest environmental honor, has been awarded to some of the world's most dynamic environmental leaders. To date, it has been awarded to 101 laureates, including 25 world leaders, 62 individuals and 14 organizations.
This year, UNEP received a record number of nominations from all over the world.
"As we enter into a decisive decade, to cut emissions and protect and restore ecosystems, UNEP's Champions of the Earth demonstrate that all of us can contribute. Every single act for nature counts," said UNEP chief Andersen. "The entire spectrum of humanity has both a global responsibility and a profound opportunity."
"This year's Champions are women who not only inspire us," Andersen said, "but also remind us that we have in our hands the solutions, the knowledge and the technology to limit climate change and avoid ecological collapse."
Featured image: Prime Minister of Barbados Mia Mottley addresses world leaders on the opening day of the United Nations climate conference COP26 in Glasgow, Scotland, November 1, 2021 (Photo courtesy COP26)