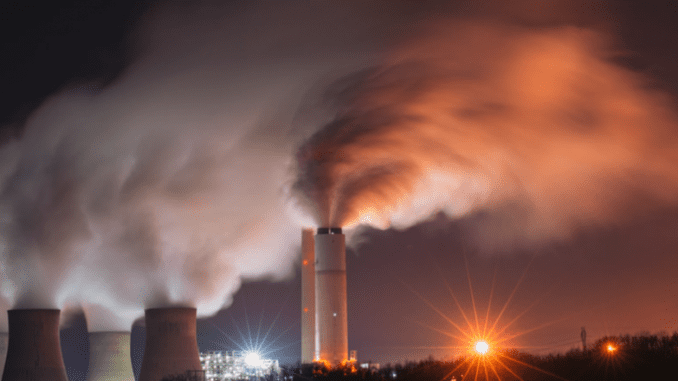 HARRISBURG, Pennsylvania, September 8, 2021 (ENS) – By the slimmest of margins, one vote, a Pennsylvania state commission has authorized a rule empowering the state to participate in the Regional Greenhouse Gas Initiative, RGGI, a cooperative, market-based "cap and invest" program that sets a regulatory limit on carbon dioxide (CO2) emissions from fossil fueled power plants located in Pennsylvania.
Carbon dioxide is the most prevalent greenhouse gas and a major contributor to climate change. The RGGI permits the trading of CO2 emission allowances to achieve cost-efficient compliance with that regulatory limit.
Pennsylvania's participation in RGGI would establish a program to limit CO2 emissions from fossil fuel-fired electric power plants in the state.
Currently, there are 11 RGGI participating states: Connecticut, Delaware, Maine, Maryland, Massachusetts, New Hampshire, New Jersey, New York, Rhode Island, Vermont, and Virginia to cap and reduce CO2 emissions from the power sector – the first cap-and-invest regional initiative in the United States.
In 2017, the RGGI states implemented a new cap reduction trajectory of 30 percent over the period 2020 to 2030. This CO2 cap acts as a regional budget for CO2 emissions from the power sector. See Elements of RGGI for more information. https://www.rggi.org/program-overview-and-design/elements
RGGI states sell nearly all CO2 allowances through auctions and invest the auction proceeds in energy efficiency, renewable energy, and other consumer benefit programs. These programs are spurring innovation in the clean energy economy and creating green jobs in the RGGI states.
"Today, Pennsylvania moved one step closer to assuring that its residents and visitors can live healthier lives," said Secretary Patrick McDonnell who heads the state Department of Environmental Protection. "Participating in RGGI will have immediate and lasting beneficial impacts on our communities."
Pennsylvania has the fifth-leading CO2 emitting electricity generation sector in the United States.
The administration of Governor Tom Wolf, a Democrat, believes that RGGI participation will be "a significant component in achieving Pennsylvania's goals to reduce net greenhouse gas emissions from 2005 levels by 26 percent by 2025 and 80 percent by 2050."
The measure will now go to the Republican-controllede General Assembly for consideration.
How the Commission Split
The 3-2 vote was cast along party lines with Democrats voting for, and Republicans against joining the 9 state compact with the goal of controlling climate change and its disastrous and worsening floods, fires, droughts and storms.
The vote split the all-lawyer Commission along party lines as three members were appointed by Democrats while two were appointed by Republicans.
Republican IRRC Commissioner John Soroko first made a motion to disapprove the regulation, fearing that the 20-member state Environmental Quality Board does not have the statutory authority to adopt the regulation
But this final-form rulemaking is authorized under the Air Pollution Control Act, which grants the Environmental Quality Board the authority to adopt rules and regulations for the prevention, control, reduction, and abatement of air pollution in Pennsylvania.
Soroko also objected that the auction fees that are part of the regulation are a tax which only the General Assembly has authority to enact and he pointed to the "substantial impact" the change will have on regulated parties.
Opponents of the state's participation in the RGGI, such as Marcellus Drilling, also object to the fees as a tax and claim the arrangement will result in "hiking electric rates by an extra $2.36 billion over the next 10 years."
Although IRRC Vice Chair John Mizner, a Republican, voted with Soroko, the motion to disapprove RGGI participation failed 2 to 3.
Commissioner Murray Ufberg then made a motion to approve the regulation which passed 3 to 2, supported by fellow Democrats IRRC Chair George Bedwick and Dennis Watson of Pittsburgh. All the commissioners are attorneys.
As an RGGI State, Pennsylvania Will Set Its Own Rules
RGGI is composed of individual CO2 Budget Trading Programs in each participating state. Through independent regulations, based on the RGGI Model Rule, each state's CO2 Budget Trading Program limits emissions of CO2 from electric power plants, issues CO2 allowances and establishes participation in regional CO2 allowance auctions.
If Pennsylvania does become an RGGI participant, it will establish its own annual CO2 emissions budget, which sets the total amount of CO2 emitted from fossil fuel-fired power plants in a year.
This final-form rulemaking would require least-cost CO2 emission reductions for the years 2022 through 2030.
The rule includes a declining annual CO2 emissions budget, which starts at 78 million tons in 2022 and ends at 58 million tons in 2030.
This is expected to reduce CO2 emissions in Pennsylvania by nearly one-third in 2030 as compared to 2019.
Featured image: The Keystone Generating Station is a 1.71-gigawatt, coal power plant located just west of Shelocta, Pennsylvania, January 1, 2014 (Photo by Zach Frailey)