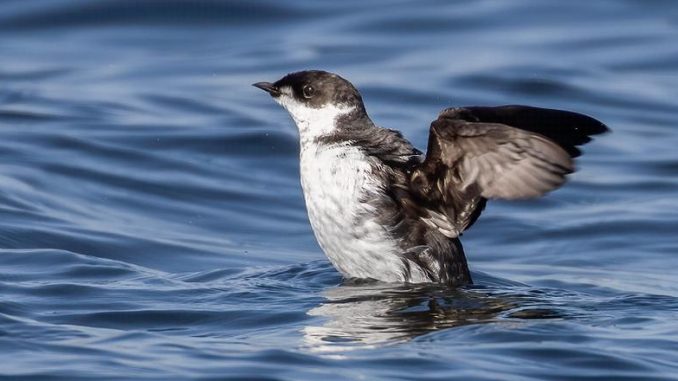 SALEM, Oregon, July 22, 2021 (ENS) – A rare seabird that feeds offshore but nests in mossy, coastal old-growth forests has just been listed as Endangered in Oregon. With this action, the marbled murrelet, Brachyramphus marmoratusis, is now classed as Endangered from California to the U.S.-Canada border.
The Oregon Fish and Wildlife Commission uplisted the species July 9 in response to a petition filed by five conservation groups to reclassify the marbled murrelet from Threatened to Endangered under the state's Endangered Species Act.
The Commission's 4-3 decision came two years after an Oregon judge ruled that the commission had violated state law by denying the groups' petition without explanation in 2018. Lane County Circuit Court Judge Lauren Holland ruled in August 2019 that the commission had illegally changed its decision after first voting to accept the petition to list the murrelet as endangered.
"We're relieved that after so many missteps, the Oregon Fish and Wildlife Commission will finally move forward with extending marbled murrelets the full protection of Endangered status under state law," said Quinn Read, Oregon policy director at the nonprofit Center for Biological Diversity, one of the petitioning groups.
"These unique birds face serious threats in Oregon from climate change, ocean warming, wildfire, and unchecked logging of their nesting habitat and should have been protected as endangered years ago," Read said.
"Oregon has allowed intensive clearcut logging to continue in marbled murrelet habitat on lands owned and regulated by the state," the petitioning groups point out.
With the marbled murrelet now listed as Endangered, state natural resource agencies that own, manage or lease lands containing murrelet habitat must develop an endangered species management plan including survival guidelines and submit it for approval by the Commission within 18 months of the uplisting.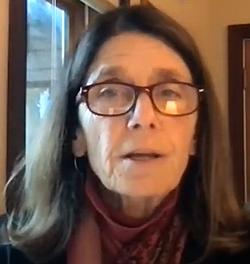 Commission Chair Mary Wahl, who has a special interest in protecting Oregon's last coastal old-growth forest watersheds, noted the risks of changing ocean conditions to the seabird's food supply and the effects of wildfires as factors in her decision to vote "yes" to uplist the marbled murrelet from Threatened to Endangered.
A steep decline in the marbled murrelet population caused concern throughout its range and the Washington-Oregon-California population was federally listed as Threatened under the U.S. Endangered Species Act in 1992. In Alaska, the marbled murrelet is considered a Bird of Conservation Concern by the U.S. Fish and Wildlife Service.
The marbled murrelet was State-listed as Endangered in California and Washington and now in Oregon as well.
Alaska harbors over 85 percent of the world's population of marbled murrelets. They breed along the coast from the Aleutian Islands in Alaska, south to central California. Spring and summer records also exist in Alaska for Bristol Bay and the northern Bering Sea.
In Canada, marbled murrelets are found only on the Pacific coast. The Canadian population in British Columbia was assigned Threatened status by the province in 1990, and federally, the marbled murrelet was assessed as Threatened in 2012 by the Committee on the Status of Endangered Wildlife in Canada.
Estimated at 99,100 birds by the Canadian government in 2014, the BC population was then about 28 percent of the estimated global total of 357,900 birds.
But globally, the marbled murrelet population is shrinking. The Red List of Threatened Species complied by the International Union for the Conservation of Nature, IUCN, now estimates the global population at between 240,000-280,000 mature birds, down from 357,900 just seven years ago.
In Oregon, to uplist the marbled murrelet from Threatened to Endangered, the Oregon Fish and Wildlife Commission determined – by just one vote – that since 1995, when the species was listed as Threatened, the likelihood of survival of the species has diminished so that the species is in danger of extinction throughout a significant portion of its range in Oregon.
They then voted 4-3 again to recognize that shrinking primary habitat is affecting most marbled murrelet populations, and existing state or federal programs or regulations are not adequate to protect the species or its habitat.
Now, under the new Endanered listing, Oregon natural resource agencies that manage murrelet habitat must develop an endangered species management plan for the seabirds and submit the plan for approval by the Commission within 18 months of uplisting.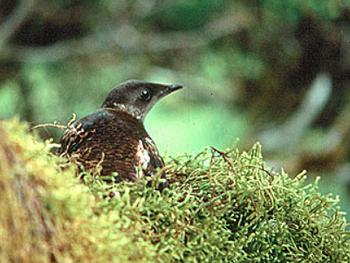 Commissioner Kathayoon Khalil noted that marbled murrelet conservation measures are not mandatory but only voluntary as a factor in her decision to vote "yes" to uplist.
A new report by Commission staff blames climate change for the decline in suitable murrelet habitat, saying, "Climate change is expected exacerbate conditions unfavorable to murrelets in both marine and terrestrial environments."
According to the Oregon Department of Fish and Wildlife's 2021 biological assessment, the marbled murrelet is considered one of the least resilient species to climate change and is at risk of being wiped out by a single catastrophic event, like wildfire.
With this in mind, the Commission voted 5-1 to adopt amended survival guidelines for the species as proposed by staff.
"At long last, marbled murrelets will receive essential additional protections from the state of Oregon," said Bethany Cotton, conservation director for the Oregon nonprofit Cascadia Wildlands, a petitioner.
"While these protections should have been implemented years ago," she said, "we are grateful that ultimately science and law triumphed and murrelets will have a better chance in the face of a rapidly changing climate and aggressive private logging in their remaining old growth forest habitat."
To see all public testimony and full discussion among the Commissioners during their Zoom meeting July 9, click here.
Featured image:
© 2021, News Editor. All rights reserved.