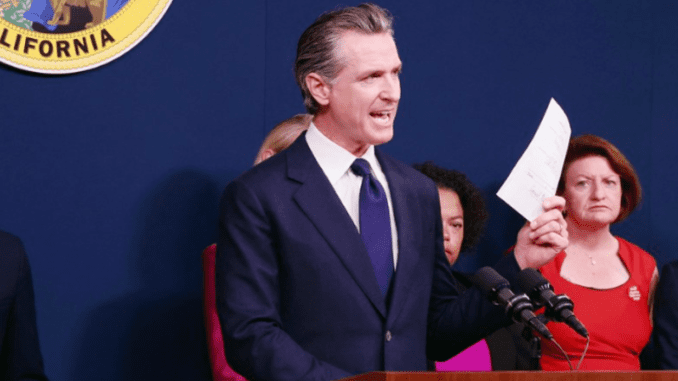 SACRAMENTO, California, October 5, 2022 (ENS) – With the signing of 997 bills into law, California Governor Gavin Newsom just wrapped up the 2022 legislative session.
In addition to guaranteeing and strengthening reproductive rights in California, Governor Newsom said that "California is investing to fight the climate crisis on the scale of what other countries spend."
To support California's $54 billion climate commitment and combat climate change, the governor signed some 40 bills.
The bills signed into law include:
– Assemblymembers Al Muratsuchi and Cristina Garcia's bill to codify the state's goal to achieve carbon neutrality by 2045,
– Senator Lena Gonzalez and Assemblymember Al Maratushi's bill to require recycled catalytic converters to be tracked, which will help stop people from stealing them,
– Senators Lena Gonzalez and Monique Limón's bill to establish a setback distance of 3,200 feet for new oil and gas wells,
– Senator John Laird's bill to create clean energy targets of 90 percent by 2035 and 95 percent by 2040,
– Senators Anna Caballero and Nancy Skinner's bill for safe and equitable deployment of carbon removal and carbon capture, and
– Assemblymembers Cristina Garcia and Robert Rivas' bill to enlist nature-based solutions to climate change.
"And if you were feeling the heat last month, we're doing something about that too, with legislation that includes the creation of the nation's first extreme heat ranking system to prepare communities for heat waves," the governor said.
But the governor vetoed 169 bills. He said the vetos are saving the state billions in taxpayer dollars, but the nonprofit Environment California is frustrated that a bill the group supports to ban some uses of the neonicotinoid class of pesticides that are toxic to bees was vetoed.
The California bill would have banned neonics on most lawns, gardens and golf courses, with exceptions for combating invasive pests.
In response to the governor's veto, Laura Deehan, state director of Environment California, said, "We are disappointed that the governor chose to veto this bill to save the bees. The reality is that California needs to move with urgency to protect our pollinators. Other states have acted in a similar fashion, and California was poised to be the eighth to do so."
"The silver lining here is that in his veto message, the governor calls on his Department of Pesticide Regulation to issue rules in the coming year to address non-agricultural uses of neonics. Of course that lining assumes the rules will be well-crafted and have teeth," said Deehan. "Our advocacy for pollinators will continue until the necessary protections are in place."
At levels often found in the environment, scientists have found that neonics affect bees' brain and reproductive development, make pollen-collecting trips longer and more exhausting, and prevent bees from ridding themselves of parasitic varroa mites. A sizable and growing body of research reveals that neonics' extraordinary toxicity and pervasiveness in the environment also harms and kills other pollinators and threatens native plants and valuable crops that depend on insect pollination.
Additionally, because neonics are systemic pesticides, local bodies of water become contaminated from urban or agricultural runoff. Samples from 58 percent of Northern California and 92 percent of Southern California urban waterways contained the neonic imidacloprid. Environment California's interactive imidacloprid map highlights the locations where the California Department of Pesticide Regulation, DPR, collected water samples contaminated with neonics.
In his veto message, Newsom called for new rules at DPR to address both agricultural and non-agricultural uses of neonics in California. "The department is finalizing regulations on the agricultural use of neonicotinoids and will begin the process of evaluating non-agricultural uses next year," he said.
If the bill had been signed, California would have joined a growing number of states that have implemented restrictions on neonics: Connecticut, Maryland, Vermont, Maine, Massachusetts, New Jersey and New York.
"We came close, and we may still get a victory for the bees in the coming year," she said "I want to thank California lawmakers for passing this bipartisan legislation and the bill's author, Assemblymember Rebecca Bauer-Kahan, for working tirelessly on the bill."
Featured image: Governor Newsom and California Leaders to Announce New Action to Protect Women from Other States Seeking Abortion Services. June 24, 2022 (Photo courtesy Office of the Governor)
© 2022, News Editor. All rights reserved.