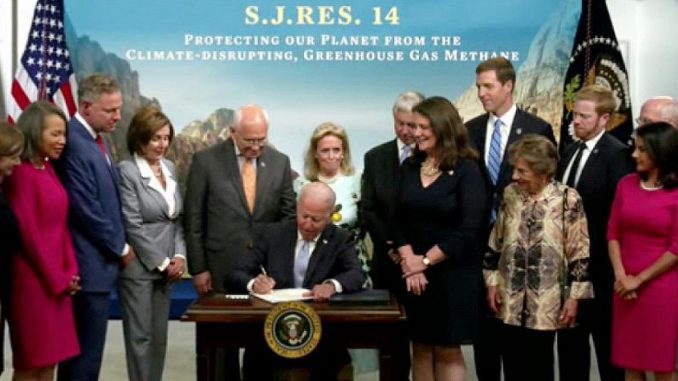 WASHINGTON, DC, June 30, 2021 (ENS) – President Joe Biden signed into law today a Resolution of Disapproval that invalidates the Trump administration's 2020 Methane Rescission Rule and reinstates two stricter Obama-era methane-emission rules that lower the the amount of methane the oil and gas industry can release from U.S. drilling sites.
As a greenhouse gas, methane is up to 84 times more potent than the most plentiful greenhouse gas carbon dioxide. When methane is released into the atmosphere it becomes a contributor to global warming.
At the signing ceremony today President Biden said the bill "is going to help us to drastically cut methane pollution."
He reminded the lawmakers at the ceremony that in 2016 he, as vice president, and President Barack Obama, put in place a rule that required that companies capture methane leaks from the wells they were digging.
"Well, guess what?" Biden said, "They didn't. And so, since then, we've learned that methane is even more dangerous to the climate than we knew back then, in 2016 — trapping much more heat — up to 80 times more heat, methane does than carbon dioxide in its first 20 years in the atmosphere."
"And, look," he said, "this is an important first step of cutting methane pollution."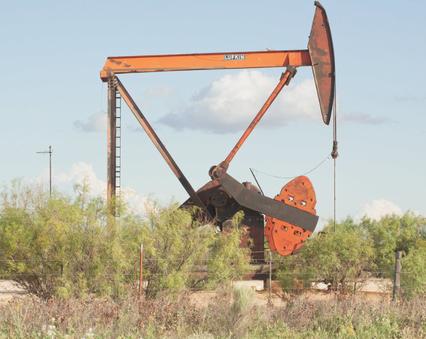 The President wants to carry methane limitation much further and has provided for it in the Bipartisan Infrastructure Framework he negotiated with Senate Republicans last week.
"Our bipartisan infrastructure plan will include $21 billion in environmental remediation to [help in] capping millions of abandoned wells, leaking wells, and oil and gas wells," Biden said. "And so, it will be a good step forward."
Nearly one-third of all methane emissions in the United States come from the production of oil and natural gas, and climate experts agree that reducing emissions from those sites is key to combating the overall climate crisis.
The resolution, introduced in Congress by Representative Diana DeGette of Colorado and Senator Martin Heinrich of New Mexico, both Democrats, rescinds a controversial rule the Trump administration put in place on November 16, 2020, right after the presidential election, to weaken requirements that oil and gas producers must meet to curb methane emissions from any new, or newly modified, wells.
Senator Heinrich, along with Senate Majority Leader Chuck Schumer, a New York Democrat; and U.S. Senators Angus King, a Maine Independent; and Ed Markey, a Massachusetts Democrat; introduced the resolution in the Senate.
Under the reinstated rules that are now law, U.S. oil and gas producers will, once again, have to comply with the 2012 and 2016 Oil and Natural Gas New Source Performance Standards put in place by the Obama administration to reduce methane emissions from drilling sites across the country.
"This was a big win in our fight to combat the climate crisis," DeGette said after participating in a White House signing ceremony for the legislation.
"Climate scientists agree that reducing our methane emissions is key to slowing the effects of climate change," she said. "While getting this legislation signed into law was a critical first step toward sufficiently reducing our nation's overall methane emissions, now, we need to do even more."
Senator Heinrich said, "Today, we put a down payment on the fight against the climate crisis. I'm proud to champion this effort to restore responsible controls on methane emissions – a leading contributor to climate change – and protect the health of our communities. It's time to keep moving forward with real, meaningful actions that leave our children with a healthier planet."
Enacted in 1996, the Congressional Review Act gives Congress the power to review and, if necessary, disapprove of certain federal regulations put in place by a previous administration.
The House passed the Resolution of Disapproval to negate the Trump administration's methane rule on Friday, by a vote of 229 – 191. It was approved by the Senate in April.
In addition to the resolution enacted today to reinstate the Obama-era rules, DeGette introduced a separate piece of legislation in March that would further strengthen those standards and set even stricter limits on the amount of methane being emitted from oil and gas sites across the country.
If approved, that legislation – known as the Methane Waste Prevention Act of 2021 – will require U.S. oil and gas producers operating on public lands to cut their methane emissions by at least 90 percent by 2030.
Featured image: President Joe Biden signs into law a measure reversing his predecessor's relaxation of methane emission rules from oil and gas production. June 30, 2021 (Photo courtesy U.S. Representative Diana DeGette)