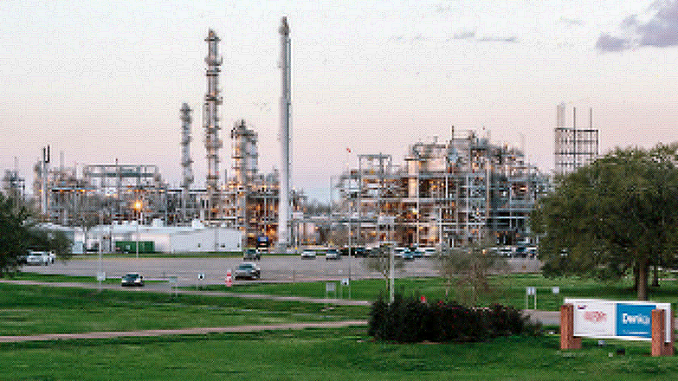 WASHINGTON, DC, January 24, 2022 (ENS) – Black residents of Louisiana's St. John the Baptist Parish have been subjected to the highest cancer risk from air pollution in the nation – caused by various manufacturing facilities, including the Japanese-owned Denka neoprene production plant, the only neoprene factory in the country.
Denka, operating in the former DuPont facility in LaPlace, Louisiana, produces the chemical chloroprene, which is used in the manufacture of neoprene synthetic rubber. Neoprene goes into wetsuits, waterproof gloves, electrical insulation, and automotive fan belts and hoses. The U.S. Environmental Protection Agency reclassified chloroprene as a likely carcinogen in 2010.
The Denka factory is located in an area known as Cancer Alley, an 85-mile stretch of land along the Mississippi River between New Orleans and Baton Rouge. More than 150 chemical plants and oil refineries and their toxic air emissions are situated here, where communities are mostly black, and many people die from cancer.
On Friday, the public interest law firm Earthjustice and the nonpartisan, nonprofit Lawyers' Committee for Civil Rights Under Law, on behalf of Concerned Citizens of St. John, CCSJ, and the Sierra Club, submitted a complaint to the U.S. EPA against the Louisiana Department of Environmental Quality and the Louisiana Department of Health for violations of the Civil Rights Act.
These two agencies have failed to control hazardous air pollution and mitigate its harm, the complaint claims.
EPA Administrator Michael Regan visited St. John the Baptist Parish on his "Journey to Justice" in late fall 2021 to assess the environmental injustice this community has faced and is still facing.
"For years, we have tried to engage with state agencies and local officials to share our concerns about our communities' ongoing exposure to toxic air pollution and the extraordinarily high rates of cancer we experience. But we have been dismissed time and again," said Mary Hampton of Concerned Citizens of St. John.
"It is unacceptable that we've been ignored for so long, and so now we're asking the EPA to step in to protect our civil rights, including to have equal protection from environmental harm, and to ensure that our right to breathe clean air is finally enforced," Hampton said.
"Environmental injustice in St. John the Baptist Parish has created a public health emergency," said Deena Tumeh, Earthjustice attorney representing CCSJ and Sierra Club on the complaint.
"This predominantly Black community suffers disproportionate exposure to toxic air pollution and, as a result, the highest cancer risk from air pollution in the nation. EPA must protect the civil rights of St. John's Black residents and ensure that federal funds are not used to discriminate on the basis of race," Tumeh said.
Speaking in 2017, St. John resident Robert Taylor told National Public Radio about the incidence of cancer in his community, "My mother succumbed to bone cancer. My brother had lung cancer," he said. "My sister, I think it was cervical cancer. My nephew lung cancer." A favorite cousin. That cousin's son. Both neighbors on one side, one neighbor on the other."
"It is beyond time for the EPA to step in to protect the residents of St. John the Baptist Parish from environmental racism," said Dorian Spence, director of the Special Litigation and Advocacy Project at the Lawyers' Committee for Civil Rights Under Law. "The Louisiana Department of Health and the Louisiana Department of Environmental Quality have abandoned their duty to protect this majority Black community. Intervention from the EPA is critical to protect the health and wellness of the residents of St. John."
The Louisiana Dept. of Environmental Quality says Denka voluntarily agreed to take initiatives to reduce plant emissions. LDEQ worked with Denka to craft an Administrative Order on Consent, a legal contract, in which Denka agreed to install a series of new control technology and measures designed to reduce emissions of chloroprene by 85 percent from the facility's 2014 baseline chloroprene emissions.
Denka and LDEQ signed the document January 6, 2017. The U.S. EPA supports LDEQ setting an enforceable schedule to make the needed changes to the facility. Denka has voluntarily committed to spend more than $17 million to reduce chloroprene emissions.
Under the AOC, emissions reductions devices were installed on a set schedule, culminating with the installation of the Regenerative Thermal Oxidizer by the end of 2017. All phases have been installed and are operating.
Over the course of 18 months, monitoring date gathered by EPA showed an overall downward trend in average chloroprene emissions at monitors around the Denka site. 
But that did not satisfy the complaining parties in this lawsuit and in 2020 the EPA stopped monitoring emissions from the Denka facility.
"The U.S. Environmental Protection Agency must step in and protect the residents of St. John the Baptist Parish," said Jane Williams, chair of the Sierra Club's National Clean Air Team. "Louisiana has failed to protect fenceline communities, including St. John residents, from the harms of highly polluting facilities. Now is the time to act."
Featured image: The Denka neoprene production plant, La Place, Louisiana, undated (Photo courtesy Denka)