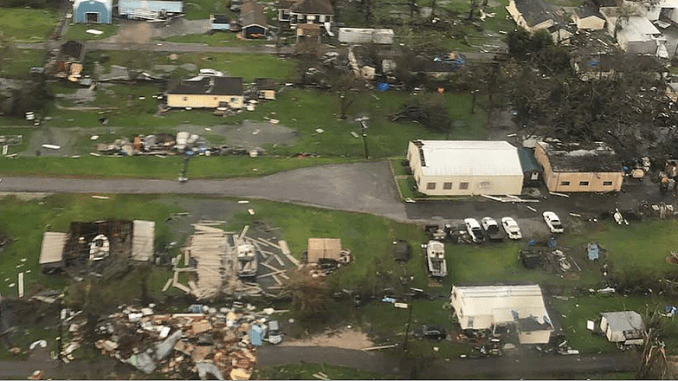 NEW ORLEANS, Louisiana, August 30, 2021 (ENS) – Precisely 16 years after devastating Hurricane Katrina made landfall, another major hurricane hit southern Louisiana around noon on Sunday. Hurricane Ida came ashore at Port Fourchon with sustained winds of 150 miles (240 km) per hour. Preliminary reports suggest it was the fifth strongest hurricane (based on wind speed) ever to make landfall in the continental United States.
Louisiana Governor John Bel Edwards said President Joe Biden officially declared Ida a disaster Sunday night, releasing federal funds to assist with ongoing rescue and recovery efforts.
Wind damage has caused at least one death. Late Sunday in Prairieville, Louisiana, a man died when he was struck by a tree toppled by the storm.
But the storm is not really another Katrina. The entire city of New Orleans lost power but it was not flooded. The levees that were built up and hardened after Katrina held the water out.
As the slow moving storm continues to impact Louisiana, more than 850,000 people are without power statewide, and the entire city of New Orleans lost power. Storm surge and damaging winds are impacting areas along the coast and moving inland.
There was damage at Port Fourchon, a seaport located where Bayou Lafourche empties into the Gulf of Mexico. Port Fourchon handles petroleum industry traffic from offshore Gulf oil platforms and drilling rigs as well as the Louisiana Offshore Oil Port pipeline, and both commercial and recreational fishing.
"We had extensive damages to the port, said Chett Chiasson, executive director at Port Fourchon. "We had pretty strong storm surge from 12 feet to 15 feet."
Waterways into and within Port Fourchon and all along Bayou Lafourche are impeded by multiple obstructions and sunken vessels. The port sustained flooding, flying debris and roofs were blown away.
Oil and gas companies evacuated 288 offshore facilities which shut down 96 percent of crude oil production in the Gulf of Mexico before the storm. The Gulf of Mexico accounts for 17 percent of U.S. oil production. Gas prices could be affected and no estimate of when production will resume has been given.
Hurricane Ida rapidly weakened over land and was only a Category 1 storm early Monday with maximum sustained winds of 95 mph. It was downgraded to a tropical storm a little later on Monday, and by Monday afternoon it was Tropical Depression Ida, according to the National Hurricane Center, but Ida is still causing plenty of havoc.
As of 4 pm CDT, all Tropical Storm and Storm Surge Warnings have been discontinued. Water levels along the northern Gulf coast are forecast to subside through this evening, but swells will continue to affect portions of the northern Gulf coast, likely to cause life-threatening surf and rip current conditions.
On the forecast track, the center of Ida will move farther inland over central and northeastern Mississippi tonight. Ida is then forecast to move across the Tennessee Valley on Tuesday and near the central Appalachians on Wednesday.
Maximum sustained winds have decreased to near 35 mph (55 km/h) with higher gusts. Additional weakening is forecast during the next day or so.
Through Tuesday morning across portions of southeast Louisiana into far southern Mississippi, storm total rainfall accumulations of 10 to 18 inches with isolated maximum amounts of 24 inches is expected.
Heavy rain combined with storm surge has resulted in catastrophic impacts along the southeast coast of Louisiana with considerable flash flooding and riverine flooding continuing farther inland.
Ida will continue to turn northeast this evening and is forecast to track across the Middle Tennessee Valley, Ohio Valley and Mid-Atlantic through Wednesday.
Considerable flash flooding is possible from the Lower Mississippi Valley through the Middle Tennessee Valley, Ohio Valley, Central/Southern Appalachians, and into the Mid-Atlantic. Widespread minor to isolated major riverine flooding is occurring or forecast
from the Lower Mississippi Valley into far western Alabama. Rivers will remain elevated into next week.
A few tornadoes are possible through tonight, mainly across far southeast Mississippi, the southern half of Alabama, and the western Florida Panhandle. The threat for a few tornadoes will shift east on Tuesday and become centered across eastern Alabama, western Georgia, and the Florida Panhandle.
Federal Government Rushes Assistance
President Biden convened a virtual meeting today with the Governors of Louisiana and Mississippi and mayors from cities and parishes most impacted by Hurricane Ida to receive an update on the storm's impacts, and to discuss how the federal government can provide assistance.
President Biden highlighted how this will be a whole-of-government and whole-of-community response and recovery effort. He said there are more than 25,000 line and tree crews from at least 30 States en route to help local utilities begin restoration work. 
The President has asked the Department of Defense and the Department of Homeland Security to immediately make available satellite imagery, and he asked the Federal Aviation Administration to work with Louisiana and Mississippi to authorize the use of surveillance drones to help state and local governments assess the damage from Hurricane Ida.
Power Teams Arrive From Across the Country
"At 150 mph, Hurricane Ida's winds were incredibly devastating," said Phillip May, Entergy Louisiana president and CEO. "We continue looking at options to restore power to those parishes that are out."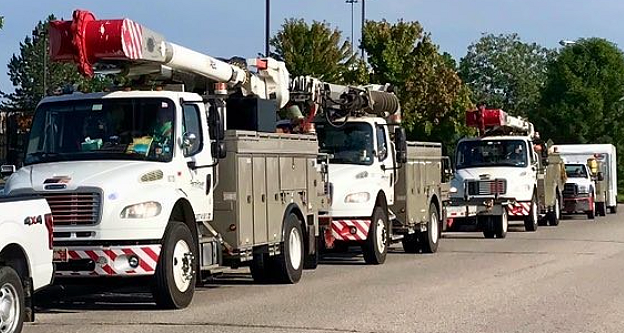 An anticipated storm team of more than 20,000 and growing has begun assessing the vast damage and destruction across New Orleans and southeast Louisiana caused by Hurricane Ida's landfall on Sunday, says Entergy, which supplies electricity to New Orleans and the region.
Fierce winds and torrential rainfall toppled transmission, power poles and other equipment, causing outages for approximately 895,000 Entergy New Orleans, LLC and Entergy Louisiana, LLC customers as of 11 am Monday.
Damage to eight high-voltage lines took out power for New Orleans and Jefferson, St. Bernard and Plaquemines parishes, as well as parts of St. Charles and Terrebonne parishes.
One transmission tower near Avondale fell Sunday night, causing the tower's conductor and wires to land in the Mississippi River. As a result of Hurricane Ida's intensity, major transmission lines that deliver power to numerous Louisiana parishes are currently out of service.
Entergy says full assessment of the damage could take several days, since many areas are inaccessible. Based on historical restoration times, customers in the direct path of a storm as intense as Hurricane Ida could experience outages for more than three weeks. While 90 percent of customers will be restored sooner, customers in the hardest-hit areas should plan for the possibility of experiencing extended power outages.
"This will be a marathon, not a sprint," said Deanna Rodriguez, Entergy New Orleans president and CEO. "We're working as safely and quickly as we can, but recovery will vary depending on the damage incurred and its location. We must all be prepared for the recovery to take some time."
Since handling residents' wastewaste requires electricity Entergy is working with the New Orleans Sewage and Water Board where Entergy has offered back-up power generation to supplement the board's own back-up generation sources. Wastewater infrastructure is a priority for all impacted parishes across the state.
Road closures, flooding and cell phone communication problems are hindering the restoration process.
Entergy urges everyone to be safe, including customers and Entergy personnel and contractors. Stay away from downed power lines as well as flooded areas. Do not walk in standing water and do not venture into areas of debris since you may not be able to see a power line that could still be energized and dangerous.
The greatest danger after this type of storm remains downed power lines and electrical equipment. If anyone sees a power line or electrical equipment on the ground or in the trees or bushes – do not go near it. Call and report it at 800-9OUTAGE (800-968-8243).
If customers smell natural gas or hear a blowing or hissing noise, open a window and leave the area immediately. Do not operate electrical switches. Call the gas company from a nearby building and don't re-enter until it's safe to do so. For more gas safety tips, visit Entergy's Storm Center. To report a gas leak, call 1-800-9-OUTAGE.
In flooded areas, a steady stream of bubbles on the surface of the water may be evidence of a gas leak. In areas that are not flooded, blowing dirt or dead grass and plants in the area of a gas line may be evidence of a leak, in addition to the easily detectable smell and a hissing sound. To report a gas leak, call 1-800-9-OUTAGE.
Please do not attempt to turn on or off your natural gas valve or use gas or electrical appliances that have been flooded.
Customers choosing to use a generator should buy one only from a reputable dealer who can service and maintain the unit. The primary hazards to avoid when using a generator are carbon monoxide poisoning from the toxic engine exhaust, electric shock or electrocution and fire.
Never try to power the house wiring by plugging the generator into a wall outlet, a practice known as "backfeeding." This is an extremely dangerous practice that presents an electrocution risk to utility workers and neighbors served by the same utility transformer. It also bypasses some of the built-in household circuit protection devices.
Click here to visit the Entergy Storm Center for more information on using your generator safely.
Featured image: Hurricane Ida is pictured as a Category 2 storm from the International Space Station as it orbited 263 miles above the Gulf of Mexico. August 28, 2021 (Photo by NASA Johnson)