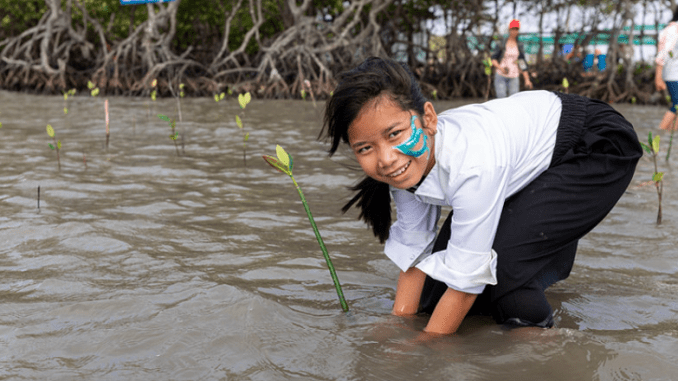 MARSEILLE, France, September 9, 2021 (ENS) – The IUCN World Conservation Congress amplified its environmental decision-making on Wednesday by introducing a plan to develop a collaborative certification system for Nature-based Solutions, NbS. The IUCN would coordinate existing sustainability certification programs to ensure that actions taken by well-meaning companies, NGOs, philanthropists and others are, in fact, sustainable.
Nature-based Solutions encompass a wide range of services rendered by nature, from oyster reefs in New York filtering water, to restored mountain slopes in Nepal protecting roads and people from landslides, to wetlands in the United Kingdom that are reviving local economies while providing biodiversity benefits.
"The success of nature-based solutions is dependent on ensuring confidence among different parties that it can deliver significant sustainable benefits in a socially equitable manner," said Stewart Maginnis, deputy director general of the International Union for the Conservation of Nature, IUCN.
"IUCN has chosen to develop a third party assurance scheme through partnerships with existing sustainability certification schemes, rather than creating a competing, stand-alone NbS certification," Maginnis said. "The scheme will be inclusive and accessible to all."
Under the IUCN Nature-based Solutions certification system, which will be launched in 2022, entities interested in obtaining certification of their Nature-based Solutions intervention, developed in accordance with the IUCN Global Standard for Nature-based Solutions, https://www.iucn.org/theme/nature-based-solutions/resources/iucn-global-standard-nbs will be able to apply for certification through one of several existing sustainability certification schemes recognized by IUCN.
IUCN says a standard is essential because increased demand for Nature-based Solutions has led to cases of misuse of the concept. "In the worst-case scenarios, misuse runs the risk of damaging biodiversity and eroding the nature that we depend upon for services, such as clean water and food," IUCN said.
For instance, IUCN points out, a tree-planting project using just one non-native species could result in poor soil biodiversity, ultimately making it more costly or impossible to sustain a diverse forest in the future.
Lack of water use considerations could lead to too much withdrawal, creating water scarcity in local communities.
"Failure to take into account social and economic factors like these has meant that even seemingly successful pilot applications of NbS have ultimately not been sustainable," IUCN warns. "Worse, weak or mislabeled NbS projects can water down the case for the NbS approach – de-incentivizing its use, eroding donor confidence and misdirecting efforts."
To establish the new system, IUCN will work with a small group of partners to define the exact requirements for existing certification schemes to be recognized by IUCN, and to integrate the IUCN Global Standard for Nature-based Solutions into the standards of the collaborative system.
Among partners in this development phase are the Forest Stewardship Council, the Gold Standard, the Initiative for Responsible Mining Assurance, FairTrade International, and the Global Sustainable Tourism Council.
This work is being done through IUCN's Global Facility for Nature-based Solutions which was also launched at the 2021 IUCN World Conservation Congress.
Through the NbS Facility, IUCN aims to promote the adoption of Nature-based Solutions as a proven sustainable development approach across sectors, and to encourage their delivery at the scale and quality necessary to meet global climate, conservation and development targets by 2030.
The Facility will help catalyse financing and investment for Nature-based Solutions, assist implementers in identifying and making use of policy levers at global, regional, national and sub-national levels as well as facilitate knowledge across the world.
NGOs Emphasize Nature's Legal Rights
Civil society groups are pushing the Rights of Nature at the Marseille Congress to ensure it remains at the top of the agenda, and the IUCN works towards implementing its commitments under Resolution 100 on "rewilding," its Action Programmes and the IUCN World Declaration on the Environmental Rule of Law.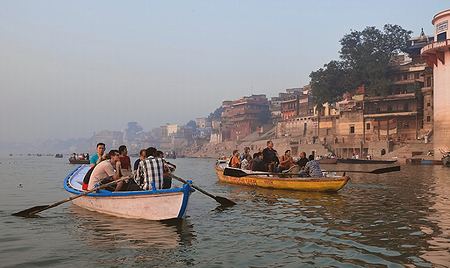 An example of the legal rights of a natural ecosystem is the ruling of the high court in India's Uttarakhand state in 2017 which recognized the Ganges and Yamuna rivers as legal persons because of their "sacred and revered" status. The court named the state government as their guardians.
Osprey Orielle Lake, executive director of the California-based Women's Earth and Climate Action Network, WECAN, said, "In order for IUCN to truly uplift Resolution 100, there must be a primary understanding by governments and financial institutions that humans must urgently reorient themselves from an exploitative and ultimately self-destructive relationship with nature, to one that honors the deep interrelation of all life and contributes to the health and integrity of the natural world."
"An essential step in achieving this goal," Lake said, "is to create a system of jurisprudence that sees and treats nature as a fundamental, rights-bearing entity and not as mere property to be exploited or used in market-based schemes. This is a worldview change, and one that Indigenous peoples have been demonstrating for generations."
Today, the rights of nature got another hearing in a session called "Rights of Nature: legal perspectives from America, and its implications in International Environmental Law" by Germany's Alexander von Humboldt Foundation and the EU's Ecologic Institute.
Almost 13 years have passed since Ecuador became the first country to recognize in its Constitution that nature can have rights. Now, 37 countries recognize the Rights of Nature, either at a national level, in subnational legislation or by recognizing the rights of an ecosystem.
Natalia Greene, an Executive Committee member of the Ecuador-based Global Alliance for the Rights of Nature, said in her opening speech for the 'From Glaciers to Oceans' event at the IUCN Congress, "We do not defend nature, we are nature that defends itself. We are an integral part of this incredible living community, the ecosystem-Earth, and we are all subjects of rights."
IUCN Chooses a New President
As the Congress drew to a close on Wednesday, IUCN members elected Razan Khalifa Al Mubarak, 42, as the new IUCN President, replacing Inger Andersen, who is now Executive Director of the UN Environment Programme, UNEP.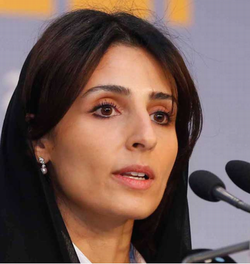 Al Mubarak has been serving as the Managing Director of the Environment Agency Abu Dhabi.
In 2018, the World Economic Forum selected her as one of the top 100 Young Global Leaders for her contribution to building a more sustainable future for humankind.
A strong supporter and advocate for IUCN for two decades, Al Mubarak enabled Environment Agency Abu Dhabi to became an IUCN Framework Donor and the country has convened four meetings of the IUCN Species Survival Commission since 2008.
She also secured the long-term hosting of UNEP's Conservation of Migratory Species secretariats for raptors and dugong by Environment Agency Abu Dhabi, and, in partnership with UNEP, established the Eye on Earth community to ensure standardized, free and open access to global environmental data.
Enrique Lahmann, global director, IUCN Union Development Group, said, "Regional representation and scientific expertise are core to IUCN. The Union's democratic process, bringing together over 1,400 state, Indigenous Peoples' organisations, and civil society members, gives incoming President Razan Al Mubarak and the Council she leads a strong mandate."
Featured image: Students, women champions, government officials, NGO members and community members from around Kampot and Kep gathered to plant 3,000 mangroves and conserve Cambodia's coastline. The planting was part of ActionAid Cambodia's 100,000 Mangroves campaign, supported by the United Nations Development Programme. March 3, 2020 (Photo by Manuth Buth/UNDP Cambodia)
© 2021, News Editor. All rights reserved.