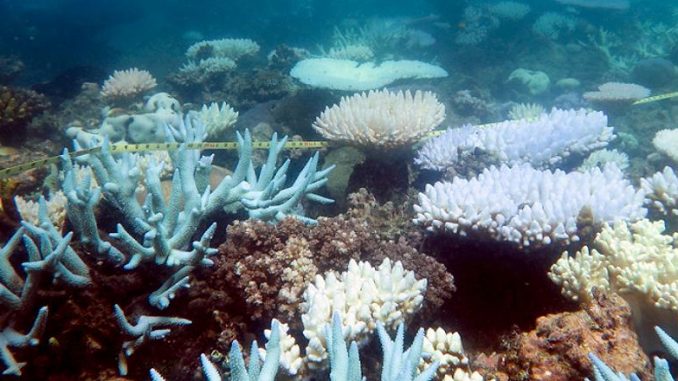 GLAND, Switzerland, June 24, 2021 (ENS) – The International Union for the Conservation of Nature, IUCN, the official advisor on nature to UNESCO's World Heritage Committee, has recommended that the world's largest reef, Australia's Great Barrier Reef be placed on the List of World Heritage in Danger.
IUCN's recommendations, made jointly with the UNESCO World Heritage Centre, will be considered by the World Heritage Committee at its next meeting, online from 16 to 31 July and hosted by China.
The List of World Heritage in Danger is a mechanism designed to mobilize urgent action to secure the conservation of sites facing severe threats.
In-danger status is recommended for the Great Barrier Reef because of "the unprecedented speed and scale of decline of its marine life and ecosystems," the IUCN said.
A new study of the Great Barrier Reef published last October shows the reef has lost half its corals over the past 30 years. Conducted by scientists with the ARC Centre of Excellence for Coral Reef Studies at James Cook University in Queensland, Australia, the study found the decline occurred in both shallow and deeper water, and across virtually all species, but especially in branching and table-shaped corals.
"These were the worst affected by record-breaking temperatures that triggered mass bleaching in 2016 and 2017," said Professor Terry Hughes from the ARC Centre. As more complex coral structure is lost, so too are fish habitats.
This is the 40th anniversary of the Great Barrier Reef being listed as a World Heritage site, and the first time a World Heritage site has been proposed for in-danger listing as a result of climate change.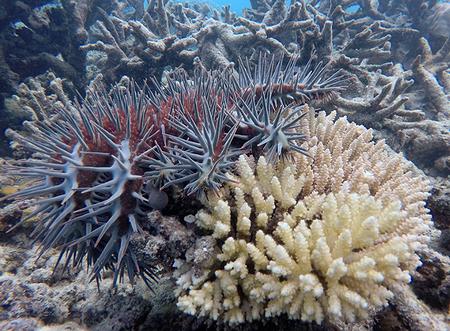 Australian Minister for the Environment Sussan Ley says that Australia will "strongly oppose" the recommendation, citing Australia's "world leading reef management and its $3 billion investment in reef protection."
The committee wrote in a draft report Monday that "there is no possible doubt" that the coral reef off Australia's northeast coast is "facing ascertained danger."
"Despite major efforts and significant investment by Australia to implement its 2050 Reef Sustainability Plan, impacts from climate change, including a sequence of coral bleaching events in 2016, 2017 and 2020, have caused great damage to the site," the recommendation states.
In addition, the cumulative effects of multiple threats, such as poor water quality, are reducing the reef's resilience to cope with increasing pressures. IUCN recommends urgent and redoubled efforts at both the global and local levels to safeguard the Great Barrier Reef.
In a call to the Director General of UNESCO, Audrey Azoulay, with Foreign Minister Marise Payne overnight, Ley expressed "Australia's dissatisfaction with the process that is being followed."
"I made it clear that we will contest this flawed approach, one that has been taken without adequate consultation. This sends a poor signal to those nations who are not making the investments in reef protection that we are making," said Ley.
"If it is being proposed on the basis of the very real threat of global climate change, then there are any number of international World Heritage Sites that should be subject to the same process," she said. "I agree that global climate change is the single biggest threat to the world's reefs but it is wrong, in our view, to single out the best managed reef in the world for an 'in danger' listing."
"Changing the Great Barrier Reef's World Heritage status to 'in danger' equates to emergency authorities cranking up the fire danger rating to catastrophic," said Australia's Climate Council spokeswoman and climate scientist Professor Lesley Hughes. 
"The situation is dire, and our response should match that," said Professor Hughes. "The Reef has been severely damaged by three marine heatwaves in the past five years alone."
Three Other World Heritage Sites Also In Danger
If IUCN's advice is followed by the World Heritage Committee, the Great Barrier Reef is just one of four sites that could be added to the List of World Heritage in Danger, which currently counts 17 natural World Heritage sites.
Also recommended for listing as In Danger, is the W-Arly-Pendjari Complex in three countries: Benin, Burkina Faso and Niger. This recommendation is based on the impacts of growing insecurity in the Sahel region.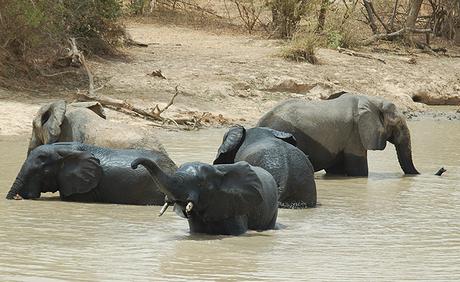 Management staff in Burkina Faso have been forced to abandon the W and Arly parks due to the presence of armed terrorist groups. This has led to an increase in illegal activities such as poaching, grazing and gold panning in these two parts of the transboundary site.
A move to the World Heritage in Danger List is recommended for the Natural and Cultural Heritage of the Ohrid region in Albania and North Macedonia. The site, which includes Europe's oldest lake, has been facing continued pressure from multiple threats – large-scale infrastructure projects, increased pollution, uncontrolled urban development and coastal exploitation.
The Volcanoes of Kamchatka World Heritage site in Russia could also be added to the In Danger list due to boundary changes made to accommodate plans for large-scale tourism infrastructure inside the site. These would include a cruise ship terminal in the undeveloped Viluchinskaya Bay, a new highway and several tourism facilities, which the IUCN warns would cause "severe damage to the site's exceptional scenic value."
Dam Project Threatens World Heritage Status of Game Reserve
Construction of the Julius Nyerere Hydropower Project, formerly known as the Stiegler's Gorge dam project, is well underway in Tanzania's Selous Game Reserve, one of the planet's largest World Heritage sites. Much of the project's infrastructure is now built, such as its river diversion tunnel, roads, bridges and offices within World Heritage Site.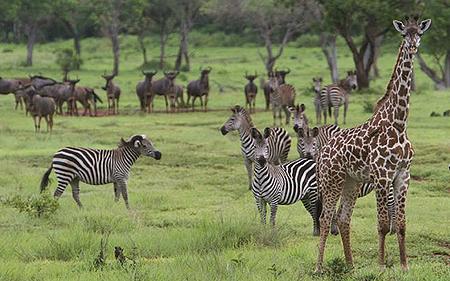 Dams with large reservoirs are considered to be incompatible with World Heritage status, and the World Heritage Committee has made repeated calls to not proceed with the project.
The 130 meter (426 foot) high dam on the country's largest river, the Rufiji, is expected to inundate 125,000 hectares (482 square miles) of wilderness that provide refuge to many threatened species, including the Endangered African savannah elephant and the Critically Endangered black rhinoceros. Both species are the targets of poachers.
Selous was inscribed on the World Heritage List in 1982 for its undisturbed ecosystems and high density of wildlife. As the dam project has already caused irreversible damage to these values, the site's integrity has been lost. These impacts have led UNESCO's World Heritage Centre and IUCN to recommend the site be deleted from the World Heritage List.
Two Biodiverse Sites Be Added to World Heritage List
Two sites high in biodiversity – one in the Eastern European country of Georgia and the other in Japan – could be added to the UNESCO World Heritage List at the July meeting.
IUCN advises the World Heritage Committee to inscribe a site in the southwest of Japan composed of four islands: Amami-Oshima Island, Tokunoshima Island, Northern part of Okinawa Island, and Iriomote Island.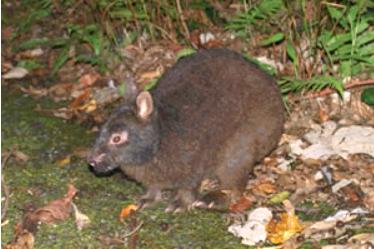 Although a small land area, the four islands host a high density of Japan's animals and plants, many of them found nowhere else on Earth. These include distinct species such as the Endangered Amami rabbit (Pentalagus furnessi) and long-haired rat (Diplothrix legata), neither of which have relatives anywhere in the world.
In Georgia, on the border of Eastern Europe and Asia, the Colchic Rainforests and Wetlands site is also recommended for inscription by IUCN for its exceptional biodiversity. The site includes seven areas of rainforests, peatlands and mires in the Colchis, a distinct ecological region in Eurasia.
The Colchic Rainforests and Wetlands site hosts numerous species of plants and animals adapted to the extremely humid climate, including the Critically Endangered Colchic sturgeon (Acipenser colchicus) as well as 1,100 species of plants, some 500 species of vertebrates, and many invertebrates.
In addition, IUCN recommends approving parts of a proposal to extend the Ancient and Primeval Beech Forests of the Carpathians and Other Regions of Europe.
The site, originally inscribed in 2007 and subsequently extended in 2011 and 2017, currently includes 78 areas of beech forests in 12 countries of Europe. The extension proposed for 2021 would include 29 additional areas, as well as six modifications of existing areas, across 10 countries.
IUCN recommends approving all of the modifications, and inscribing 15 new areas in Bosnia and Herzegovina; Czechia, also called the Czech Republic, France, Italy, North Macedonia, Poland, Slovakia, and Switzerland.
Featured image: Global warming is transforming the Great Barrier Reef, bleaching corals white and destroying fish habitat, March 10, 2016 (Photo by Mia Hoogenboom / ARC Centre of Excellence for Coral Reef Studies)
© 2021, News Editor. All rights reserved.