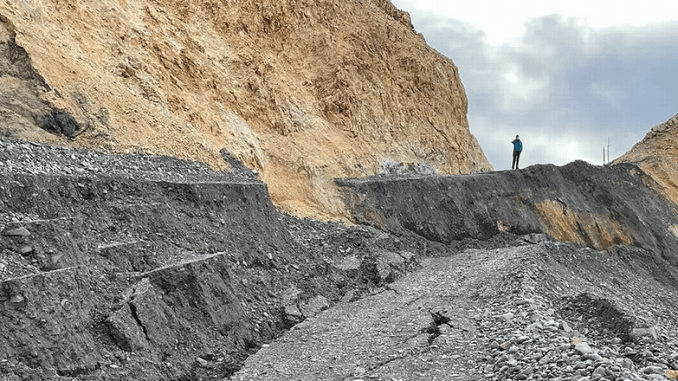 ANCHORAGE, Alaska, January 24, 2022 (ENS) – The U.S. Department of the Interior is making $25 million in funding from the Bipartisan Infrastructure Law available to accelerate a long-term solution for the Pretty Rocks landslide in Alaska's Denali National Park.
As one of the first Interior Department investments from the Bipartisan Infrastructure Law, this project will help safeguard Alaska's outdoor recreation economy and ensure safe and full access to the park much sooner than expected.
"This important investment will bolster community resilience and strengthen our response to the effects of climate change, while also increasing visitor access to Alaska's treasured outdoors," said Interior Secretary Deb Haaland.
"The construction of this project invests in Alaska's vibrant outdoor recreation economy and will ensure access for future generations. We appreciate the Alaska congressional delegation's leadership in the passage of the Bipartisan Infrastructure Law, which has made this investment in Denali National Park possible," she said.
"Investing in a permanent and sustainable solution for access at Denali National Park is exactly the type of project the new Bipartisan Infrastructure Law is intended to fund. We'll be able to expand access to the outdoors, protect America's public lands, and safeguard critical park infrastructure," said National Park Service Director Chuck Sams.
The Pretty Rocks landslide displaces 100 yards of the full width of the Denali Park Road near its midpoint at Mile 45.4. In recent years this landslide has evolved from a minor maintenance concern to causing substantial road restrictions.
The Pretty Rocks landslide has been active since at least the 1960s, and probably since well before the Denali Park Road was built through this area in 1930.
Before 2014, the landslide only caused small cracks in the road surface and required moderate maintenance every few years. But the rate of road movement within the landslide has increased from inches per year before 2014, to inches per month in 2017, inches per week in 2018, inches per day in 2019, and up to 0.65 inches per hour in 2021.
Based on climate data from 1950 to 2010, Denali National Park has experienced a temperature increase of 7.7°F ± 2.0°F (4.3°C ± 1.1°C) per century, the highest of all national parks.
A recent shift in mean annual temperatures in the area to near 32°F (0°C) combined with heavy rainfall events is believed to be causing permafrost to thaw, resulting in the recent acceleration of many landslides in Denali.
In the case of Pretty Rocks Landslide, climate change has taken a problem once solved by minor road repairs and made it difficult to overcome with short-term solutions. Temperature and precipitation increases are likely to continue, and the rate may worsen, over the coming decades.
Before work begins on a fix for public access past the Pretty Rocks landslide, Denali National Park will complete its planning through the Polychrome Area Improvements Environmental Assessment.
The EA is now available for public review and comment until February 13, 2022. The National Park Service will hold two virtual public meetings during the comment period. Visit the NPS Polychrome website for more information.
The new funding stream will enable the National Park Service and the Federal Highway Administration, which have been working to identify funding and contracting opportunities, to accelerate the overall project schedule, to begin phased work in 2022 and complete a permanent solution one year earlier than initially planned.
"We look forward to getting started on a long-term solution at Pretty Rocks. During construction, visitors will continue to have access to great wildlife viewing, views of Denali, front-country trails and backcountry hiking and camping," said Acting Denali National Park Superintendent Brooke Merrell. "Denali is ready for visitors in 2022 and will continue to work with our neighbors, inholders and partners to ensure an unforgettable Denali experience throughout the construction phase."
In addition to historic funding for climate resiliency initiatives and legacy pollution clean-up, the Infrastructure Law provides funding for climate resiliency and reauthorizes the Federal Lands Transportation Program for five years, which will help the NPS repair and upgrade its roads, bridges, trails and transit systems.
Featured image: On the eastern side of the Pretty Rocks landslide, the displacement of 14 vertical feet, seen below the person standing on the stable road surface, occurred over two weeks following the end of maintenance and road use, September 2, 2021, Denali National Park, Alaska (Photo courtesy National Park Service)
© 2022, News Editor. All rights reserved.