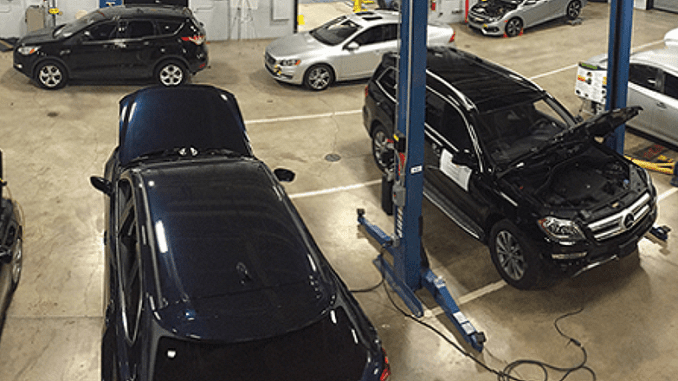 WASHINGTON, DC, August 31, 2021 (ENS) – Electric vehicles are on their way to widespread acceptance, but as of June 2021, cumulative sales in the United States totaled just 1.98 million highway legal plug-in electric cars since 2010. Meanwhile, many U.S. drivers prefer diesel, be it clean – or not.
Tampering with diesel-powered vehicles by installing defeat devices to bypass the emissions controls can emit clouds of nitrogen oxide (NOx) and particulate matter up to 40 times higher than the U.S. federal limit, contributing to serious public health problems.
These problems include premature mortality, aggravation of lung and heart disease, aggravation of existing asthma, acute respiratory symptoms, chronic bronchitis, and decreased lung function.
Numerous studies link diesel exhaust to increased incidence of lung cancer, especially in low-income neighborhoods, points out the U.S. Environmental Protection Agency (EPA), recognizing that, "Respiratory issues disproportionately affect families, especially children, living in underserved communities overburdened by pollution."
EPA testing has shown that "a vehicle's emissions increase drastically – tens or hundreds of times, depending on the pollutant – when its emissions controls are removed," the agency states.
According to the EPA and the California Air Resources Board, defeat devices detect steering, throttle, and other inputs used in the test to switch between two distinct operating modes.
In the test mode, the cars are fully compliant with all federal emissions levels. But when driving normally, the computer switches to a different mode – changing the fuel pressure, injection timing, exhaust-gas recirculation, and, in some models, the amount of urea fluid sprayed into the exhaust. This mode delivers higher mileage and power but emits more NOx.
Many readers may recall the Volkswagen defeat device scandal that broke into public view in late 2015. By the end of 2020 it had cost the company some $25 billion in fines, penalties, civil damages and restitution for the 580,000 turbocharged direct injection diesels it sold in the United States after tampering with the software to produce misleading results during laboratory emissions testing.
Nothing of that scale is on the docket right now, but the day-to-day effort of keeping heavily polluting diesel vehicles off U.S. roads goes on.
Stopping aftermarket defeat devices for vehicles and engines is a top priority for the EPA, which identified this goal as one of six National Compliance Initiatives in 2019.
Defeat devices in automobiles and trucks can significantly increase emissions of hazardous air pollutants," said Acting Assistant Administrator Larry Starfield for EPA's Office of Enforcement and Compliance Assurance, and he has a warning for businesses that make or sell defeat devices.
"Businesses manufacturing and selling illegal aftermarket defeat devices should take note that this is a priority enforcement focus for EPA," Starfield said, "and we will continue to actively investigate these violations of the Clean Air Act."
The EPA has taken numerous enforcement actions against automakers and other companies that have used or installed defeat devices, whether deliberately, or through error or negligence.
What Have You Done for Me Lately?
Just this week, on August 30, the Justice Department and EPA jointly reached a Clean Air Act settlement with Arizona-based Gear Box Z for selling defeat devices. In a separate action, the EPA fined companies in Iowa and Nebraska for different alleged vehicle defeat device violations.
Under the settlement, Gear Box Z has agreed to stop manufacturing and selling aftermarket defeat devices, that, when installed, bypass, defeat or render inoperative EPA-certified emission controls on motor vehicles.
In January 2020, the United States sued Gear Box Z, which manufactured and sold thousands of defeat devices. In March 2021, the court issued a preliminary injunction ordering GBZ to immediately halt the illegal sale of the devices.
The court found the continued selling of these defeat devices "would cause irreparable harm by increasing motor vehicle emissions that impair human health and the environment."
The settlement also bars GBZ and its owners from selling or transferring any intellectual property or providing technical support for these products, and investing in or obtaining revenue from other companies' manufacture and sales of defeat devices.
Under the settlement, GBZ and its owners will pay a civil penalty of $10,000, which the Justice Department says "was based on their financial situation."
"This lawsuit and settlement show that the United States will vigorously enforce the Clean Air Act, including its prohibition of illegal devices that disable emission controls and harm the environment and public health," said Assistant Attorney General Todd Kim of the Justice Department's Environment and Natural Resources Division.
On August 31, the EPA assessed civil penalties against two companies for installing or selling defeat devices" in vehicle engines to render emissions controls inoperative, in violation of the federal Clean Air Act. The fines may be small, but the message gets out to other, similar companies who also might want to profit from a defeat device market that finds hundres of willing customers.
Diesel repair shop Midwest Truck Products LLC of Cantril, Iowa, will pay a $75,000 penalty.
South Central Diesel Inc. of Holdrege, Nebraska, an industrial machinery and equipment distribution company, will pay a penalty of $50,954.
The EPA alleges that the two companies tampered with vehicle engines and/or sold devices to remove emissions controls for hundreds of customers.
In addition to paying civil penalties, the companies certified that they have stopped disabling vehicle emission controls.
"Aftermarket defeat devices are a significant contributor to harmful air pollution," said Diane Huffman, acting director of EPA Region 7's Enforcement and Compliance Assurance Division."These illegal practices also impede federal, state, and local efforts to implement air quality standards that protect public health."
Featured image: Vehicles lined up for testing at the U.S. Environmental Protection Agency's Vehicle and Fuel Emissions Testing Center at Ann Arbor, Michigan. (Photo courtesy U.S. EPA)
© 2021, News Editor. All rights reserved.