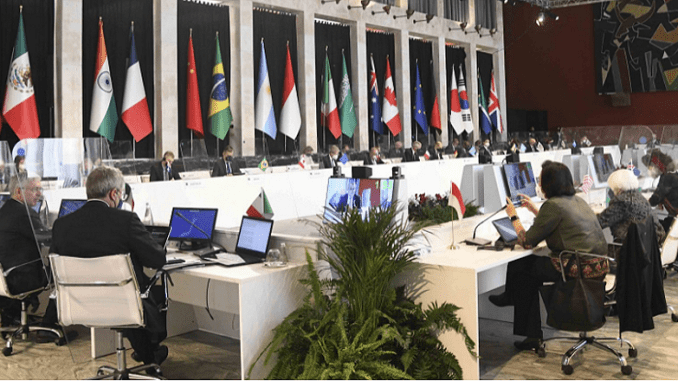 ROME, Italy, October 30, 2021 (ENS) – The G20 nations are getting serious about controlling the coronavirus pandemic and any future pandemic that might arise. On Friday in their first joint meeting under the Italian G20 Presidency, the G20 Health and Finance Ministers established a joint Finance-Health Task Force to strengthen both public health measures and the funding to support them.
The meeting took place on the eve of the G20 Leaders' Summit, and it was co-chaired by Daniele Franco, Italian Minister for Economy and Finance, and Roberto Speranza, Italian Minister of Health.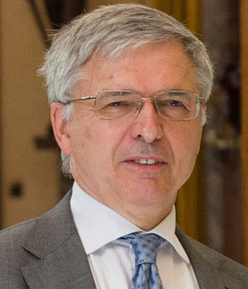 The G20 members are: Argentina, Australia, Brazil, Canada, China, the European Union, France, Germany, India, Indonesia, Italy, Japan, Mexico, Russia, Saudi Arabia, South Africa, South Korea, Turkey, the United Kingdom, and the United States.
In a joint communiqué, the ministers said, "We reiterate our commitment to bring the pandemic under control everywhere as soon as possible, put people at the center of preparedness and to strengthen our collective efforts to prepare for, prevent, detect, report, and respond to health emergencies, notably promoting resilience of health systems and communities."
"We recognise the role of extensive COVID-19 immunisation as a global public good. We reaffirm our support to all collaborative efforts to ensure a timely and equitable access to safe, affordable, quality and effective vaccines, therapeutics, diagnostics, and personal protective equipment, particularly in low- and middle-income countries."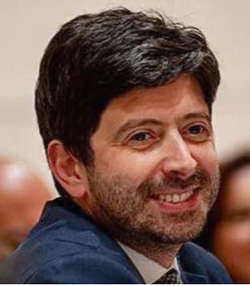 "To help advance toward the global goals of vaccinating at least 40 percent of the population in all countries by the end of 2021 and 70 percent by mid-2022, as recommended by the World Health Organization's global vaccination strategy, we will take steps to help boost the supply of vaccines and essential medical products and inputs in developing countries and remove relevant supply and financing constraints," the communiqué states.
The Task Force also will promote the exchange of experiences and best practices, develop coordination arrangements between Finance and Health Ministries, promote collective action and encourage effective stewardship of resources to address the existing financing gaps in pandemic preparedness and response.
The Task Force is initially jointly chaired by the G20 2021 Presidency of Italy and the 2022 G20 Presidency of Indonesia.
The G20 Health and Finance Ministers are asking the Task Force to convene before the end of 2021 to agree on an initial roadmap and appoint the secretariat.
It will report to Health and Finance Ministers in early 2022 and will be assisted by a secretariat housed at the World Health Organization in Geneva, with the support of the World Bank.
The ministers say in their communiqué that they "expect the Task Force to report on how health and finance collaboration can strengthen efforts to prevent, detect, and respond to future health emergencies with cross-border potential … and it could identify opportunities for coordination of financing and resource mobilisation for pandemic PPR; it should take into account relevant legislative/legal frameworks; and identify priorities for allocation of resources."
Featured image: The G20 Health and Finance Ministers met in Rome, where they agreed to establish a joint health-finance task force to handle the coronavirus pandemic and any future pandemics as well. October 29, 2021 (Photo courtesy G2 Italian Presidency)
Environment News Service (ENS) © 2021 All Rights Reserved.