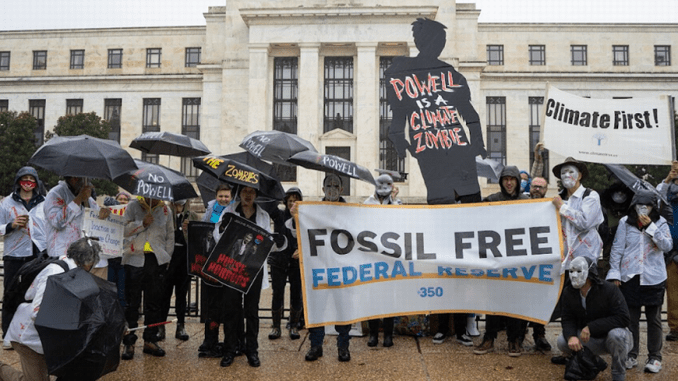 WASHINGTON, DC, October 29, 2021 (ENS) – Thousands of people rallied today outside branches of the central banking system of the United States, The Federal Reserve, to send a message to President Joe Biden, "Appoint a climate champion to chair The Federal Reserve who will account for climate risk immediately."
Jerome Powell, a Republican attorney and investment banker, is the current chair of the Board of Governors of the Federal Reserve System. He took office on February 5, 2018, for a four-year term.
President Biden is in Rome today attending a G20 annual leaders meeting focused on climate. Next, he flies to Glasgow for the UN climate conference COP26, which opens on Sunday.
Today, in Washington, DC, weeks after the historic People v. Fossil Fuels mobilization, organizers rallied in the rain in Halloween costumes at the DC Federal Reserve Board of Governors building.
In New York City, demonstrators rallied under the Brooklyn Bridge exactly nine years after Superstorm Sandy to commemorate the storm, and demand BlackRock, Citi and the Federal Reserve "defund climate chaos."
In San Francisco, protesters carried the message, "BlackRock, Banks and Biden: Stop Setting Our World on Fire!" Organizers installed a street mural with paint made from California wildfire ash in front of BlackRock headquarters. BlackRock controls $9 trillion, making it the largest money manager in the world.
In Denver, Colorado, #FossilFreeFed supporters and 350 Colorado rallied at the Federal Reserve building, before joining the youth-led #FossilFreeFuture march.
In San Antonio and Dallas, Texas, people rallied at the Fed branches in their city demanding Biden nominate a Federal Reserve Chair climate champion and declare a climate emergency. They urged Congress to pass climate provisions in the U.S. budget bill still under negotiation.
In Chicago, a speak-out and street theater in the rain with climate-spooky costumes called on the Fed and "dirty-energy backers" to end fossil-fuel financing, align Fed spending and asset purchases with the Paris Climate Agreement's goals, encourage bank investment and lending in low-income and communities of color, and highlight regional fossil fuel fights like the Line 3 pipeline.
Brooke Harper of the nonprofit 350.org, said, "The Federal Reserve has a mandate to protect our economy, and steer investments away from high-risk fossil fuels. That's why we're taking action in coordination with a global youth-led mobilization at Fed branches across the country demanding a Fossil Free Federal Reserve."
The demonstrators have three messages for The Federal Reserve, the central bank of the United States: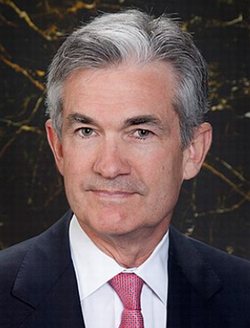 • End Bank Fossil Finance with existing regulatory and supervisory tools to begin limiting and phasing down the financing of emissions.
• Divest and Invest by aligning Federal Reserve spending and asset purchases with the Paris Climate Agreement's goal of limiting temperature rise to 1.5°C
• Push Banks to Invest in efforts aimed at limiting global temperature rise to 1.5°C, with an emphasis on lending to low-income communities and communities of color.
The demonstrators have a message for Congress, too – expand the Fed's mandate to eliminate racial, gender, and class disparities in jobs, wages, and wealth.
The Federal Reserve is responding to the demand for equality by hosting several diversity and inclusion conferences in November focused on "the experiences that underrepresented groups have as they participate in the economy, the economics profession, central banking, and finance." Federal Reserve Board Chair Jerome Powell will provide opening remarks at each event.
The first conference, to be held on November 8, will explore how gender influences economic and financial outcomes over a lifetime and evidence-based strategies that promote a more inclusive economy.
The second conference, to be held on November 9, will be hosted in partnership with the Bank of Canada, the Bank of England, and the European Central Bank. It will focus on research about diversity and inclusion in economics, finance, and central banking and includes a panel discussion among current and former central bank officials.
The conferences will be webcast at www.federalreserve.gov and www.youtube.com/federalreserve. Complete conference agendas are available at https://www.federalreserve.gov/conferences.htm.
Featured image: Demonstrators rally in the rain in front of the U.S. Federal Reserve Board of Governors Building. The "Powell" mentioned on the signs is Federal Reserve Board Chair Jerome Powell. October 29, 2021, Washington, DC (Photo by Armando Gallardo courtesy 350.org)
© 2021, News Editor. All rights reserved.