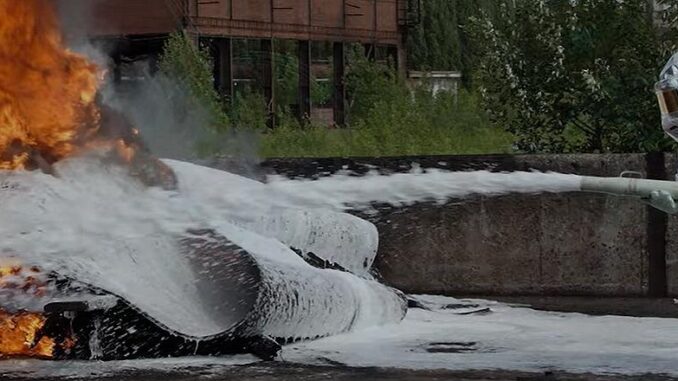 CHARLESTON, South Carolina, February 9, 2023 (ENS) – The 3M Company, which developed and manufactured firefighting foams containing per- or polyfluoroalkyl substances, PFAS, called "forever chemicals," is in a legal battle to avoid stiff financial penalties for the alleged damages the chemicals have done to human health and the environment. A trial date is currently scheduled for March 2023.
Faced with the lawsuit and growing amounts of research showing the disease-causing impacts of forever chemicals, 3M announced in December that the company "will exit per- and polyfluoroalkyl substance (PFAS) manufacturing and work to discontinue the use of PFAS across its product portfolio by the end of 2025."
From its headquarters in St. Paul, Minnesota, the 120-year-old company said, "3M's decision is based on careful consideration and a thorough evaluation of the evolving external landscape, including multiple factors such as accelerating regulatory trends focused on reducing or eliminating the presence of PFAS in the environment and changing stakeholder expectations."
"This is a moment that demands the kind of innovation 3M is known for," 3M Chairman and CEO Mike Roman said in December. "While PFAS can be safely made and used, we also see an opportunity to lead in a rapidly evolving external regulatory and business landscape to make the greatest impact for those we serve."
"This action is another example of how we are positioning 3M for continued sustainable growth by optimizing our portfolio, innovating for our customers, and delivering long-term value for our shareholders," Roman said.
By the end of 2025, 3M will discontinue manufacturing all fluoropolymers, fluorinated fluids, and PFAS-based additive products, the company said. The company is aiming for "an orderly transition for customers" and promises to "fulfill current contractual obligations" during the transition period.
3M said in a statement that the company has "reduced our use of PFAS over the past three years through ongoing research and development, and will continue to innovate new solutions for customers. With these two actions, 3M is committing to innovate toward a world less dependent upon PFAS."
This Court is Now in Session
This multidistrict litigation presided over by Judge Richard Gergel in the U.S. District Court for the District of South Carolina in Charleston, is a pre-trial consolidation of more than 2,000 cases filed across the United States over the use of PFAS in aqueous film forming foams, AFFF.
3M is being sued for damages by the states of New York, Ohio, Wisconsin, North Carolina, and New Mexico, several water districts and numerous individual plaintiffs. In Pennsylvania alone there are 22 actions pending in the Courts of Common Pleas, representing roughly 678 individual plaintiffs, according to court filings.
Introduced in the 1940s, PFAS now are widespread in the environment. In addition to firefighting foams used on military bases and at commercial airports, they are found in: nonstick pots and pans, food packaging, cosmetics, electronics, water-resistant clothing, carpets, polishes, waxes, paints and cleaning products, to name just a few products of the hundreds containing these chemicals.
These chemicals do not naturally break down in the environment, instead they build up in living beings. Recent studies have shown they are found in the blood of 97 percent of all Americans.
Exposure to these chemicals is linked with damage the immune system; increased risk of cancer in the kidneys, testes, ovaries, prostate, and thyroid; changes in liver enzymes; increased cholesterol levels; decreased fertility; increased risk of high blood pressure or pre-eclampsia in pregnant women; decreases in infant birth weights; and decreased vaccine response in children.
Legally, things are not going well for the company. In September, 3M lost its motion to wrap itself in immunity as a government contractor. The company had argued that because it developed the foam for the U.S. Navy to fight liquid fuel fires, it was a government contractor, which limits manufacturers' liability when producing military products to government specifications.
But AFFF has been in use for fire suppression since the 1960s. First developed by the U.S. Navy's Naval Research Laboratory, it was innovative and improved efforts to fight aircraft and motor vehicle crash fires.
High PFAS exposure is linked to cancers of the kidneys, testes, ovaries, prostate, and thyroid, as well as non-Hodgkin's lymphoma and leukemia, according to the National Cancer Institute's Division of Cancer Epidemiology & Genetics, DCEG.
"Higher kidney cancer incidence and mortality have been observed among individuals with high PFOA exposures from employment in a PFAS-producing chemical plant or residence in the surrounding community with contaminated drinking water," the DCEG states in its publication "PFAS Exposure and Risk of Cancer."
Judge Gergel ruled in September that records show that the government was not aware that PFAS was present in AFFF until the year 2000, while 3M had conducted more than 1,000 internal studies on the presence of PFAS and its toxicity but had never publicly disclosed the findings.
Records also show that 3M lied to the public about the presence of PFAS in people's blood as early as the 1970s, the judge remarked.
In its Introduction to this 3M case, the U.S. District Court for South Carolina stated in 2019, "This multidistrict litigation is currently comprised of approximately 500 cases pending before this Court. Additional cases are expected to be filed or transferred to this Court in the coming months. These cases all involve varied causes of action and claims relating to per- or polyfluoroalkyl substances (PFAS)."
"Plaintiffs generally allege that aqueous film-forming foams (AFFFs) containing perfluorooctanoic acid (PFOA) and/or perfluorooctane sulfonate (PFOS), two types of PFAS, contaminated groundwater near various military bases, airports, and other industrial sites where AFFFs were used to extinguish liquid fuel fires," the Court states.
"The plaintiffs allege that they were caused personal injury, a need for medical monitoring, property damage or other economic losses," the Court added.
"The Judicial Panel on Multidistrict Litigation determined that the AFFF cases filed involved common questions of law and fact such that centralization of the cases was appropriate. Weighing a number of factors, the Judicial Panel selected the District of South Carolina as the forum for this litigation."
Attorney Michael DiGiannantonio of SL Environmental Law Group in San Francisco, one of five law firms representing plaintiffs in this case, explained in a Q&A session with airport executives on February 6, how the case will be judged. The Q&A was first reported in the airport magazine "AviationPros."
"Over the last two decades or so," DiGiannantonio said, "plaintiffs have found success litigating against the manufacturers of products that contained PFAS. Some of these lawsuits arose out of the dumping of these chemicals into surface water or landfills by the manufacturers of products that contained them. Most of these lawsuits, however, have focused on environmental contamination that resulted from the use of products, such as AFFF, in their intended manner. The lawsuits claim that the products were defectively designed in a way that risked contamination, or that the manufacturers failed to warn of such risks."
"Lawsuits against manufacturers for ground or water contamination caused by their products usually rely on a legal doctrine known as 'products liability,' DiGiannantonio explained. "Generally, under the law of products liability, a manufacturer or seller is liable if a defect in the design of its product causes injury while the product is being used in a reasonably foreseeable way. Firefighting foam containing PFOA and PFOS are defective products under this liability doctrine," he said.
Laws, Rules and Regs Governing PFAS Are Changing
On September 29, 2021, California Governor Gavin Newsom signed a law banning the manufacture, sale, and use of firefighting foam containing PFAS. The law sets rules for disposal of PFAS-containing foams.
Most of the ban took effect on January 1, 2022, but the ban is delayed until January 1, 2024 for "fixed foam fire suppression systems" that contain the foam they discharge, and also for oil refineries that hold large tanks of flammable liquids, which have until 2028 to implement the ban.
States that have proposed or adopted limits for PFAS in drinking water include Alaska, Arizona, California, Colorado, Connecticut, Delaware, Illinois, Iowa, Kentucky, Maine, Massachusetts, Michigan, Minnesota, New Hampshire, New Jersey, New Mexico, New York, North Carolina, Ohio, Rhode Island and Vermont.
In Hawaii, legislators passed a ban on PFAS in food packaging and firefighting foam in 2022. As of December 2022, eleven states had enacted legislation banning PFAS in food packaging and five additional states are considering it.
States including Colorado and Washington have banned sales of the foam.
Last year, the U.S. EPA made several changes to the rules governing PFAS.
On June 15, 2022, the EPA announced new health advisories for perfluorooctanoic acid (PFOA) to 0.004 parts per trillion (ppt) and for perfluorooctane sulfonic acid (PFOS) to 0.02 ppt. The previous levels were 70 ppt for both chemicals.
Both chemical compounds are found in the firefighting foams at issue in this case.
"The updated advisory levels are based on new science recognizing health risks associated with exposure to these compounds in drinking water at near-zero concentrations," DiGiannantonio explained. "Considering that these chemicals do not degrade naturally, and bioaccumulate, meaning the body's tissue absorbs the substance faster than it can be eliminated, the compounding effect over time is troubling."
Then, on August 26, 2022, the EPA issued a proposed rule to designate PFOA and PFOS as hazardous substances under the Superfund program, more formally called the Comprehensive Environmental Response, Compensation, and Liability Act, CERCLA.
"This could impact airports," DiGiannantonio told the airport execs, "as the cost for the treatment of PFAS-contaminated water or soil will become exponentially higher, since PFAS-contaminated treatment media will need to be dealt with according to hazardous waste protocols."
Facing this lawsuit and these tightening rules and regulations, 3M said in December, "3M's products are safe for their intended uses. 3M will continue to remediate PFAS and address litigation by defending ourselves in court or through negotiated resolutions, all as appropriate."
Featured image: A fireman uses firefighting foam containing forever chemicals. (Screengrab from video courtesy Federal Emergency Management Agency, FEMA)
© 2023, News Editor. All rights reserved.