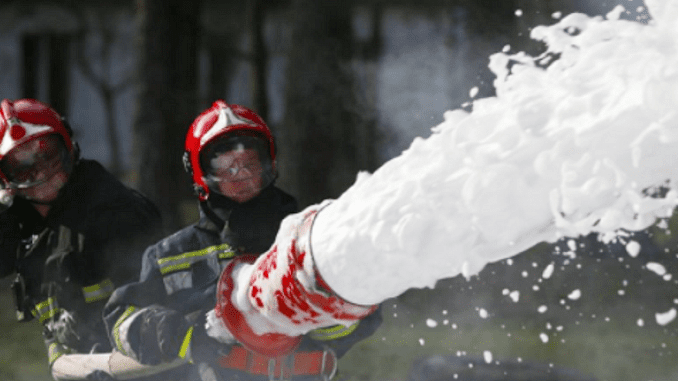 WASHINGTON, DC, November 22, 2021 (ENS) – Just a month after the U.S. Environmental Protection Agency issued a new plan to cope with the wide spread of PFAS, a group of toxic chemicals used to make products like nonstick cookware and stain-resistant carpeting, warnings are emerging that industrial facilities across the country are unwittingly burning a firefighting foam containing PFAS chemicals.
The firefighting foam, known as Aqueous Film-Forming Foam, AFFF, puts out fires by creating a blanket that cuts off the oxygen the fuel needs to burn. AFFF contains chemicals known as perfluoroalkyl and polyfluoroalkyl substances, PFAS, that the U.S. Environmental Protection Agency has classified as "emerging contaminants" that are likely dangerous to human health.
The U.S. Department of Defense is collecting and destroying unused firefighting foam from U.S. military bases around the world that contains the hazardous chemicals PFOS and PFOA. Although incineration is the military's selected disposal method, there has been little research on the safety of burning the foam.
The Centers for Disease Control and Prevention, CDC, and the American Cancer Society as well as the EPA have reported that PFAS are linked to cancer in firefighters and first responders.
The U.S. Department of Veteran Affairs also has begun warning veterans about the increased risks of breast cancer, pancreatic cancer, prostate cancer, testicular cancer and kidney cancer after being exposed to the firefighting foam in military facilities.
The same qualities that make PFAS-based AFFF efficient at extinguishing jet fuel fires also make it difficult to destroy. There is no evidence that PFAS completely break down under typical industrial incineration practices.
PFAS chemicals do not break down, and they can persist in the human body and in the environment for decades. As a result, more than 95 percent of the U.S. population has PFAS in their bodies, according to the Centers for Disease Control and Prevention, CDC.
Today, Dr. Patrick Breysse is a professor of environmental health sciences and medicine at the Johns Hopkins Bloomberg School of Public Health. In 2017 when he was head of the CDC's Agency for Toxic Substances, Dr. Breysse warned that the presence and concentration of PFAS in U.S. drinking water presents "one of the most seminal public health challenges for the next decades."
Up to 10 million Americans are likely drinking water with high concentrations of these chemicals, Breysse said.
Local residents in Bennington, Vermont were worried about PFAS in their water two years earlier than Dr. Breysse's warning. They reached out to Bennington College to help them understand the discovery of one of these chemicals, PFOA, in their drinking water. With the support of the National Science Foundation, the college has been opening its science classrooms for the study of this environmental problem ever since.
Analysis of Pentagon records led by David Bond, PhD, a professor at Bennington College in Vermont, tracked the Department of Defense's stockpile of firefighting-foam. The DOD records were obtained via a Freedom of Information Act request and a New York state public records request.
Bond's analysis found that up to a quarter of the PFAS-based foam – roughly 5.7 million pounds from 2016 to 2020 – was sent to fuel blending facilities instead of being sent directly to incinerators.
Of that amount, about 3.2 million pounds of AFFF ended up at fuel blending facilities that have permits for blending fuels, including hazardous waste.
But another 2.5 million pounds of AFFF ended up at facilities that advertise themselves as fuel blending facilities but do not have EPA permits for fuel blending.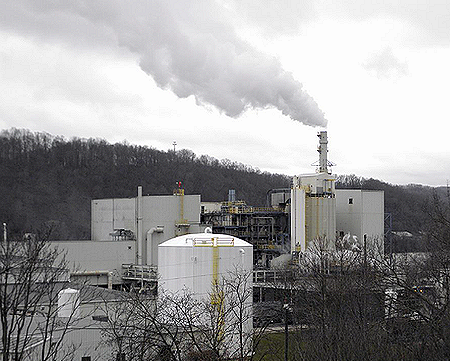 Some clean air advocates question whether AFFF is being blended into fuel that would not be considered as hazardous waste or whether those facilities are storing AFFF and transferring it to other fuel blending facilities, and where that transferred fuel is being burned.
PFAS chemicals are not classified as "hazardous waste" under U.S. federal waste disposal laws, so historically the Department of Defense, not the Environmental Protection Agency has been able to decide whether legacy AFFF should be treated as hazardous waste.
In March, Bennington College launched an interactive site that compiles all known shipments of AFFF to hazardous waste incinerators in the United States between 2016-2020.
According to an EPA report, there are about two dozen facilities in Arkansas, Illinois, Indiana, Kansas, Louisiana, Missouri, Nebraska, New York, Ohio, Oklahoma, Pennsylvania, South Carolina, Tennessee, Texas, and Utah that can receive blended fuels containing hazardous waste.
The nonprofit Environmental Working Group, which has been working on PFAS issues, says, "The number of U.S. communities confirmed to be contaminated with the highly toxic fluorinated compounds known as PFAS continues to grow at an alarming rate. As of August 2021, 2,854 locations in 50 states and two territories are known to be contaminated."
At least 385 military sites have confirmed PFAS contamination of their drinking water supplies, and nearly 300 installations have suspected pollution, according to Pentagon records obtained by the Environmental Working Group.
Chemical companies have phased out two of the oldest and most notorious PFAS chemicals – PFOS, once an ingredient in 3M's Scotchgard, and PFOA, formerly used to make DuPont's Teflon. The military then shifted to newer formulations of AFFF, made with "short chain" PFAS, the Environmental Working Group explains, warning, "Evidence suggests these chemicals pose many of the same health risks."
This change left the Defense Department with stockpiles of older formulations in need of disposal or destruction, which the DOD did most often through incineration or burning. According to Pentagon records, since 2016, the military has entered into contracts to incinerate more than 20 million pounds of AFFF.
The half-life of PFAS in humans varies widely, from several days to more than 15 years, depending on which PFAS. Longer chain chemicals have been found to be the most persistent. Longer half-lives can impact bioaccumulation and potentially related health effects, according to a 2020 White Paper by the nonprofit applied science and technology development company Battelle, which manages eight government laboratories for the U.S. Department of Energy and Department of Homeland Security.
"Most PFAS are bioaccumulative, mobile, and persistent in soil and water. PFAS can also undergo long-range atmospheric and oceanic transport; they are globally distributed across the environment and have been found in biota in remote regions. They are found in all environmental media and are of particular concern in drinking water. Because of the pervasive use and persistent nature of PFAS, there is widespread human exposure.
Most people in the United States have some form of PFAS in their blood, particularly PFOS and PFOA." the Battelle report states.
Concerns regarding the potential health and environmental effects from PFAS have led to political, industrial, and regulatory attention. Production of longer chain PFAS, including PFOS and PFOA, has ceased in the United States, Europe, and Japan, and both are listed as persistent organic pollutants, or POPs, under the international treaty known as the Stockholm Convention on POPs, reflecting global concern surrounding these chemicals.
Yet, Battelle states in the White Paper, "Numerous PFAS are still being produced and released into the environment, and new PFAS compounds such as GenX chemicals and perfluorobutanesulfonic acid, PFBS, are being manufactured to replace those that have been eliminated. Little is known about the potential human exposures to and toxicity of these new replacement PFAS, although early assessments suggest they may be similarly toxic."
Today, the companies that produced firefighting foams with PFAS are coming under legal and medical scrutiny. Relying on news reports that some companies may have known about the health risks of their foams for decades but did not take sufficient action to protect the general public, people are filing legal claims against these companies, seeking compensation for the long-term damage that was done.
State governments are taking the lead on protecting people from PFAS, according to the nonprofit public interest law firm Earthjustice. Wisconsin has passed a law restricting the use of firefighting foam containing PFAS, and similar measures have been adopted in several states.
New York, Maine and Wisconsin have passed laws banning state agencies from purchasing food containers that include PFAS.
At the federal level, the EPA's roadmap aims to set enforceable drinking water limits on the two best-known classes of PFAS – PFOA and PFOS – by 2023. The agency plans to designate PFAS as hazardous substances under the U.S. Superfund law and propose a rule that will require manufacturers to fully report on its release.
The National Defense Authorization Act for Fiscal Year 2020 included PFAS-related provisions that restrict the use of these chemicals by the Department of Defense, a major source of industrial-scale PFAS contamination.
"Communities contaminated by these toxic forever chemicals have waited decades for action," said Ken Cook, President of the Environmental Working Group. "So, it's good news that Administrator Regan will fulfill President Biden's pledge to take quick action to reduce PFOA and PFOS in tap water, to restrict industrial releases of PFAS into the air and water, and to designate PFOA and PFOS as hazardous substances to hold polluters accountable."
"It's been more than 20 years since EPA and EWG first learned that these toxic forever chemicals were building up in our blood and increasing our likelihood of cancer and other health harms," Cook said. "It's time for action, not more plans, and that's what this Administrator will deliver."
Featured image: First responders use Aqueous Film-Forming Foam to extinguish a fire. (Photo courtesy Waters Corporation, Milford, Massachusetts)
© 2021, News Editor. All rights reserved.