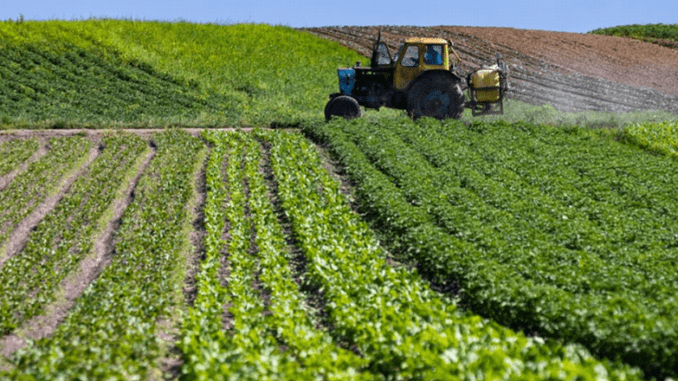 KYIV, Ukraine, January 5, 2023 (ENS) – Small agricultural enterprises, smallholder farmers and rural households in western Ukraine will benefit from a new US$15.5 million project funded by the European Union and implemented by the UN's Food and Agriculture Organization. The grants will support the functioning, reinforcement and strengthening of value chains in agriculture, fisheries, and forestry, and their adaptation to the ongoing wartime conditions.
These grants follow the US$100 million Agriculture Resilience Initiative – Ukraine launched by the U.S. Agency for International Development, USAID, in July 2022. Now, USAID seeks to leverage an additional $150 million for the Initiative from fellow donors, the private sector and foundations.
USAID also provides drone technology that allows Ukrainian farmers to apply fertilizer and pesticides by air rather than on the ground and help reduce fuel and water use.
Ukraine's food security situation has deteriorated rapidly following the eruption of the war when Russia invaded its neighbor on February 24, 2022, which has caused extensive destruction of crops, agricultural and other civilian infrastructure, and disrupted both supply and value chains.
Some 13 million people living in rural areas rely on Ukraine's farming sector, the FAO reports. On April 29, 2022, Ukraine's Agriculture Ministry reported that nearly 30 percent of the country's farmland was occupied, unsafe, or unable to be farmed.
In May, the UN's World Food Programme warned, "The consequences of the conflict in Ukraine are radiating outwards, triggering a wave of collateral hunger that is spreading across the globe. In 81 countries where WFP works, acute hunger is expected to rise by 47 million people if the conflict in Ukraine continues unabated." Now, seven months later, Russia's invasion of Ukraine continues.
In a normal farming season, Ukraine's farmers would work according to strict schedules depending on the crops. Now, farmers must wait for it to be safe to plant – often at night under the cover of darkness, reports Radio Free Europe https://www.rferl.org/a/ukraine-farmers-risk-lives-global-food-crisis/31888556.html. The hardships faced by farmers are many: severe fuel shortages, artillery strikes, mines, the charred remains of armored vehicles in their fields, and personnel shortages.
The FAO project will focus on supporting producers in the western Ukrainian areas of: Lvivska, Ivano-Frankivska, Zakarpatska and parts of Chernivetska oblast. Matching grants for on-farm and value chain-based investments will be coupled with extension and advisory support.
Christian Ben Hell, the sector manager for agriculture at the EU Delegation to Ukraine, said, "The EU funds for this FAO project aim to re-establish or reinforce pre-war level functionality of agricultural value chains. This is needed to meet the food requirements of local and displaced populations in the west and address food insecurity elsewhere in the country in the immediate and short term, and will be critical to averting a food crisis into 2023."
FAO's recent nationwide assessment on the impact of the war on agriculture and rural households reveals that one in every four of the 5,200 respondents has reduced or stopped agricultural production due to the war.
In March-May 2022, emergency agricultural support was provided to over 6,000 rural households in Ukraine. This EU-funded project was initially started in February 2021 with a preparation phase but then was put on hold due to the war, is being repurposed to meet current needs.
This assistance covered the urgent need for agricultural inputs, cash, vegetable seeds and seed potatoes to continue food production for household consumption.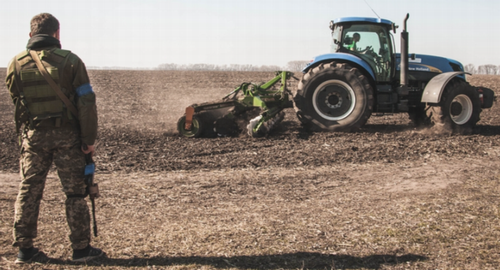 Pierre Vauthier, who heads the FAO Ukraine country office, said, "The testimonies of the individuals and families who I met during my visits to the newly accessible areas confirm the urgent need for immediate support towards restoring their household capacities and avoiding dependence on humanitarian assistance. At the same time, it is imperative that the Government is supported in its efforts to develop the agriculture sector and to strengthen and diversify value chains."
As the war persists, market participants including large numbers of household and family farms, individual producers, small companies, traders and processors are experiencing difficulties in accessing inputs, finance and investment to support continuity and expansion of operations.
The major difficulties expected in the next few months in terms of both crop and livestock production activities are low benefits from the sale of products, constrained access to fertilizers or pesticides, and fuel or electricity to power equipment.
Hanna Antonyuk, project manager at FAO Ukraine, said, "Although the required analytical work was completed prior to the war, its escalation altered the programming environment and reshaped the priority needs of the agrifood sector participants."
"The project aims to provide timely support to agricultural producers and small-scale agricultural enterprises with urgently needed access to finance, technical and business development advice and market intelligence," Antonyuk said.
"During wartime, these investments are necessary to secure the operations of agricultural producers, to support their adaptation to the evolving environment and to lay the foundations for sustainable growth," she said.
Grants in the range of $1,000 to $25,000 will be disbursed in Ukrainian hryvnia at the prevailing exchange rate. Beneficiaries will be required to make a matching contribution to finance the proposed investment. Specific eligibility and selection criteria, as well as procedural and administrative requirements to submit an application will be published through a publicity campaign.
The investment support program will be launched through Ukraine's State Agrarian Registry and, starting from March 2023, the matching grants will be provided to eligible agricultural producers and agricultural enterprises that produce berries, vegetables and aquacultured fish in Lvivska and sheep, cows, honey and wine in the other designated areas.
In addition, the project aims to assist the National Academy of Agrarian Sciences in preserving a unique national collection of plant genetic resources, which is of global significance in terms of the volume and diversity of genetic material.
The project will secure and safeguard the collections of the Ukrainian plant genetic resources by moving them to a safe storage location and will improve the collections database with modern IT support.
USAID announced in October 2022 that Bayer, the German multinational pharmaceutical and biotechnology company, will invest US$35 million to expand the company's corn seed processing facility in Pochuiky, the largest of its kind in Ukraine.
Featured image: Crops grow on a farm in western Ukraine's Lviv oblast in June 2022. (Photo by Sodel Vladyslav / USAID AGRO)
Environment News Service (ENS) © 2023 All Rights Reserved.