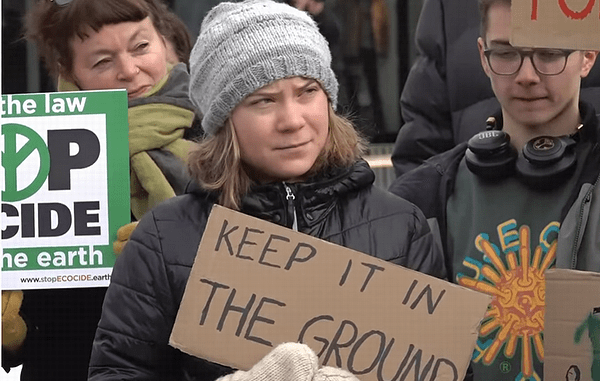 DAVOS, Switzerland, January 22, 2023 (ENS) – On Friday, the final day of panels at this year's World Economic Forum in Davos, Swedish climate activist Greta Thunberg and other climate campaigners from the nonprofit she started, Fridays for Future, held a climate march.
Participants included Vanessa Nakate of Uganda, where extreme weather patterns are parching wet and dry areas alike, and Helena Neubauer of Germany, where more intense heatwaves and coldwaves, flash and coastal flooding, and reduced water availability are climate issues.
In Davos, Thunberg met Thursday with the chief of the International Energy Agency, Fatih Birol, on the sidelines of the WEF conference. She denounced corporate executives for their inaction on the planet's rising temperature and the storms, sea-level rise, droughts, and wildfires that result.
Thunberg accused leaders at Davos of "fueling the destruction of the planet" by investing in fossil fuels and prioritizing short-term profits over people affected by the climate crisis.
The activists brought a "cease and desist" letter signed by nearly 900,000 people calling on the heads of fossil fuel companies to stop all new oil and natural gas projects.
"For decades," the letter states, "big oil and gas CEOs have misled the public about the deadly impact of burning fossil fuels that are cooking our planet. Now we're seeing murderous floods, deadly droughts and rainforests on fire."
The letter accuses "top fossil fuel CEOs" of "pretending they care for the planet – while digging new oil and gas fields, and making billions in profit."
This Cease and Desist Notice demands that they "immediately stop opening any new oil, gas, or coal extraction sites, and stop blocking the clean energy transition we all so urgently need."
The letter says, "We know that Big Oil:
KNEW for decades that fossil fuels cause catastrophic climate change.
MISLED the public about climate science and risks.
DECEIVED politicians with disinformation sowing doubt and causing delay.
"You must end these activities as they are in direct violation of our human right to a clean, healthy, and sustainable environment, your duties of care, as well as the rights of Indigenous people," the notice states.
"If you fail to act immediately, the letter warns, "be advised that citizens around the world will consider taking any and all legal action to hold you accountable. And we will keep protesting in the streets in huge numbers."
The protesters' letter explains how it feels to be up against such powerful economic forces. "It feels extremely difficult to keep hope alive in the face of climate devastation around the world – from millions on the verge of starvation in East Africa, to the rampant destruction of the Amazon rainforest," they wrote. "But our hope lies in people – in the millions of us who are determined to come together and demand corporate and political leaders take action. It's time to put these CEOs on notice – showing them that 2023 will be a watershed moment for accountability."
Cooperation in a Fragmented World
This year's World Economic Forum was themed 'Cooperation in a Fragmented World' and concluded at lunchtime on Friday after five intense days of presentations and debates. Speakers included the President of the European Commission, Ursula von der Leyen; the Chancellor of Germany, Olaf Scholz; the President of Ukraine, Volodymyr Zelenskyy and the UN's Secretary-General, António Guterres.
This year a record number of world leaders and business experts attended; more than 1,500 public figures from some 700 organisations.
One of the most prominent was United Nations Secretary-General Antonio Guterres, who issued a fresh call to governments not to ignore the climate crisis.
"Every week brings a new climate horror story," Guterres said, asking industrialized nations to "finally deliver" on their US$100 billion climate finance commitment to support developing countries.
"Greenhouse gas emissions are at record levels and growing. The commitment to limit global temperature rise to 1.5 degrees is nearly going up in smoke. Without further action, we are headed to a 2.8-degree increase," Guterres warned.
Unless tough political decisions are made to tackle the climate crisis, Guterres insisted that "for many, it would mean a death sentence."
Private industry needs to do more to help the climate too, he said, calling on the corporate leaders attending Davos to abide by UN-backed net-zero guidelines, and not "dubious or murky" benchmarks.
"Without creating the conditions for the massive engagement of the private sector, it will be impossible to move from the billions to trillions that are needed to achieve the Sustainable Development Goals (SDGs)," the Secretary-General declared.
The UN chief tackled major fossil fuel producers, highlighting recent reported revelations that some "were fully aware in the 1970s that their core product was baking" the planet.
"Some in Big Oil peddled the big lie," the UN chief argued, "yet we know the ecosystem meltdown is cold, hard, scientific fact".
In an appeal for greater international cooperation and trust-building to solve so many interlinked problems, Guterres warned that divisions between the United States and China risk decoupling the world's two largest economies.
Such a split – costed at $1.4 trillion to the global economy by the International Monetary Fund – would lead to "two different sets of trade rules, two dominant currencies, two internets and two conflicting strategies on artificial intelligence. This is the last thing we need," the secretary-general said.
And although it was to be expected that the United States and China differ on human rights and security issues, it is essential that both countries continue to engage meaningfully on climate, trade and technology, "to avoid the decoupling of economies or even the possibility of future confrontation," he said.
Russia's War on Ukraine Harms the Planet
Russia's invasion of Ukraine has caused a large amount of warming gases to be released into the atmosphere, Ukrainian officials warned at the UN COP27 climate summit in Egypt in November 2022.
The war has led directly to emissions of 33 million tons of greenhouse gases that heat the planet, claimed Ruslan Strilets, Ukraine's environmental protection and natural resources minister.
"Russia has turned our natural reserves into a military base. Russia is doing everything to shorten our and your horizons. Because of the war, we will have to do even more to overcome the climate crisis," Strilets said.
He also projected that rebuilding Ukraine will cause even more emissions, up to 49 millions tons of carbon dioxide.
President of Ukraine Volodymyr Zelensky was another important speaker at Davos this year. He participated in the Peace and Security session just hours after a helicopter crash near Kyiv claimed 14 lives including that of Ukraine's Internal Affairs Minister, Denys Monastyrsky, 42, his colleagues and helicopter crew when it fell near a kindergarten.
Zelensky remains determined to win the war, the latest phase of which was started by Russia on February 24, 2022, including Crimea, which Russia invaded and annexed in February and March 2014.
"Our goal is to de-occupy all our territories. Crimea is our land, our territory. It is our sea and our mountains. Give us your weapons – we will return what is ours," Zelensky told the audience at Davos.
"The abyss between our countries is large and deep. But we must all realize that they dug this abyss themselves. It is Putin who stands with this shovel and he will remain with it in the history of the world," Zelensky said.
Zelensky explained that Ukraine has been trying to liberate the occupied territories through diplomatic means for several years, but the Russian side had no such desire.
"I do not fully understand whether he [the President of the Russian Federation] is alive. Is he the one who makes the decisions, or someone else, a certain group of people? I have no information. I don't quite understand how you can promise European leaders one thing and the next day start a full-scale invasion of another country. I don't quite understand who we are dealing with," he said.
"It seems to me that Russia must find someone first and then offer something," Zelenskyy said.
World Economic Forum Logistics Team Eases Ukraine's Plight
When news broke that Russia had invaded Ukraine on February 24, 2022, countries across Europe scrambled to help Ukraine. Responding to the humanitarian crisis, the World Economic Forum-initiated Logistics Emergency Team, LET, a coalition of leading global logistics companies: Agility, A.P. Møller-Maersk, Deutsche Post DHL Group, DP World, Port of Antwerp-Bruges, UN Children's Fund (UNICEF). and UPS, worked with the United Nations to bring lifesaving supplies into the country.
The impact of the war in Ukraine has been enormous. The UN declared it the largest refugee crisis since World War II, with 13 million people being forced to seek sanctuary elsewhere, about half of those have been displaced in Ukraine, while the rest have been taken in by other European countries.
The Logistics Emergency Team is the first partnership of its kind, formalizing a multi-stakeholder cooperation between the private and public sectors. Along with the Supply Chain and Transport Industry Action Group, it is an initiative of the World Economic Forum's Platform for Shaping the Future of Mobility.
Companies are invited to join the Platform to share their expertise, participate in projects and help accelerate development of more sustainable, inclusive and resilient transport and supply systems. Contact LET here. https://weforum.eu.qualtrics.com/jfe/form/SV_af38noL8hELk7ie?PageOrigin=impact-story-humanitarian-supply-chains
Featured image: Swedish climate activist Greta Thunberg, 20, heads a march of about 30 young people who want the world to stop burning fossil fuels that emit planet-heating greenhouse gases, Davos, Switzerland, January 20, 2023 (Photo courtesy Fridays for Future via Twitter).