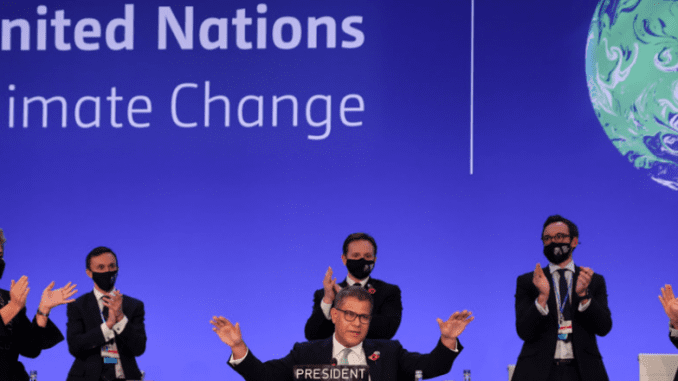 GLASGOW, Scotland, November 13, 2021 (ENS) – The UN climate conference COP26 has wrapped with a deal among the 196 Parties to forestall catastrophic climate change, that hinged on a startling development. Minutes before the final decision on the text of the Glasgow Climate Pact was taken tonight, India proposed a weaker version of the language on coal, changing the words "phasing out" of the fossil fuel to its "phasing down."
India's Climate Minister Bhupender Yadav changed the equation when he questioned how developing countries could promise to phase out coal and fossil fuel subsidies when they still have to "deal with their development agendas and poverty eradication."
In the final vote, delegates sided with India, China and other developing countries and agreed to "phase down" not "phase out" coal. The decision covers "unabated" coal, creating an exemption for coal when its combustion is combined with carbon capture and storage.
While several countries expressed anger at the last-minute change that will allow more climate-heating coal to be burned, the weaker text was officially adopted.
An emotional COP26 President Alok Sharma said he was "deeply sorry" for the way the final minutes of the COP unfolded.
U.S. special presidential envoy for climate John Kerry said in a final news conference that even having the mention of coal in the final document was a step forward.
Kerry said that in the 30 years he has been attending these climate meetings, this is the first time coal and fossil fuel subsidies have been addressed in the final communique. "That's never happened … big countries that are dependent on coal have signed on to seeing it phased down. Does that mean it is phased down – no, but that's the followup," Kerry said.
"Coal and the phase-down of coal is on the books. You have to phase down coal before you can end coal. So this is a beginning. We always knew Glasgow was not the finish line," Kerry told reporters.
"Paris built the arena and Glasgow starts the race," he said. "Today the starting gun was fired. We have nine years, this decade, this decisive decade."
Progress at COP26? Yes and No.
The Glasgow Climate Pact, combined with increased ambition and action from countries, means that the Paris Agreement goal of keeping global warming to no more than a rise of 1.5° Celsius (2.7 degrees Fahrenheit) above pre-industrial levels remains in sight, but "it will only be delivered with concerted and immediate global efforts," said the UN Climate, the organizing agency for the 26th Conference of Parties to the Framework Convention on Climate Change, UNFCCC.
The Glasgow Climate Pact will speed up the pace of climate action. All countries agreed to revisit and strengthen their current emissions targets to 2030, known as Nationally Determined Contributions, NDCs, in 2022. This will be combined with a yearly political roundtable to consider a global progress report and a Leaders summit in 2023, the UNFCCC explained.
The Paris Rulebook, the guidelines for how the Paris Agreement is delivered, was completed today after six years of intense negotiations. This will allow for the full delivery of the Paris Agreement, after consensus was reached on a transparency process which will hold countries to account as they deliver on their targets.
This includes Article 6, which establishes a framework for countries to exchange carbon credits through the UNFCCC. An agreement was reached on the fundamental norms related to Article 6 on carbon markets, which sets out the rules for a global carbon pricing system that is expected to make the Paris Agreement fully operational.
"Operationalizing Article 6 will allow Parties to scale up their cooperation, mobilize additional finance and private sector engagement and ensure that the rules are the same for everyone," UN Climate Change Executive Secretary Patricia Espinosa said at the COP26 closing session.
And for the first time, heeding calls from civil society and countries most vulnerable to climate impacts, the COP agreed action on phasing down fossil fuels.
COP decisions went further than ever before in recognising and addressing loss and damage from the existing impacts of climate change.
There were also commitments to increase financial support through the Adaptation Fund as developed countries were urged to double their support to developing countries by 2025.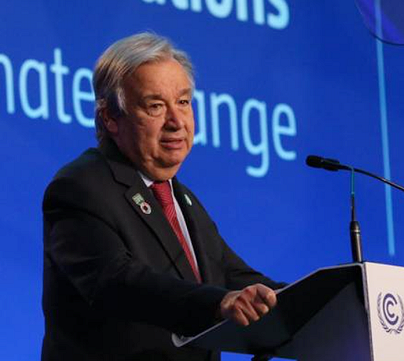 Many governments, banks and the private sector made financial commitments amounting to billions of dollars to help vulnerable countries mitigate and adapt to climate change, but UN Secretary-General Antonio Guterres, while acknowledging the hopeful promises, was still disappointed in the outcome.
Speaking at the close of COP26, the Secretary-General said, "The approved texts are a compromise. They reflect the interests, the conditions, the contradictions and the state of political will in the world today. They take important steps, but unfortunately the collective political will was not enough to overcome some deep contradictions."
"As I said at the opening, we must accelerate action to keep the 1.5 degree goal alive. Our fragile planet is hanging by a thread. We are still knocking on the door of climate catastrophe," Guterres warned.
Guterres called for ending fossil fuel subsidies, phasing out coal, and "building resilience of vulnerable communities against the here and now impacts of climate change."
"It is time to go into emergency mode – or our chance of reaching net zero will itself be zero," he declared.
Current pledges, even if fulfilled, are only enough to limit global warming to 2.4°C, but at the start of COP26, two weeks ago the forecast was for the pledges to limit warming to 2.7 C.
"And make good on the $100 billion climate finance commitment to support developing countries," he demanded of wealthy nations.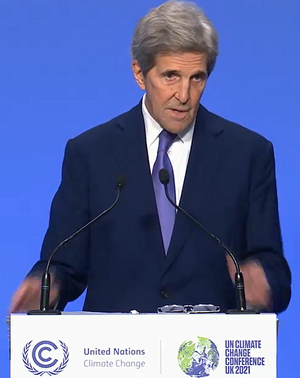 At his own news conference, U.S. special climate envoy John Kerry tried to reassure Guterres and the world that the US$100 billion annual fund to help vulnerable countries cope with climate change is going to be a reality.
"We have a clear path on the US$100 billion, Kerry said. "We're on a clear track to fulfill that obligation, and it will go out into the future year after year, and it'll be more than $100 billion."
There were other notes of hope. The UN Climate agency reminded delegates that 90 percent of the world's forests are now covered by a pledge from 130 countries to end deforestation by 2030.
Guterres found reasons for optimism in the events of COP26. "Commitments to end deforestation. To drastically reduce methane emissions. To mobilize private finance around net zero," he said.
"And the texts today reaffirm resolve towards the 1.5 degree goal. Boost climate finance for adaptation. Recognize the need to strengthen support for vulnerable countries suffering from irreparable climate damage," the UN chief said.
Civil Society Disappointed
"The outcome of COP26 locks us into another decade of false solutions, colonialism and unbridled violence upon Mother Earth, full stop," objected Tom BK Goldtooth, executive director of the Indigenous Environmental Network.
"The expansion of carbon markets, techno-fixes and finance programs allowing historical polluters to ramp up global fossil fuel production will only intensify the climate emergency," Goldtooth said. "The consequences of COP26 are dire and will impact the survival of Indigenous Peoples and local communities across the planet, while doing little to reduce global greenhouse gas emissions at source. Many communities around the world do not have time."
Amnesty International Secretary General Agnès Callamard called out the world leaders for ignoring vulnerable people already suffering the droughts and heatwaves of climate change.
"Throughout their negotiations at COP26, our leaders have made choices that ignore, chip away or bargain away our rights as human beings, often discarding the most marginalized communities around the world as expendable collateral damage," she said. "Their failure to commit to maintaining the global temperature rise at 1.5°C will condemn more than half a billion people, mostly in the global south, to insufficient water and hundreds of millions of people to extreme heatwaves."
"It is bitterly disappointing to see the many loopholes in the COP26 agreement which bow to the interests of fossil fuel corporates rather than our rights," Callamard said.
"Despite this disastrous scenario, wealthy countries have failed to commit money towards compensating communities suffering loss and damage as a result of climate change," she said.
Yet, delegates did approve the establishment of the Santiago Network to provide technical assistance in support of developing countries on loss and damage caused through climate change. They also provided for a future dialogue to discuss funding arrangements to avert, minimize and address loss and damage that has already occurred from the changing climate.
'The Fight of Our Lives'
Secretary-General Guterres closed the conference with a "message of hope and resolve to young people, indigenous communities, women leaders, all those leading the climate action army."
"I know many of you are disappointed," he acknowledged. "We won't reach our destination in one day or one conference. But I know we can get there."
"We are in the fight of our lives," declared Guterres. "Never give up. Never retreat. Keep pushing forward. I will be with you all the way."
"COP 27 starts now."
COP27 is scheduled for November 7-18, 2022 in Sharm El-Sheikh, Egypt, a city on the southern tip of the Sinai Peninsula on the coastal strip along the Red Sea.
Featured image: COP26 President Alok Sharm of the UK acknowledges the applause of delegates at the close of COP26, November 13, 2021 (Photo by Tim Hammond courtesy No 10 Downing Street)