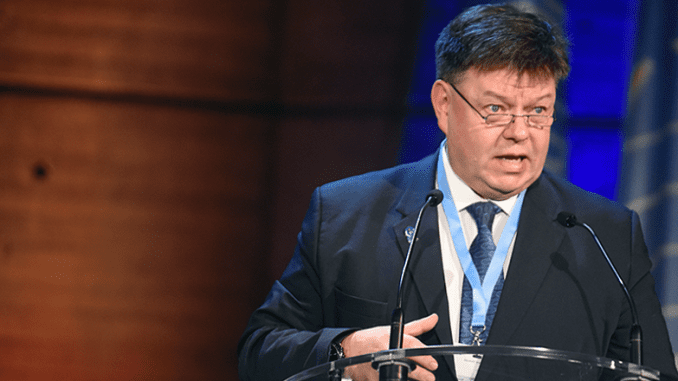 GENEVA, Switzerland, October 12, 2021 (ENS) – The World Meteorological Organization is holding a special session of its Congress to meet the "explosive" growth in the demand for weather, climate, water, atmospheric and ocean services. "This is necessary in view of rapid climate, environmental and demographic change and the increasing frequency and impact of extreme weather," the WMO explains.
Key priorities for this Extraordinary World Meteorological Congress are three: water, a comprehensive new data exchange policy, and a reinforced, better-funded global observing system.
The Congress takes place virtually from October 11 to 22, mid-way through the WMO's traditional four-year cycle.
Minister Alain Berset, who heads the Swiss Federal Department of Home Affairs, opened the Congress on Monday by congratulating meteorologists on the "ongoing refinement of weather, water and climate-related data and improved risk management." This means that "we are now better able to cope with the impact of extreme events such as those experienced this summer," the minister said.
The number of disasters worldwide has increased by a factor of five between 1970 and 2019, driven by climate change, more extreme weather and improved reporting, according to the WMO. Yet, due to improved early warnings and disaster management, the number of deaths decreased almost three-fold in that same 49-year period.
In view of the disruption caused by the COVID-19 pandemic, attendees will also discuss the operation and maintenance of systems during extreme events and global crises and the ongoing reform of WMO structures.
Funding from the Swiss government and other Members has enabled WMO to increase support to the UN humanitarian network, with seasonal predictions, outlooks for El Niño/La Niña events and forecasts of high impact weather like tropical cyclones.
"Disasters are hitting both developing and developed countries," said WMO Secretary-General Professor Petteri Taalas, citing this summer's extreme rainfall, deadly flooding in Germany and other central European countries, and the record-breaking heat in Canada and northwestern United States.
"In both cases we could demonstrate the clear links between these extreme events and climate change," said Taalas, a former director general of the Finnish Meteorological Institute and has served on multiple advisory boards and commissions and led the Finnish scientists on the Intergovernmental Panel on Climate Change, IPCC.
WMO Expands Coordination With United Nations
To meet all of these many water, climate, data, and management challenges, WMO and the United Nations Office for Disaster Risk Reduction, UNDRR, are stepping up coordination.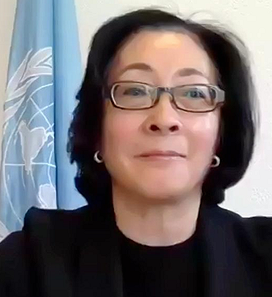 "International cooperation runs like a thread through the work of WMO," said Mami Mizutori, the UN Secretary-General's Special Representative for Disaster Risk Reduction and head of UNDRR. "Nowhere is this more apparent than the provision of state-of-the art early warning systems," she said.
Mizutori expressed her concern that more than half the 193 WMO member countries do not have early warning systems, and the lack is most painful in countries that can least afford disaster losses.
To improve the coordination of meteorological-data production and transmission within the United Nations system and for humanitarian organizations around the world, Weather4UN, a pilot project led by Switzerland's weather and climate agency MeteoSwiss and supported by the Swiss Federal Council, is a key component of the WMO Coordination Mechanism.
Authorized in 2018, the WMO Coordination Mechanism works to enable easy access to authoritative weather, water and climate information.
The coordination helps to provide expert advice to the UN and other humanitarian agencies ahead of, during and after emergencies or disasters triggered by hydro-meteorological hazards.
As a result of this initiative, people can take early action to better protect themselves and their communities from extreme weather events.
Water: Either Too Much or Too Little
Water-related hazards like floods and droughts are increasing because of climate change, the WMO confirms in a new report that participants in the Extraordinary World Meteorological Congress will scrutinize.
"The State of Climate Services 2021: Water" https://reliefweb.int/sites/reliefweb.int/files/resources/1278_en.pdf leaves little doubt about the urgent need for cooperative water management, integrated water and climate policies, and greater investment in this precious resource that underpins all individual and international goals.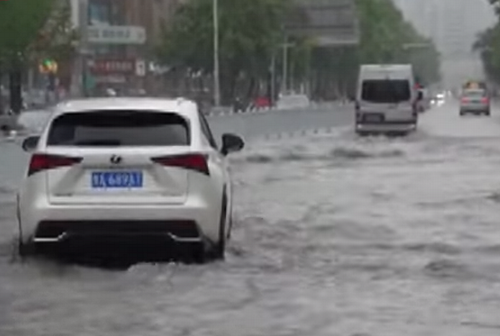 Management, monitoring, forecasting and early warnings of water-related disasters are fragmented and inadequate, while global climate finance efforts are not sufficient to limit global warming, according to the multi-agency report.
The report was coordinated by WMO and contains input from more than 20 international organizations, development agencies and scientific institutions. It is accompanied by a Story Map.
"Increasing temperatures are resulting in global and regional precipitation changes, leading to shifts in rainfall patterns and agricultural seasons, with a major impact on food security and human health and well-being," said Taalas at the launch event October 5.
"This past year has seen a continuation of extreme, water-related events. Across Asia, extreme rainfall caused massive flooding in Japan, China, Indonesia, Nepal, Pakistan and India. Millions of people were displaced, and hundreds were killed. But it is not just in the developing world that flooding has led to major disruption. Catastrophic flooding in Europe led to hundreds of deaths and widespread damage," Taalas said.
WMO expects the number of people suffering water stress to soar, as populations rise and water supplies dwindle.
"Lack of water continues to be a major cause of concern for many nations, especially in Africa. More than two billion people live in water-stressed countries and suffer lack of access to safe drinking water and sanitation," Taalas said.
"We need to wake up to the looming water crisis," he declared.
Water-related Hazards and Stress
Figures cited in the report show that 3.6 billion people had inadequate access to water at least one month a year in 2018.
In 2020, 3.6 billion people lacked safely managed sanitation services, 2.3 billion lacked basic hygiene services and more than two billion live in water-stressed countries with lack of access to safe drinking water.
By 2050, the number of water-deprived people is expected to rise to more than five billion.
In the past 20 years, the sum total of all water on the land surface and in the subsurface, including soil moisture, snow and ice – has dropped at a rate of one centimeter per year.
The biggest losses are occurring in Antarctica and Greenland, but many highly populated, lower latitude locations are experiencing water losses in areas that have traditionally provided water.
And it's a fact – only 0.5 percent of all the water on Earth is useable and available freshwater.
Water Dropping, But Hazards Rising
Water-related hazards have increased in frequency over the past 20 years. Since 2000, flood-related disasters have risen by 134 percent compared with the two previous decades.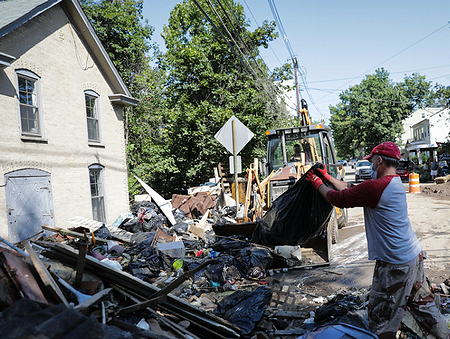 Most of the flood-related deaths and economic losses were recorded in Asia, where end-to-end warning systems for riverine floods require strengthening.
The number and duration of droughts also increased by 29 percent over this same period. Most drought-related deaths occurred in Africa, indicating a need for stronger warning systems for drought in that region.
Despite some advances, 107 countries remain off track to hit the goal of sustainably managing their water resources by 2030.
75 countries reported water efficiency levels below average, including 10 with extremely low levels. The current rates of progress need to quadruple in order to reach the global targets by 2030.
Overall, the world is seriously behind schedule on the UN Sustainable Development Goal No. 6 (SDG 6) to ensure availability and sustainable management of water and sanitation for all, the WMO report shows.
"The good news is that nations are determined to improve the situation," the WMO says.
According to the United Nations Framework Convention on Climate Change (UNFCCC), which is organizing the pivotal climate summit COP26, which opens November 1 in Glasgow, Scotland, water and food are the two top priority issues of the Nationally Determined Contributions (NDCs) to the Paris Agreement. Countries are emphasizing the need to strengthen climate services for water.
Climate Scientists' Recommendations
Invest in Integrated Resources Water Management as a solution to better manage water stress, especially in Small Island Developing States and Least Developed Countries, LDCs
Invest in end-to-end drought and flood early warning systems in at-risk LDCs, including for drought warning in Africa and flood warning in Asia.
Fill the capacity gap in collecting data for basic hydrological variables which underpin climate services and early warning systems.
Improve the interaction among national level stakeholders to co-develop and operationalize climate services with information users to better support adaptation in the water sector. Better monitoring and evaluation of socio-economic benefits will help to showcase best practices.
Fill the data gaps for climate services in the water sector. Members' data on climate services for water is missing from 65 WMO Members and particularly from Small Island Developing States.
Join the Water and Climate Coalition organized by WMO which offers practical solutions and support to improve assessment of water resources as well as forecasting and outlook services for water.
Copies of the report, slide presentation and digital assets are available here.
Featured image: Petteri Taalas, Secretary-General of the World Meteorological Organization, speaks at the 52nd session of the Intergovernmental Panel on Climate Change at UNESCO Headquarters in Paris, France, February 24, 2021 (Photo courtesy Earth Negotiations Bulletin)