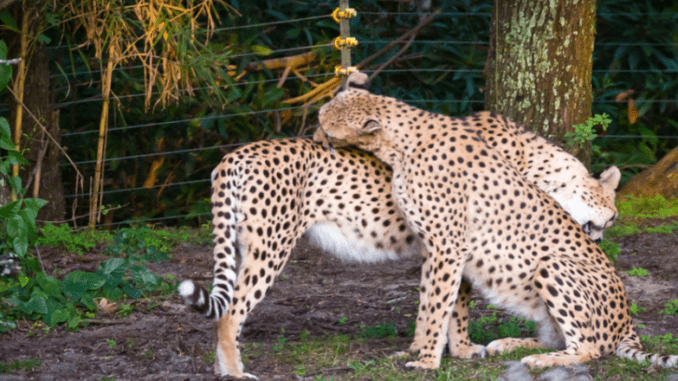 WASHINGTON, DC, May 11, 2023 (ENS) – Somewhere in the United States an estimated 20,000 big cats are kept in private ownership, often purchased as cubs or bred for photo opportunities. according to the U.S. Fish & Wildlife Service, USFWS. When they grow past the cute cub stage, they are sold into the exotic pet trade or the illegal market or abandoned to already financially strained sanctuaries.
Now, a new law requires that people who own these big cats – lions, tigers, leopards, cheetahs, jaguars, cougars or hybrids of these species – must register them with the U.S. Fish and Wildlife Service by June 18, 2023, to comply with the Big Cat Public Safety Act, signed into law by President Joe Biden just before Christmas 2022. Find the registration form online here. https://www.fws.gov/media/3-200-11-big-cat-public-safety-act-registration-form
The Big Cat Public Safety Act makes it illegal to privately possess or breed big cats.
While current private owners may keep their animals if they register them with the USFWS and abide by other state and federal regulations, the Big Cat Public Safety Act prohibits the private possession of big cats and makes it illegal for exhibitors to allow direct contact with cubs.
On December 6, 2022, the Big Cat Public Safety Act was unanimously passed by the U.S. Senate on a voice vote, after clearing the House of Representatives by a vote of 278-134 in July 2022.
Approved unanimously then by Democrats in the House, for the second time, the Big Cat Public Safety Act also won the support of 63 Republicans in the House. All opposition votes were from Republicans.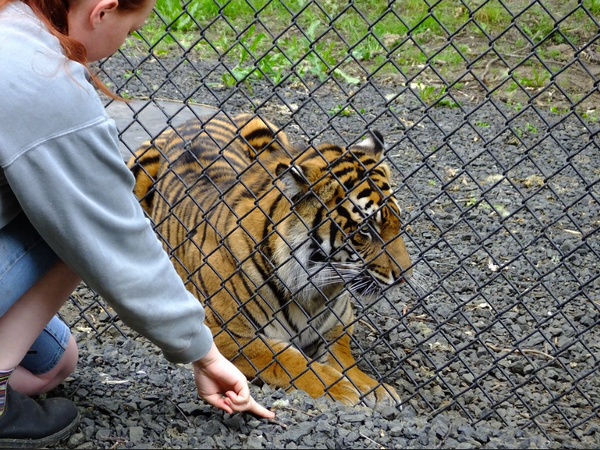 Animal Legal Defense Fund Executive Director Stephen Wells said, "The bill received bipartisan support from both chambers of Congress, and we are pleased to see it become law."
"The Big Cat Public Safety Act provides a clear framework for protecting big cats in the U.S. who have been vulnerable to the perils of private ownership due to a patchwork of state laws that have been inadequate in protecting animals and ensuring public safety," Wells said.
U.S. Senator Jack Reed of Rhode Island, a Democrat and a cosponsor of the bill, says it will prevent animal cruelty by prohibiting people from irresponsibly keeping lions, tigers, leopards, and other exotic big cat species as pets and will crack down on unscrupulous breeders.
"Big cats are predators, not pets. It shouldn't be as easy to acquire a tiger cub as it is to have a cat or a dog," said Senator Reed. "This is a bipartisan, common sense law to stop the mistreatment and exploitation of these animals. Putting federal standards in place ensures abusive breeders can't just cross state lines to exploit loopholes in the exotic animal trade."
The bill was led in the Senate by two Democrats and two Republicans – Senators Richard Blumenthal of Connecticut and Tom Carper of Delaware, both Democrats; and Senators Richard Burr of North Carolina and Susan Collins of Maine, both Republicans. They say that the Big Cat Public Safety Act will "protect big cats from exploitation and help to safeguard communities and first responders who are put at risk when these animals are held in unqualified hands."
"Big cats like lions, tigers, and cheetahs belong in their natural habitats, not in the hands of private owners where they are too often subject to cruelty or improper care," said Senator Collins. "Our legislation will prohibit the private ownership of big cats, which threatens the safety of the animals and the public and harms conservation efforts. I am pleased that our colleagues supported our bipartisan effort to improve the welfare of animals."
The law allows exceptions for some federal, state and privately owned facilities such as zoos, universities and sanctuaries that have big cats, but these exceptions do not apply to private individuals. The law does not provide for any extension of this time frame.
Member institutions of the Association of Zoos and Aquariums are still permitted to exhibit the big cats, and the AZA supports the new law. "The Big Cat Public Safety Act will strengthen existing law to prohibit the possession of tigers, lions, and other big cat species except by qualified entities, such as AZA-accredited facilities," the association said in a statement.
Several big cats covered under the legislation: the African lion, cheetah, and jaguar, are part of the AZA SAFE: Saving Animals From Extinction program.
"Private ownership of tigers, lions, and other big cats as vanity pets or for commercial exploitation in poorly run facilities is a serious animal welfare problem," the AZA said. "Unscientific and unethical breeding leads to an untraceable population of big cats that presents animal welfare and conservation issues as well as a danger to the public and first responders."
The law refers to big cats as "prohibited wildlife species." It covers the following species and hybrids of any of these species: lion, tiger, leopard, snow leopard, clouded leopard, jaguar, cheetah and cougar. Also included are big cats that are not a distinct species including pumas and panthers, as well as alternate names for the species listed above, including mountain lion, a label that is sometimes used for cougar.
In the spring of 2020, the Animal Legal Defense Fund teamed up with Blackfish Director Gabriela Cowperthwaite to launch an online petition urging Congress to pass the Big Cat Public Safety Act to help end this cruel wildlife trade. Dozens of Hollywood stars signed onto the online petition, including: Kate Mara, Rooney Mara, Joaquin Phoenix, Edie Falco, Hilary Swank, Iggy Pop, Ireland Baldwin, Kim Basinger, Ruby Rose, Paul Wesley, Christian Serratos, Nikki Reed, Ian Somerhalder, Teresa Palmer, Glenn Close, Anjelica Huston, Justin Theroux, Christopher Walken, Mena Suvari, Steve Aoki, Alan Cumming, Ed Begley, Alison Pill, Jane Lynch, Olivia Wilde, Kate del Castillo, Charlotte Ross, Kristin Bauer, Sarah Silverman, Whitney Cummings, Jenny Slate, and Jackson Galaxy.
Additional animal welfare and wildlife conservation supporting groups include: International Fund for Animal Welfare, Born Free USA, Big Cat Rescue, Animal Welfare Institute, the Big Cat Sanctuary Alliance, the Global Federation of Animal Sanctuaries (GFAS) and more.
Detailed information and the registration form may be found here.
Featured image: Captive cheetahs, Couples Glen, Orlando, Florida, December 8, 2012 (Photo by Jeff Krause)