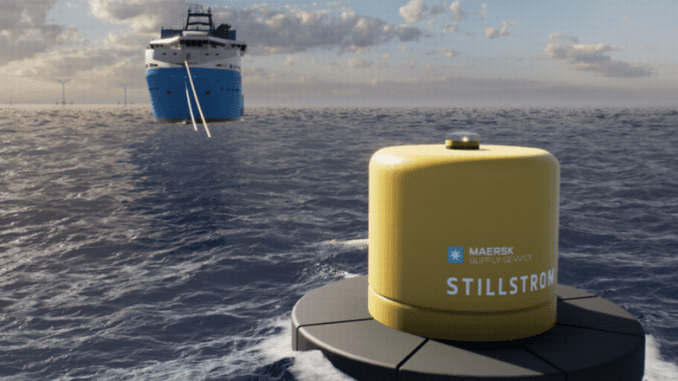 LYNGBY, Denmark, February 20, 2022 (ENS) – To support decarbonization of the maritime industry by eliminating idle emissions, Maersk Supply Service is launching its offshore vessel-charging venture, Stillstrom. The new venture will demonstrate the world's first full-scale offshore charging station for vessels at an offshore wind farm, working together with Ørsted, both Denmark's largest energy company and the world's largest offshore wind developer.
"Stillstrom," which means "quiet power" in Danish, is an early-stage technology spin-out, whose full-scale product launch will be the first-to-market in offshore charging, enabling idle vessels to power up with clean electricity.
Stillstrom will deliver offshore electric charging solutions to vessels at ports, hubs and offshore energy operations. Electrifying outside ports, energy islands, and near-shore locations, also addresses in-port congestion and limited space, the company explains.
Maersk Supply Service, a part of A.P. Moller-Maersk, says offshore charging for idle vessels is critical to facilitating the decarbonization of the maritime industry, since it allows vessel owners to replace fossil fuels with electricity while being safely moored to the charging buoy.
The first full-scale charging buoy will be demonstrated with Ørsted in the third quarter of 2022.
"Stillstrom is part of our commitment to solving the energy challenges of tomorrow. By investing in this ocean cleantech space at an early stage, we can help lead the green transition of the maritime industry. Stillstrom has been developed within Maersk Supply Service and the timing is right to create a venture that will be focused on delivering offshore charging solutions," Steen Karstensen, CEO of Maersk Supply Service, said.
The power buoy will supply overnight power to one of Ørsted's Service Operations Vessels, SOVs, which supports Ørsted's target of climate-neutral operations in 2025. Ørsted will be responsible for the grid integration of the charging buoy.
Ørsted intends to make publicly available any intellectual property generated during the design of the buoy's integration into the offshore wind asset, to maximize the potential uptake of this carbon-reducing innovation across the offshore wind sector.
The charging buoys will enable clean power and charging stations with safe mooring for vessels servicing offshore floating and fixed-bottom wind parks.
The charging buoy itself is large enough to charge an SOV-sized battery or hybrid-electric vessel. The same solution will be scaled and adapted to supply power to larger vessels, enabling vessels of all sizes to turn off their engines when lying idle. By substituting green electricity for fossil fuels, virtually all emissions and noise pollution are eliminated while the charging buoy is in use.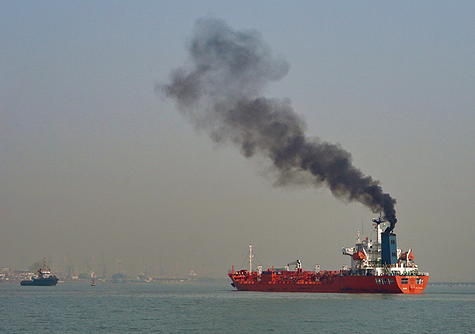 Today, shipping is switching from diesel to diesel-electric propulsion. Most modern ships move by diesel-electric propulsion – mechanical systems consisting of an electric motor or engine turning a propeller. Some modern diesel-electric ships, including cruise ships and icebreakers, use electric motors in pods called azimuth thrusters underneath to allow for 360° rotation, making the ships far more maneuverable. An example of this is Symphony of the Seas, the largest passenger ship as of 2019.
Now, the first ship propelled by entirely by electricity has taken its maiden voyage. The world's first electric and self-propelled container ship, the Yara Birkeland, owned by the Norwegian fertilizer giant Yara, departed Oslo for its maiden voyage in the Oslo fjord in November 2021. It is expected to cut 1,000 tonnes of CO2 and replace 40,000 trips by diesel-powered trucks a year, says Yara CEO Svein Tore Holsether.
Venture Programme Manager at Maersk Supply Service Sebastian Klasterer Toft says the more quickly fossil fuel emissions are eliminated from the shipping industry, the better for the planet. "The mission is to remove 5.5 million tons of CO2 [carbon dioxide] within five years of commercial rollout, additionally eliminating particulate matter, NOx [nitrogen oxides], and SOx [sulphur dioxide]," he said.
Maersk Supply Service is provides marine services and project solutions for offshore energy sectors. With a fleet of anchor handling and subsea support vessels, the company specializes in towing, mooring, and installing floating units.
The company is committed to decarbonizing its fleet and focuses on energy efficiency and ocean health, and so is expanding into renewable industries such as floating wind and ocean cleaning.
Stillstrom is fully owned by Maersk Supply Service and has received funding support from the Danish Maritime Fund and Denmark's Energy Technology Development and Demonstration Program, which supports private companies and universities to develop and demonstrate new energy technologies.
Featured image: A ship connected to a Stillstrom changing buoy powered by an offshore wind farm. 2021 (Photo courtesy Maersk Supply Service)
© 2022, News Editor. All rights reserved.