Vernal Equinox Dawns in Japan With 21,000 Dead and Missing
TOKYO, Japan, March 21, 2011 (ENS) – Today is a public holiday across Japan – Vernal Equinox Day, transformed by law in 1948 from an ancestor worship festival to a day for the celebration of nature. Many visit family tombs to honor their ancestors, and today thousands will be mourning those lost in the March 11 earthquake and tsunami disaster.
More than 8,450 people are confirmed dead and nearly 13,000 are reported missing in the aftermath of the magnitude 9.0 earthquake and resulting tsunami that struck northeastern Japan, according to the National Police Agency.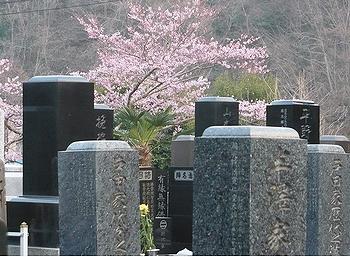 Graveyard at Sendai, Japan where as yet uncounted thousands died during the March 11 earthquake and tsunami, April 7, 2009. (Photo by C.J. Toews)
Yet local municipalities say an even greater number remain unaccounted for.
In Ishinomaki City, the extent of the damage is not yet clear more than a week after the disaster, due to communication problems. Local officials estimate that the number of those missing will total about 10,000.
In the town of Minami-sanriku, the whereabouts of 8,000 people, about half the population, have not been confirmed. In Onagawa Town, the whereabouts of 5,000 people have not been confirmed.
At least 350,332 people have been evacuated and are staying at shelters as of Sunday, the police agency says.
Some 14,630 buildings were destroyed, while 126,723 buildings are damaged, the police agency said Sunday.
Prime Minister Natao Kan canceled his visit to the affected areas today. The Prime Minister's Office said his helicopter cannot lift off or land due to bad weather.
Nearly 243,000 households in the northern part of Honshu island are still without power, and at least 1.04 million households in 11 prefectures lacked running water as of Saturday, the health ministry said.
The health ministry is urging the people of Iitate village in Fukushima Prefecture not to drink the tap water, because elevated levels of radioactive materials were detected in the water Sunday. Still, the ministry says that drinking the water does not pose an immediate health risk.
Levels of radiation higher than the legal standard have been detected in vegetables produced in Gunma, Tochigi, and Chiba prefectures, but again the health ministry said these are not of levels that could affect human health immediately.
Ingesting contaminated water or food could raise one's cancer risk over a period of years.
The source of that radioactivity is Tokyo Electric Power's quake-hit Fukushima Daiichi nuclear power plant, where nuclear fuel has been exposed at four of its six reactors since the earthquake and tsunami destabilized them and snapped outside power to the facility.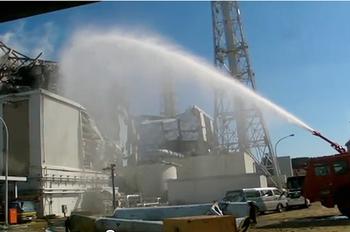 Water sprayed from a fire truck hits a damaged nuclear reactor at Tokyo Electric's Fukushima Daiichi power plant, March 20, 2011. (Image courtesy Japan Ministry of Defense)
Crews have been injecting tons of sea water into the reactors' pressure vessels to cool the nuclear fuel inside the damaged reactors. Submerged for safety during normal operations, the fuel has been exposed to the air after explosions at two of the reactors in addition to power failures that left cooling system pumps unable to operate.
The nuclear safety agency said Sunday that power has been restored to three of the reactors at the plant – one of them the unstable Unit 2, where reactor pressure had built up after the nuclear fuel cooling system failed due to lack of power.
TEPCO said Sunday that electricity from an external transmission line was connected to an auxiliary transformer and workers installed a power cable from that transformer to a temporary power panel at Unit 2.
Power is now available to Units 5 and 6, which were shut down for regularly scheduled testing when the earthquake and tsunami occurred and were not troublesome this past week. The integrity of each of these power loads is still being confirmed.
Crews are still struggling to supply external power to Units 1, 3 and 4 to power their water cooling systems, while simultaneously injecting sea water into the reactor pressure vessels.
Due to the power supply-demand balance, TEPCO has been implementing rolling blackouts since Monday, March 14 and millions of people in five designated areas have been left without power for three hours at a time.
But because it is Vernal Equinox Day, TEPCO says the company will supply continuous power to three of the five rolling blackout areas and will try to supply continuous power to the other two areas.
Copyright Environment News Service (ENS) 2011. All rights reserved.