Earthquake, Tsunami Cripple Japan's Clean Vehicle Production
TOKYO, Japan, March 21, 2011 (ENS) – Automakers across Japan plan to reopen their factories this week after halting operations in the wake of the magnitude 9.0 earthquake and tsunami that struck northeastern Japan on March 11.
Still, shipments of vehicles bound for North America, Europe and other major markets, including the popular Toyota Prius and the all-electric Nissan LEAF, could be delayed indefinitely.
Roads, railway lines and shipping routes all were devastated by the quake, the worst in Japan's history.
Toyota Motor Company halted operations at its 12 main assembly plants in Japan and has extended that closure to March 22. "We have yet to decide when vehicle production will resume," the company said in a statement.
Toyota's new plant in Ohira, Miyagi prefecture, which produces the subcompact Yaris, is located near the center of the disaster area and was damaged, as was a road near the factory. Just opened in February, the facility is Toyota's first new Japanese plant in 18 years.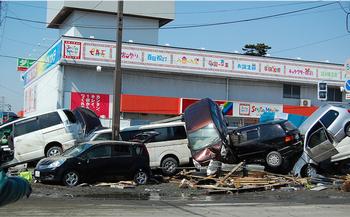 Ruined vehicles at the port city of Sendai, Japan, March 19, 2011 (Photo by Ai)
The Yaris were to have been shipped to buyers in the United States from the port at Sendai, 20 miles away from the new plant. The port was upgraded to handle shipments from the new Toyota plant, but the port and much of the city of Sendai were completely flattened by the earthquake and tsunami.
Central Motor Company, a Toyota subsidiary, runs the Ohira plant. Plans to produce a Yaris hybrid there were reportedly in the works before the earthquake struck.
Nissan's Oppama plant, the only site where Nissan makes its all-electric LEAF, is one of four facilities that Nissan temporarily shuttered. Nissan says it will start up the Oppama plant on a limited basis Monday, producing parts for overseas manufacturing and repairs. The company plans to resume vehicle production March 24, while its inventory of supplies lasts.
Restoration of its Iwaki engine plant in northern Japan will take longer than the other plants, Nissan said, ""with aftershocks still heavily impacting the region and infrastructure reestablishment still continuing." This plant is the main source of engines for Nissan's larger and upscale cars.
Production of the Nissan Altima hybrid has not been affected by the disaster because this model is built in Smyrna, Tennessee.
Honda's Suzuka Factory in hard-hit Mie prefecture will not be in production until at least March 23, the company said in a statement. This plant produces hybrids – the Japan Fit, Civic Hybrid, Insight, and the Honda CR-Z, a compact hybrid gasoline-electric sportscar.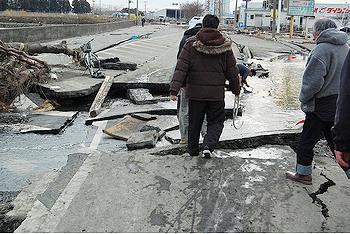 Roads across northeastern Honshu island, like this one near Sendai, were damaged by the March 11 earthquake. (Photo by Ai)
Honda Motor Company is extending its production halt to March 23 for automobiles at the Sayama Plant at Saitama Factory, which produces the subcompact U.S. Fit, the CR-V, Accord, Acura RL and TSX models.
Honda said its Mooka plant in Tochigi prefecture was "severely hit." This plant makes engine, transmission and suspension parts for all Honda models built in Japan.
Concerning operations from March 24 on, Honda will make decisions based on the status of the recovery of parts supply as well as Japanese society as a whole, the company said.
Primearth EV Energy Company's Miyagi plant, which makes nickel-metal-hydride batteries for Toyota and Lexus hybrids, was at first reported to have suffered major damage, but this facility appears to be in better shape than originally thought.
Fuji Heavy Industries Co said all five of its car and parts-related plants for its Subaru-brand vehicles in Gunma prefecture, north of Tokyo, will be shut at least until Tuesday, March 22, "considering the influence of its suppliers in the affected areas as well as conditions of electric power supply."
Tokyo Electric Power Company, which operates the stricken Fukushima Daiichi nuclear power plant, has been imposing rolling blackouts since Monday, March 14.
Mazda Motor Corporation, which suspended production at its Hiroshima and Hofu plants has decided to resume temporary production at both plants from March 22, producing replacement parts and parts for overseas production.
Mitsubishi Motors Corporation said operations have been affected by the disasters. While working to restore its supply chain, the company will provide quake-hit areas with its i-MiEV electric vehicles for disaster relief.
"Many of the afflicted areas are troubled with a serious gasoline shortage issue, therefore, electric vehicles have been called upon for its characteristic of being able to run without any specific facility if there is an electricity supply," said the company.
As a first step, 30 i-MiEVs were deployed on Friday, and Mitsubishi said additional vehicles will be sent out according to the afflicted areas' needs.
Copyright Environment News Service (ENS) 2011. All rights reserved.