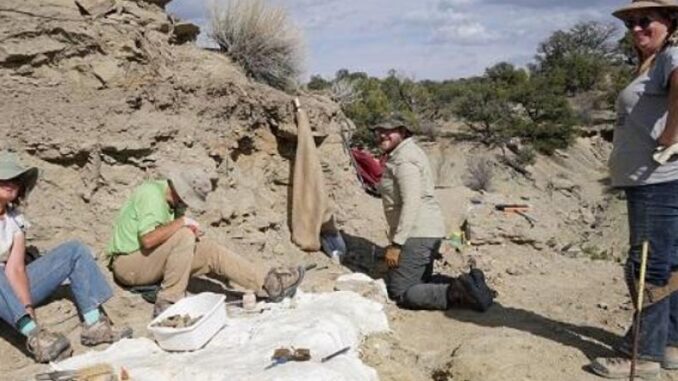 SALT LAKE CITY, Utah, November 28, 2022 (ENS) – Conservation groups have filed a motion to intervene in two lawsuits challenging President Joe Biden's restoration of Bears Ears and Grand Staircase-Escalante National Monuments. The challenging lawsuits, led by the state of Utah, also attack the Antiquities Act itself as unlawful.
The conservationists complain that nearly five years ago, former President Donald Trump, "controversially and without lawful authority," shrank the boundaries of Bears Ears by 85 percent and Grand Staircase-Escalante by 47 percent, stripping protections for world-renowned dinosaur fossils, remarkable geologic features, and important Native American cultural sites.
Four tribes: The Hopi Tribe, the Navajo Nation, the Ute Mountain Ute Tribe, and the Pueblo of Zuni also have moved to intervene in the challenging lawsuits.
"These lawsuits seek to destroy the Antiquities Act with a flawed argument that presidents may only designate small monuments," said Heidi McIntosh, managing attorney with the public interest law firm Earthjustice, which represents the conservation groups. "The Supreme Court has recognized for 100 years that the Antiquities Act gives the president broad authority to designate national monuments commensurate in size to the 'objects' that need protection. Lower courts have consistently followed suit."
"Without the Antiquities Act," McIntosh said, "we would not have some of our most beloved national parks, including Grand Canyon, Grand Teton, Olympic, Zion, and Acadia. We will fight alongside our partners and clients to ensure the Antiquities Act is preserved for future generations to experience our most beloved and historic places."
In 1920, the Supreme Court upheld President Teddy Roosevelt's use of the Antiquities Act to protect 800,000 acres in Arizona when he declared the Grand Canyon a national monument. Presidents since have routinely designated monuments of a million acres or more. Courts have consistently found that culturally and scientifically rich landscapes, even large ones, are eligible for protection under the Act.
In their motion to intervene, the conservation groups signaled their opposition to "Utah's erroneous claim that a president can designate only small monuments centered on specific sites."
"The State of Utah tried essentially this exact same lawsuit in 2004 against Grand Staircase-Escalante National Monument, represented by none other than William Perry Pendley, and the judge handed them a decisive defeat," said Erik Molvar, executive director of Western Watersheds Project.
"Bears Ears and Grand Staircase-Escalante are so packed with Indigenous cultural sites, fossil deposits, and scientifically important ecological features that it is beyond question that the president has the authority to protect these lands under the Antiquities Act for the benefit of all Americans," Molvar asserted.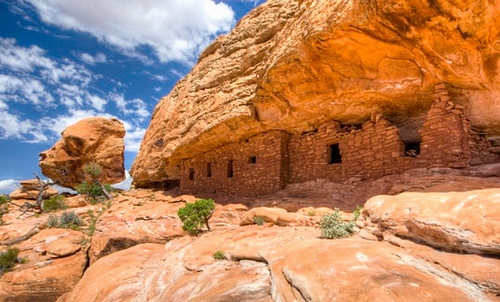 "Utahns and Americans overwhelmingly support national monument protections for Bears Ears and Grand Staircase-Escalante, but that hasn't stopped Utah's attorney general and governor from trying to destroy both of these monuments and the law that makes it possible for presidents to create national monuments," said Tim Peterson, cultural landscapes director for the Grand Canyon Trust. "State leaders claim to value natural heritage and love the outdoors, but this lawsuit says otherwise."
"The remarkable Grand Staircase-Escalante and Bears Ears national monuments are the crown jewels of America's public lands," said Stephen Bloch, legal director for the Southern Utah Wilderness Alliance. "It's terribly disappointing that, rather than embrace these monuments as the very best our state has to offer the world, Utah Governor Cox has attacked them and hopes to see the monuments undone. We're going to work to stop that from happening. Without the protections that come with being preserved as national monuments, the sacred sites, fossils, and ecosystems found within are at risk of being lost forever to reckless off-road vehicle use, wildcat mining and drilling, and rampant tourism."
Bears Ears National Monument hosts ancient cliff dwellings, over 100,000 Native American cultural sites, innumerable historic landmarks, and iconic wildlife such as bears, bighorn sheep, and mountain lions. Tribes continue to visit the lands to hold ceremonies and connect with their ancestors. The monument designation included a historic plan for co-management of this unique landscape by federal agencies and the five Tribes with sacred cultural interests in the lands.
Grand Staircase-Escalante, designated in September 18, 1996 by then President Bill Clinton, is sometimes called a "dinosaur Shangri-la," as it holds dinosaur fossils not found anywhere else on Earth. In the two decades since it was protected, paleontologists have unearthed fossils from 21 previously undiscovered dinosaur species.
On August 24, Utah Attorney General Sean Reyes filed a lawsuit in the U.S. District Court for the District of Utah against President Biden's return to the original designation of the Bears Ears and Grand Staircase-Escalante National Monuments when they were first designated on December 28, 2016 by then President Barack Obama.
The Utah lawsuit argues that "the size of the two national monuments, covering vast landscapes of a combined 3.2 million acres, violates the Antiquities Act of 1906, which limits U.S. presidents to create monuments "confined to the smallest area compatible with proper care and management of the objects to be protected."
"The vast size of the expanded Bears Ears and Grand Staircase-Escalante National Monuments draws unmanageable visitation levels to these lands without providing any of the tools necessary to adequately conserve and protect these resources," the Utah lawsuit states.
"A congressional solution would be the more effective path for the conservation and management of Utah lands. This would include collaboration from state and federal agencies, tribal nations, local governments, citizens, the legislature, and Utah's congressional delegation," Utah proposes in its lawsuit.
Conservation groups, along with Tribes who urged the Obama administration to establish the Bears Ears National Monument, previously challenged President Trump's 2017 dismantling of the monuments. That case remains pending in the District of Columbia.
Legal analyses since at least the 1930s, including research from the Congressional Research Service, have concluded that the Antiquities Act does not authorize any President to repeal monument proclamations, nor is that power implied. Only Congress has clear authority to do so, largely under the Property Clause of the U.S. Constitution.
"This radical effort to dismantle the Antiquities Act and revoke protections for the Bears Ears and Grand Staircase-Escalante National Monuments defies the overwhelming public support for protecting these cherished lands, contradicts more than a century of settled law, and ignores the immense scientific and cultural values throughout these landscapes," said Jamie Williams, president of The Wilderness Society. "We look forward to working with Tribal governments and our partners to ensure these grand national monuments remain protected and cherished for generations to come."
"Bears Ears and Grand Staircase-Escalante are national treasures," said Sharon Buccino, senior attorney with the Natural Resources Defense Council. "They protect irreplaceable cultural sites, scientific resources, and natural areas that are key to our survival as the climate changes. President Biden needed to protect them and had the authority to do so."
"These efforts are blatant attempts to undermine the Antiquities Act and those who have fought for nearly 120 years to defend this critical conservation law and all it safeguards," said Theresa Pierno, president and CEO for National Parks Conservation Association. "National parks like Acadia and the Grand Canyon were protected because of this vital law. Bears Ears and Grand Staircase-Escalante National Monuments are no different. They are sacred, living landscapes for many Indigenous Tribes and hold extraordinary archaeological and cultural resources that tell the stories of our shared history and heritage. Millions of people have spoken out in support of protecting these treasured places, and this last-ditch effort to disregard those voices will not prevail."
Earthjustice represents The Wilderness Society, Grand Canyon Trust, WildEarth Guardians, Western Watersheds Project, Sierra Club, Center for Biological Diversity, National Parks Conservation Association, and Great Old Broads for Wilderness in the intervention. They are co-counseling with the Natural Resources Defense Council and the Southern Utah Wilderness Alliance.
"Utah leaders remain shortsighted. Our state is facing extraordinary challenges regarding climate and growth, and communities bear the burden," said Carly Ferro, Sierra Club Utah Chapter Director. "State leaders' most recent attempt to undermine public lands seeks to dismantle unparalleled landscapes that drive incredible economic value for Utah while nurturing critical cultural and ecological resources. We have and will continue to defend against the state's efforts to disparage the Antiquities Act state-side and federally. Bears Ears and Grand-Staircase National Monuments will persevere. We look forward to continuing collaborations to protect these monuments and continue to bring opportunities to ensure a healthy future for everyone here in Utah."
"Bears Ears and Grand Staircase-Escalante National Monuments must stay fully intact to preserve the extensive cultural, scientific, and natural features they hold," said Sara Husby, executive director for Great Old Broads for Wilderness. "These monuments exemplify the intended use of the Antiquities Act to protect our country's rich heritage. The Act is a critical conservation tool, and the attempts by Utah officials to weaken it must be stopped."
"At root, Utah believes that it, rather than the federal government, should be managing Bears Ears, Grand Staircase-Escalante, and all other public lands in the state," said Chris Krupp of WildEarth Guardians. "Its lawsuit is intended to chip away at the fundamental principle that all Americans get to determine how public lands are managed. If Utah were to manage these places, profit-driven resource exploitation would take precedence over conservation and protection."
"It's beyond disappointing that Utah leaders want to gut one of the most important and popular conservation laws ever passed by Congress," said Randi Spivak, director of the Center for Biological Diversity's public lands program. "Two-thirds of Utahn's strongly support creating new national monuments, parks and wildlife refuges and 60 percent agree protecting Bears Ears is good for the state. We're fighting this reckless lawsuit because the law is clear. A monument should be as large as it needs to be to protect whatever needs protection."
Featured image: Volunteers from the Natural History Museum of Utah work at the T2 Tyrannosaur excavation site, located in the Kaiparowits Formation of Grand Staircase-Escalante National Monument. The site was discovered by Grand Staircase-Escalante National Monument paleontology program volunteer Taylor Barnette in November 2018. (Photo courtesy Bureau of Land Management)
© 2022, News Editor. All rights reserved.