UN Nuclear Safety Chief: Emergency Communications System Outdated
VIENNA, Austria, March 21, 2011 (ENS) – The international emergency response framework for dealing with nuclear power plant accidents is not up to speed and must be modernized in view of the current crisis in Japan, the UN's head of global nuclear safety said today.
Yukiya Amano, director general of the International Atomic Energy Agency, told an emergency meeting of his Board of Governors in Vienna that the agency's current response framework was designed before the information revolution and "has limitations."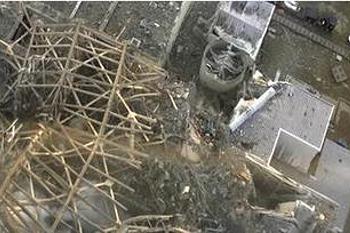 Damage at Tokyo Electric Power's Fukushima Daiichi nuclear power plant as seen from the air (Photo courtesy TEPCO)
Amano, who returned Saturday from a two-day trip to Japan, said the crisis at the Fukushima Daiichi nuclear power plant remains "very serious" although "we are starting to see some positive developments."
On March 11, a magnitude 9.0 earthquake and the resulting tsunami both struck Tokyo Electric Power Company's Fukushima Daiichi generating station on the Pacific coast, destabilizing four of its six reactors and cutting off the electricity supply to the nuclear fuel cooling systems.
Hydrogen gas built up and exploded at two of the reactors, releasing radiation, and fires in the spent fuel pool of a third also released radiation into the air.
Tons of seawater sprayed from trucks and dropped from helicopters for days has helped to cool the fuel, but authorities say partial meltdowns probably occurred at three of the reactors.
Work to restore power and recover the cooling systems at the plant was suspended Monday after the damaged reactor in Unit 3 emitted smoke.
"The responsibility of the IAEA is to provide authoritative and validated information as quickly as possible, but doing this under the current arrangements inevitably takes time and has limitations," Amano said in Vienna.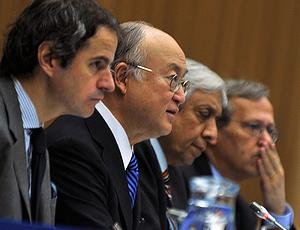 At the emergency IAEA Board meeting, from left: Rafael Grossi, IAEA chef de cabinet; Yukiya Amano, IAEA director general; Ansar Parvez, chairperson, IAEA Board of Governors, Vilmos Cserveny, secretary, policy making, March 21, 2011 (Photo by Dean Calma courtesy IAEA)
The IAEA communications response system was established in the wake of the world's worst civilian nuclear accident, the 1986 Chernobyl disaster in the then Soviet Union, he said. "It reflects the realities of the 1980s, not of the 21st century."
The speed at which information now travels, and the huge volume of information in public circulation, are among the most significant changes since then, said Amano, a Japanese diplomat who has specialized in nuclear nonproliferation. "Live television and the internet provide constant updates on a crisis situation, not always accurately, to a global audience."
"Some countries are reviewing their plans in the light of Fukushima," he said. "The agency's role in nuclear safety may need to be re-examined, along with the role of our safety standards."
"I have no doubt that this crisis will be effectively overcome. Nature can be cruel. But human beings are brave, resourceful and resilient, as the people affected by the tsunami have shown in the last 10 days," said Amano.
Paying tribute to "the immense courage of the emergency response teams," Amano said, "It is difficult for us here in Vienna to imagine the conditions in which they are working. The site has been seriously damaged by flood water and is littered with debris. Buildings have been damaged by explosions. There has, for the most part, been no electric power. Radiation levels are elevated. It is no exaggeration to describe the work of the emergency teams as heroic."
IAEA radiation monitoring experts have begun sending measurements back to Vienna headquarters, first from Tokyo and now from locations close to the Fukushima site. Additional staff will fly out from Vienna shortly to strengthen the team.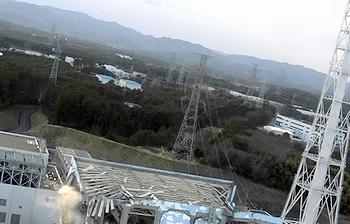 Smoke rises from damaged Fukushima Daiichi's Unit 4 reactor building in the town of Okuma, Fubata district in Fukushima prefecture (Photo courtesy TEPCO)
Official Japanese measurements show radioactivity in drinking water, food and milk at a number of locations in excess of regulatory limits.
Monday, Prime Minister Naoto Kan issued instructions to the governors of four prefectures to stop shipping spinach and another leafy vegetable, kakina, as the items may contain excess amounts of radioactive materials. The prefectures are Fukushima, Ibaraki, Tochigi and Gunma. Fukushima prefecture has been asked not to ship raw milk.
Amano noted the high levels of contamination measured near the plant and the concerns of millions of people in Japan, neighboring countries and those further afield about possible dangers to human health, environmental contamination and risks to foods.
Amano said the IAEA's Emergency Centre was activated immediately after the quake and tsunami. It has been working around the clock ever since, in constant communication with counterparts in Japan and other countries.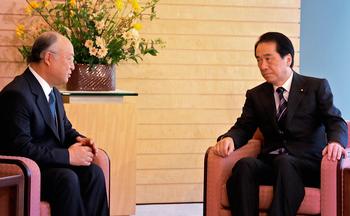 IAEA Director General Yukiya Amano, left, meets with Japan's Prime Minister Natao Kan, March 18, 2011 (Photo by Gil Tudor courtesy IAEA)
But he stressed that the IAEA is not a "nuclear safety watchdog" and that responsibility for nuclear safety lies with member states.
The agency acts as a hub for international cooperation, establishing safety standards and providing expert advice, but nuclear safety measures are applied voluntarily by each individual country, with the IAEA in a "supportive role."
"I have confidence that the Japanese government will address public concerns properly," Amano said.
On his trip to Japan, Amano said he assured Prime Minister Naoto Kan, other government ministers, the Tokyo Electric Power Company and the Nuclear and Industrial Safety Agency that the country could count on the full support of the international community, both practical and moral, in overcoming the very serious situation.
Amano said he urged the Japanese authorities to improve the provision of information to the IAEA.
"My message was well received," he said. "Prime Minister Kan expressed his strong commitment to ensuring the highest transparency in information sharing and said every effort would be made to improve the collection and provision of information."
Arrangements for putting international nuclear experts in touch with each other quickly during a crisis need to be improved, Amano said. "A thorough review of the accident will be necessary, in which peer review will have an important role to play."
Copyright Environment News Service (ENS) 2011. All rights reserved.
Environment News Service (ENS) © 2011 – 2012 All Rights Reserved.