World Water Day Report: African Cities Outgrow Their Water Supplies
CAPE TOWN, South Africa, March 22, 2011 (ENS) – Africa's cities are growing at a faster rate than anywhere else in the world, stressing drinking water supplies and sanitation services, says a new UN report released to mark World Water Day 2011.
The Rapid Response Assessment by the United Nations Environment Programme and UN-Habitat, "Green Hills, Blue Cities," finds that 40 percent of Africa's one billion people live in urban areas where water supplies and sanitation are inadequate.
The theme of this year's World Water Day, which falls on March 22 every year, is "Water for cities: responding to the urban water challenge." The main event is a three-day exhibition and fair hosted by the government of South Africa at the Cape Town International Convention Centre.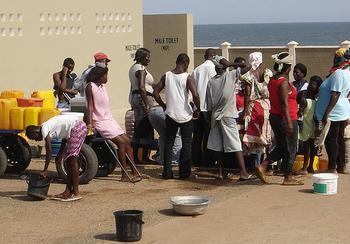 Buying drinking water in Accra, Ghana, a city of four million people (Photo by Philip Stevens)
While Africa is currently the least urbanized region in the world, that is changing fast, the assessment concludes. Africa's urban dwellers without access to safe drinking water jumped from about 30 million in 1990 to over 55 million in 2008.
Over the same period, the number of people without reasonable sanitation services doubled to around 175 million, says the report.
"Africa is the fastest urbanizing continent on the planet and the demand for water and sanitation is outstripping supply in cities, said Dr. Joan Clos, executive director of the UN's Human Settlements Programme, UN-HABITAT.
"As cities expand," he said, "we must improve our urban planning and management in order to provide universal access to water and basic services while ensuring our cities become more resilient to the increasing effects of climate change."
In South Africa, Grahamstown is a small city but a case in point. Located in a part of the country with frequent droughts, the city's population has doubled from 76,000 in 2004.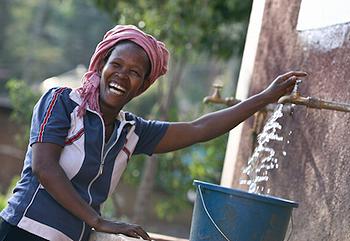 Addis Ababa resident fills a pail with drinking water. (Photo by AMREF UK)
Rainwater harvesting and inspiring water initiatives, such as the Blue Drop regulatory tool used by South Africa's Department of Water Affairs to monitor the quality of drinking water, have helped the city to provide adequate water services to its growing population. But Grahamstown is facing future crises as climate change brings more droughts and water shortages.
To the north, Ethiopia's capital Addis Ababa has grown from 100,000 to 3.5 million people over the past 50 years. Today it is one of the largest cities in Africa and has trouble providing residents with enough fresh water and sanitation services.
According to the UN report, only five percent of the solid waste collected in Addis Ababa is recycled and the rest is often piled on open ground, banks of streams and near bridges where it is washed into the rivers.
Moreover, fears of food poisoning are worsened by the fact the 60 percent of Addis Ababa's food is supplied by urban farmers who irrigate their crops using wastewater.
In UNEP's home city of Nairobi, Kenya, the population increased from 119,000 in 1948 to 3.1 million today. Many people live in some 200 slum settlements spread across the city and have limited access to safe water and sanitation.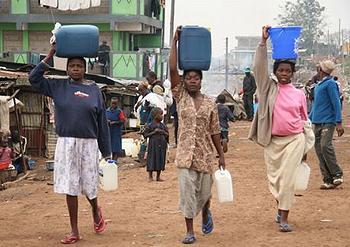 The water shortage in Nairobi's Mathare slum forces people to walk long distances to fetch water. (Photo courtesy UN-Habitat)
The largest slum, Kibera, receives about 20,000 cubic meters of water a day, but 40 percent of it is lost through leakage or dilapidated infrastructure.
"These are the stark realities and the sobering facts which need to be addressed as nations prepare for the landmark UN Conference on Sustainable Development in 2012," said UNEP Executive Director Achim Steiner.
The conference is known as Rio+20 because it is taking place 20 years after the 1992 Rio Earth Summit that set the environment agenda for the world.
Rio+20 is focusing on a green economy in the context of sustainable development and poverty eradication as one of its major themes.
"There is growing evidence from work on the green economy that a different path in terms of water and sanitation can begin to be realized," said Steiner.
"Public policies that re-direct over a tenth of a percent of global GDP per year can assist in not only addressing the sanitation challenge but conserve fresh water by reducing water demand," said Steiner.
The UN's Rapid Response Assessment report suggests that fresh water and sanitation can be improved by doing two things that may appear contradictory – supporting the role of the private sector in delivering water and sanitation services especially to the poor urban areas – and recognizing that the high poverty levels in Africa mean market-based approaches are not always the best options to supplying water to urban areas in a sustainable way.
The assessment also recommends demonstrating that it pays to protect watersheds and forests, instead of building expensive water purification systems.
"Cities must protect and restore ecosystems that are important as key water sources. This will provide cheaper, more efficient and flood resilient water supply systems for the fast urbanising region of Africa," the assessment report advises. "Cities must reduce water consumption and recycle wastewater inside cities, restore adjacent watersheds and improve engineering solutions to supply water from well-managed ecosystems."
Copyright Environment News Service (ENS) 2011. All rights reserved.