States Demand EPA Stop Dirty Air From Upwind Power Plants
ALBANY, New York, March 21, 2011 (ENS) – A rule to keep pollution from upwind power plants out of New York's air was ordered by a U.S. appellate court in 2008 but has not yet been implemented.
Now, New York Attorney General Eric Schneiderman is demanding that the U.S. EPA protect New York's air by putting the proposed rule in place at once.
"Every day, pollution from upwind states blows into New York, spoiling our environment, contaminating the air we breathe, and harming our health," said Schneiderman today.
Schneiderman's call for action is contained in a letter that he and North Carolina Attorney General Roy Cooper sent jointly to EPA Administrator Lisa Jackson last week.
The letter addresses the EPA's proposed Transport Rule, an air pollution regulation arising from a 2005 lawsuit brought by North Carolina and supported by a 10-state coalition led by New York.
The proposed rule will reduce the amount of sulfur dioxide, SO2, and nitrogen oxides, NOx, air pollution that cross the boundaries of 31 states and the District of Columbia into other states.
The rule will require 31 eastern, southern, and midwestern states and the District of Columbia to cut power plant emissions by 2014.
In their letter, the attorneys general call on Administrator Jackson to issue the rule in final form by no later than June 30 to ensure that downwind states begin to see improved air quality starting next year.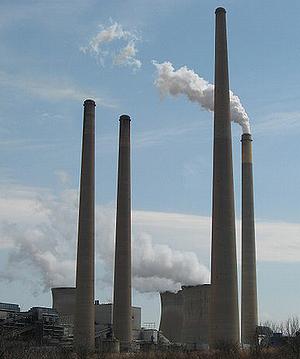 Sulfur dioxide from Edison International's Homer City coal-fired power plant in Pennsylvania blows into New York. (Photo credit unknown)
They also ask Jackson to provide a full timetable for the steps the EPA will take to achieve the 2014 deadline.
In July 2008, the U.S. Court of Appeals for the D.C. Circuit issued a decision supporting the states' position that EPA had to require reductions in the interstate transport of air pollution that would enable downwind states such as New York to meet their own requirements under the Clean Air Act.
The Court then sent the prior rule back to the agency to comply with this mandate.
On June 6, 2010, EPA issued its revised proposed Transport Rule to respond to the Court's order. The attorneys general seek finalization of this proposed rule.
"Cutting the amount of air pollution that crosses state lines would avoid hundreds of thousands of illnesses and produce benefits worth hundreds of billions of dollars annually nationwide," Schneiderman said.
"To realize these enormous benefits and protect New Yorkers' air, and lungs, without delay, the EPA should take prompt action to help stem the dangerous tide of dirty air flowing into New York."
While the federal Clean Air Act confers dual responsibility on the EPA and the states to improve and maintain air quality, the act's "good neighbor" provision specifically requires the agency to address the interstate transport of air pollution.
Sulfur dioxide and nitrogen oxides can travel hundreds of miles after they are emitted. According to the American Lung Association, over 12.5 million residents of the state, roughly 65 percent of all New Yorkers, live in counties where levels of soot and smog pollution endanger health.
New York City is ranked by the association as among the 25 U.S. cities most polluted by soot and smog.
Once the proposed Transport Rule is finalized, the benefits will be "swift and profound," said Schneiderman, citing EPA projections that, in 2014, the rule will yield up to roughly $20 billion in annual benefits and prevent some 2,400 premature deaths every year in New York state alone.
Nationally, the EPA expects the rule to yield up to $290 billion in annual benefits in 2014 as against an estimated $2.8 billion total annual cost of compliance.
The benefits come in improved public health, including prevention of 14,000 to 36,000 premature deaths, 26,000 hospital and emergency room visits, and 240,000 cases of aggravated asthma in 2014.
The rule also is expected to benefit the environment by improving visibility in national and state parks, and reducing acid rain, which has damaged lakes, forests, and wildlife throughout New York's Adirondack and Catskill regions.
The coal-fired power plant that sends more sulfur dioxide pollution into New York than any other is being sued by three states and the federal government. In February, New York, New Jersey and Pennsylvania joined in the federal lawsuit against Edison International, owner and operator of Homer City Station, a power plant in Pennsylvania.
Homer City emits some 100,000 tons of SO2 annually, more than twice as much as all of the power plants operating in New York combined, Schneiderman said.
The lawsuit asks the court to shut down the Homer City plant until it meets Clean Air Act standards.
Copyright Environment News Service (ENS) 2011. All rights reserved.