UN Appeal for Haitian Quake Relief Only Half Funded
PORT-AU-PRINCE, Haiti, March 12, 2010 (ENS) – Two months after the ruinous January 12 earthquake in Haiti, the United Nations' $1.44 billion revised humanitarian appeal for the country is only 49 percent funded, UN officials said today.
The UN Office for the Coordination of Humanitarian Affairs, OCHA, says humanitarian work is picking up speed, but emergency shelter and sanitation are still urgently needed ahead of the rainy season. Steady rains could come as soon as the end of March, and hurricane season starts in June.
More than 212,000 people died as a result of the 7.0-magnitude quake and nearly 300,000 others were injured. The number of displaced people amounts to about 1.2 million, according to Haitian government figures.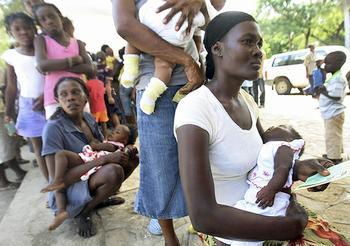 Displaced mothers at a camp in Port-au-Prince wait to vaccinate their children against diphtheria and tetanus. Vaccinations are provided by the World Health Organization and administered by Cuban doctors. February 16, 2010. (Photo by Sophia Paris courtesy UN)
OCHA reports that more than 4.3 million people have received food assistance, 1.2 million people are receiving daily water distributions, and more than 300,000 children and adults have been vaccinated against a range of infectious diseases, including measles, rubella, diphtheria, tetanus and whooping cough.
Emergency shelter materials have been distributed to more than 650,000 people, about 56 percent of those left homeless by the quake, which claimed the lives of more than a quarter of a million people.
UN Secretary-General Ban Ki-moon will make a one-day visit to Haiti on Sunday, his second to the Caribbean country since the earthquake, his spokesperson Martin Nesirky told reporters at UN headquarters in New York today.
While in the capital, Port-au-Prince, Ban will meet with President Rene Preval and Prime Minister Jean-Max Bellerive, as well as with the leadership of the UN Stabilization Mission in Haiti and UN agencies working on the ground.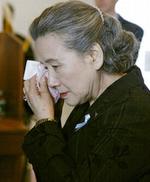 Yoo Soon-taek, wife of Secretary-General Ban Ki-moon, mourns at a memorial for the 101 UN staff members who died in Haiti's earthquake. March 9, 2010. (Photo courtesy UN)
The Secretary-General will visit a camp housing some of the people displaced by the earthquake.
Preparations are now starting on two sites identified by the Haitian government for the relocation of internally displaced persons from high-risk settlement sites. The first site for relocation will have its official inauguration tomorrow.
The earthquake disaster is compounded by the lack of trees in Haiti, which has one of the worst rates of deforestation in the world.
Only two percent of Haiti's original forests remain and Haitian deforestion makes it impossible to source timber for transitional shelters from within the island nation. Timber to create transitional shelter for up to 500,000 people for two years will have to be imported with support from the international community, UN officials say.
The UN Food and Agriculture Organization is asking people to help children in Haiti by donating a fruit tree that they can plant in school yards across the country.
FAO Director-General Jacques Diouf will launch the Fruit Trees for Haiti initiative at a symbolic tree-planting at a school in the town of Croix des Bouquets, outside of Port-au-Prince. While untouched by the earthquake, the school now is hosting tens of thousands of refugees from the capital.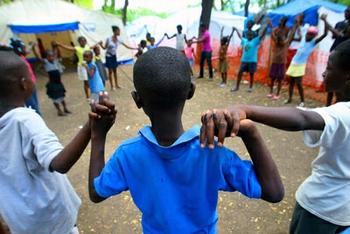 Schoolchildren in Haiti rely on tents. (Photo courtesy FAO)
Diouf is on a three day mission to Haiti to raise awareness about the need for international support to agriculture in Haiti.
He says a $5 donation to the initiative buys an avocado or mango tree for a Haitian school garden, and covers fertilizer and other inputs as well as educational material about the value of trees. For instance, buildings surrounded by trees are better protected from the flooding that can occur in the Haitian rainy season.
The FAO and the nonprofit aid agency CARE have issued a joint alert over a national food crisis in Haiti.
Rapid assessments undertaken by FAO and its partners have shown that "host families" caring for displaced people are spending their meager savings to feed new arrivals and consuming food stocks. In many cases, they are resorting to eating the seeds they have stored for the next season and eating or selling their livestock.
The main planting season, which accounts for over 60 percent of annual production, has now begun, but Jean-Dominique Bodard, CARE's emergency food security specialist, warns, "If the host families have no means to buy seeds or other ways to obtain quality seeds, this will be a disaster for them."
"And there is another aspect to this vicious circle: due to lack of cash, many host farmers will not be able to hire day laborers for the planting," he said. "As an effect, the laborers will not earn money to feed their families and the planting will not be carried out to the extent it could be if the workforce were available."
FAO has kick-started a small cash-for-work program cleaning out irrigation canals in Leogane and CARE will work to scale it up in the coming days from 600 to 4,000 people.
Haitian woman employed by the UNDP cash-for-work program. (Photo courtesy UNDP)
A larger cash-for-work program is being run by the UN Development Programme. As of March 5, more than 70,000 Haitians were employed under this program, and UNDP has set the goal of reaching more than 400,000 people by December 2010, indirectly benefiting two million Haitians. Each worker is paid 180 gourdes, or about US$4.5, for six hours of labor.
The work includes removing building rubble from the streets, crushing and sorting reusable material, disposal of debris, and restoring essential public facilities to lay the foundations for mid-term recovery and development. Haitians are also clearing sites for safe re-settlement, repairing surface water drainage and improving road access to and through affected areas.
On sanitation, 3,673 latrines of the required 13,000 latrines have been installed, but there are space problems due to millions of tons of debris in the streets, according to the UN Children's Fund, UNICEF, which is leading the sanitation effort.
Haiti's traditional system of separating trash by hand has raised concerns about contamination from healthcare waste given the burst in medical activity.
"It is estimated that the volume of healthcare waste had tripled," Andrew Morton, UNEP programme manager in Haiti, told a news conference in Geneva. UNEP has brought in a large number of containers for segregation of waste, and purchased additional fuel for trash incineration.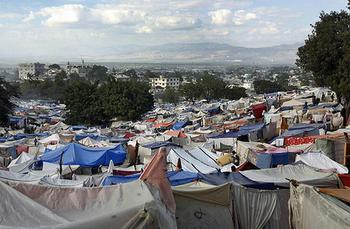 Some 50,000 displaced Haitians are camped out in tents on the grounds of a Port-au-Prince golf club. (Photo by Sophia Paris courtesy UN)
The World Health Organization has warned about the increased risk of water-borne diseases when the rainy season begins. Malaria cases have already started to increase, WHO spokesperson Paul Garwood told reporters at the Geneva briefing.
Aid officials are also worried about an expected increase in malnourished children. An estimated 500,000 children under five years and some 200,000 women who are pregnant or with infants have been affected by the earthquake, according to UNICEF.
The agency is working with WHO and other partners to send mobile psychosocial teams to speak with families in settlements throughout the region. The therapeutic activities include the traditional Haitian concept of "lakou," a place where families gather and chat.
In addition to counselling, aid officials hope that going to school will help normalize the lives of some children. Some 1,400 tents are being set up for some 200,000 children to start attending school in shifts starting on April 1.
"The international response has been very generous, including from a number of developing countries," said Jordan Ryan, director of UNDP's Bureau for Crisis Prevention and Recovery. "But Haiti needs continued donor support to build strong democratic institutions, put in place effective disaster preparedness measures and reduce extreme poverty. Now is the time for even more support for the people of Haiti."
Copyright Environment News Service (ENS) 2010. All rights reserved.