Polluting Trucks Out; Cleaner Trucks In at New York/New Jersey Port
NEW YORK, New York, March 12, 2010 (ENS) – The oldest, most polluting trucks serving the Port of New York and New Jersey are being phased out and replaced with newer models that generate less pollution and greenhouse gas emissions.
The $28 million program announced Wednesday is designed to encourage the owners of up to 636 pre-1994 drayage trucks that regularly serve the port to purchase newer vehicles. Truckers are eligible for financial help to make the switch if they regularly call on the Port Authority's marine terminals.
The program is partly funded by a $7 million grant from the U.S. Environmental Protection Agency, with the remainder coming from Port Authority funds.
The bistate agency also announced today a truck phase-out plan in which pre-1994 model trucks would no longer be able to call on Port Authority marine terminals beginning January 1, 2011.
Trucks not equipped with engines that meet or exceed 2007 federal emissions standards will no longer be able to call on the Port Authority marine terminals beginning on January 1, 2017.
These initiatives were the result of months of discussions undertaken by members of the Port Authority's Truck Working Group, a coalition including members of state and private sector environmental organizations, trucking groups, labor and the maritime industry.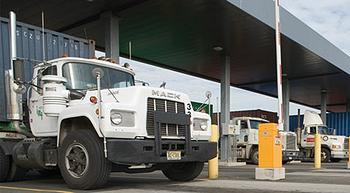 Trucks enter the Port of New York & New Jersey (Photo courtesy Port Authority)
"We have worked closely with all stakeholders to make sure that this new program will help clean up the pollution at our ports, and, in the process, ensure that we do not overburden our already struggling port and trucking industry," said Port Authority Executive Director Chris Ward. "I want to thank EPA Region 2 Administrator Judith Enck and the entire EPA for their generous support of this program, and I want to thank all of the members of our Truck Working Group for coming together around such a critical initiative."
Administrator Enck said, "Trucks and equipment used at ports are a significant source of pollution in the communities that surround them. Efforts like the Port Authority's new truck replacement program and the much broader sustainability agreement signed today will go a long way toward cutting this pollution and improving air quality and public health. Reducing dirty diesel emissions will protect the health of truck drivers and the workers at the port, along with the nearby community."
Fred Potter, director of the Teamsters Port Division, said, "Banning the oldest trucks is the first step towards reducing pollution. We applaud the Port Authority's public commitment to change federal law to achieve a truly comprehensive solution. We look forward to continuing to work together to clean the air and create good, green American jobs."
Rich Kassel, senior attorney for the Natural Resources Defense Council and co-chair of the Port Authority's Truck Working Group, said, "This is an important step that will allow truck owners to trade in their dirty diesels for newer, cleaner, and more reliable vehicles this year. And that means healthier air for drivers and for communities that neighbor the port."
Curtis Whalen, Executive Director of the Intermodal Motor Carriers Conference of the American Trucking Associations, said, "We would like to express our appreciation to the Port Authority leadership who cooperatively managed the development of this important East Coast Clean Truck initiative. While the Truck Working Group participants did not always agree on plan specifics, all were given the opportunity to fully express their views, and in the end a consensus was reached on how best to address port emissions."
Under the new program, truckers will be eligible for a 25 percent grant toward the total purchase price of a replacement truck, averaging between $20,000 and $60,000, which must be model year 2004 to 2008, equipped with an engine model year 2004 to 2007.
They can also access low interest financing of 5.25 percent over five years for up to 75 percent of the total purchase price of a replacement truck.
Beginning today, preapplications for grants and financial assistance to cover the cost of a new truck will be available at the Truck Replacement Center at 1180 McLester Street, Elizabeth, or online at www.replacemytruck.org or in Spanish at www.cambiamicamion.org. The center will provide truck drivers with information about the program and about the application process.
Tetra Tech will manage the overall program, including outreach, monitoring and reporting services. ACCION USA Inc., a nonprofit organization that provides assistance to credit-challenged small businesses, will administer the program funds.
Port Authority Chairman Anthony Coscia said, "The Clean Truck Program is the latest in our efforts to achieve cleaner air at and around our port. On top of our other investments – including $600 million to build on-dock rail and $60 million to acquire and preserve environmentally sensitive property – we believe this program will help build on our legacy as good environmental stewards."
In addition to the Clean Truck Program, the Port Authority has begun three other initiatives of its Clean Air Strategy – funding for operators of ocean vessels to switch from high-sulfur fuel and low-sulfur fuel; funding to retrofit two locomotives serving the port with ultra low-emitting technology; and funding to replace existing cargo handling equipment with new, low-emitting equipment.
Copyright Environment News Service (ENS) 2010. All rights reserved.