Feds, NRG Energy Plan Texas-Sized Carbon Capture and Storage Project
WASHINGTON, DC, March 12, 2010 (ENS) – The U.S. Energy Department and NRG Energy will each contribute up to $154 million to fund a new project to capture and store the greenhouse gas carbon dioxide at NRG's coal-fired power plant southwest of Houston, Texas.
U.S. Secretary of Energy Steven Chu announced today that the post-combustion capture and sequestration project will demonstrate advanced technology to reduce emissions of carbon dioxide. It will also assist with enhanced oil recovery efforts from a nearby oil field.
"Advancing our carbon capture and storage technology will create new jobs in America and reduce our carbon pollution output," said Secretary Chu. "It's another example of our country's innovation at work." Federal funding will include money from the American Recovery and Reinvestment Act.
NRG will construct a 60 megawatt carbon capture demonstration facility at the company's W.A. Parish Unit 7 in Thompsons, Texas.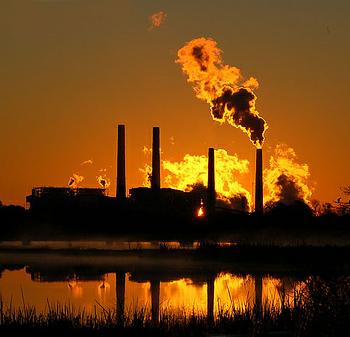 Sunrise illuminates NRG's W.A. Parish power plant at Thompsons, Texas. (Photo by Joe A.)
The six-year project will attempt to demonstrate that post-combustion carbon capture applied to existing plants can be done economically, especially when the plant has the opportunity to sequester carbon dioxide in nearby oilfields.
The NRG Energy project was selected under the third round of the Clean Coal Power Initiative, a cost-shared collaboration between the federal government and private industry to demonstrate low-emission carbon capture and storage technologies in advanced coal-based power generation.
The goal of CCPI is to accelerate the readiness of advanced coal technologies for commercial deployment, ensuring that the United States has clean, reliable, and affordable electricity and power.
"The Department of Energy recognizes the need to put a high priority on funding clean coal projects in order to substantially reduce the carbon intensity of existing fossil fueled electricity production," said David Crane, president and CEO of NRG Energy.
"Development and deployment of these carbon capture technologies at scale, not only in the United States but also worldwide as well, is essential if we are to meet successfully the challenge of global climate change," he said. "We're excited about working with the DOE on this important project."
Scheduled to begin operating in 2013, NRG's carbon capture demonstration project at the W.A. Parish power plant will be among the first of its kind.
It will use Fluor Corporation's advanced Econamine FG PlusSM technology to process flue gas from the plant equal in quantity to that of a 60 megawatt unit.
It will use Ramgen's advanced carbon dioxide compression system.
The project will be designed to capture 90 percent of incoming CO2, or some 400,000 metric tons of CO2 annually – a level that Crane says "can further advance the technology's viability on a larger scale."
Highly efficient co-generation to provide the necessary steam and electricity to power the system will be designed into the project.
Once captured, the CO2 will be compressed and used in enhanced oilfield recovery operations in one of the Texas Gulf Coast oilfields near the Parish plant.
Copyright Environment News Service (ENS) 2010. All rights reserved.