U.S. Government, World Bank Pool Assets to Ease Water Scarcity
WASHINGTON, DC, March 23, 2011 (ENS) – Secretary of State Hillary Clinton and World Bank President Robert Zoellick Tuesday signed an unprecedented memorandum of understanding that harnesses their strengths to improve water security in developing countries and reduce tension between nations over shared waters.
The agreement was signed at the World Bank headquarters in Washington in recognition of World Water Day.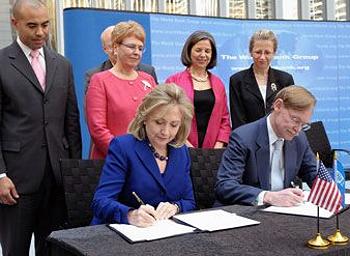 U.S. Secretary of State Hillary Clinton and World Bank Group President Robert Zoellick sign an agreement to work together to improve water security. (Photo courtesy U.S. State Dept.)
From the remote sensing technology of NASA to water conservation technologies being developed by the U.S. Agriculture Department, 18 federal government agencies will contribute their skills to provide reliable, sustainable access to water to meet human needs, support livelihoods and protect ecosystems, the officials said.
Secretary Clinton said, "The water crisis is a health crisis, it's a farming crisis, it's an economic crisis, it's a climate crisis, and increasingly, it is a political crisis. And therefore, we must have an equally comprehensive response."
The new agreement paves the way for closer collaboration between the World Bank and the United States government to support developing countries in managing global water crises such as the lack of safe drinking water and sanitation, diminishing aquifers, drought, flooding, and climate change impacts.
"We want to combine our expertise to drive high-impact change in people's lives," Clinton said. "We think this is an important step. We're excited about what it can produce for the people who need our help to get the water they desperately require."
Zoellick said, "Look at almost any poverty issue – you will find water. A lack of safe water and adequate sanitation is the world's single largest cause of illness, responsible for two million deaths a year. That's four people every minute – most of them children."
"The World Bank Group is helping countries balance competing water demands for agriculture, energy, people, and the environment. The enhanced partnership we are launching today with the United States will give a real boost to this work," said Zoellick, who is a former deputy secretary of state and U.S. trade representative, appointed to both positions by President George W. Bush.
The new agreement is expected to add value to ongoing efforts by:
providing infomation and expert advice to help manage water resources effectively
facilitating reliable, sustainable access to water to meet human needs, support livelihoods and protect ecosystems
supporting water, sanitation and hygiene to prevent disease
predicting drought and floods
rehabilitating watersheds and wetlands
improving water use and irrigation practices
The partnership grew out of Secretary Clinton's call last year to broaden the United States' international collaboration on water. The United States is the World Bank's single largest shareholder and one of the largest donors to regional development banks. From 2005 to 2009, the U.S. government invested $3.4 billion dollars in water-related foreign aid.
In Indonesia, the U.S. Agency for International Development has begun a five-year, $34 million water, sanitation, and hygiene project to reach more than two million of Indonesia's urban poor, Clinton said at the signing event.
USAID is also supporting a project in India to provide slum dwellers in eight states with municipal water and sanitation systems, she said.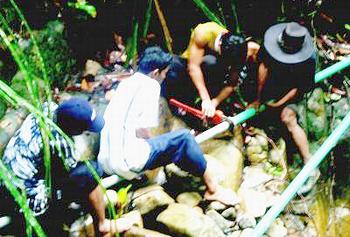 Local people in Lamcin, Indonesia connect a pipeline that brings fresh spring water to their village. (Photo courtesy USAID)
The U.S. government foreign aid agency Millennium Challenge Corporation signed a $275 million compact in October with Jordan, one of the five most water-deprived countries in the world, to improve water supply and waste water treatment.
"In terms of our diplomatic outreach, we are elevating water as a priority in our relationships not only with nations, but also regional and global institutions," Clinton said.
Zoellick and Clinton were joined by Steve Hilton, chairman of the Conrad N. Hilton Foundation, and Jeff Seabright, Environment and Water Resources, Coca-Cola, who made pledges to support water and sanitation programs.
Hilton announced a pledge of $50 million over five years to address the water needs of more than one million people in sub-Saharan Africa and water stressed areas of India and Mexico. The $50 million will fund a three-part strategy to deliver access to sustainable safe water; increase advocacy and capacity; and expand knowledge on global water best practices for communities, governments, NGOs and donors.
"It is estimated that 3.4 million people die each year from contaminated water and poor sanitation and hygiene practices," said Hilton. "To put that number into context, it's like the entire population of Connecticut or Oklahoma dying every year.
Hilton said, "2.1 million children die every year from contaminated drinking water, poor sanitation and poor hygiene practices. That's like the population of New Mexico or Utah, dying every year. It's unthinkable, but we can't afford to ignore the problem."
On behalf of Coca-Cola, Seabright announced that that $6 million will be dedicated to water and sanitation partnerships aimed at improving the lives of an estimated 250,000 women and girls on the African continent.
Participating in the event via satellite from Cape Town, South Africa where World Water Day events were in full swing, were His Royal Highness Willem-Alexander, Prince of Orange, a long-time water security supporter; South Africa's Environment and Water Minister Edna Molewa, and Dr. Joan Clos, executive director of UN-Habitat.
Copyright Environment News Service (ENS) 2011. All rights reserved.