Find Electric Vehicle Charging Stations on Google Maps
MOUNTAIN VIEW, California, March 23, 2011 (ENS) – Charging up electric vehicles on the road is easier and more convenient now that Google has started adding charging station locations to the Google Maps platform.
In the United States, there are over 600 charging stations. To locate the ones near you or in a location you are heading for in your electric car, just search on Google Maps for "ev charging station" plus the appropriate area, for example, "ev charging station near Mountain View, CA."
A list comes up in the viewing pane to the left of the map complete with the name of the charging station's location, the address and phone number, and sometimes even the brand of charging station at that location.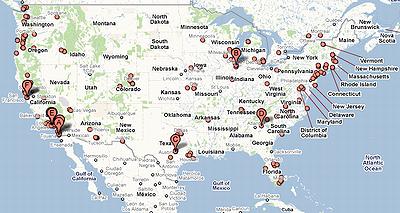 Red marks show locations of electric vehicle charging stations on a Google map of the United States. (Map courtesy Google)
In Europe, the Google Maps charging station locator works in London, Paris, Madrid, Rome, Berlin, and Stockholm and many other cities too, no doubt.
"We'd like to continue adding more charging stations to Google Maps, so we're excited that our friends over at the the U.S. Department of Energy's National Renewable Energy Laboratory are working to make more data available," writes Cynthia Yeung of the Google Strategic Partner Development Team on the company's Lat Long Blog.
The Alternative Fuels and Advanced Vehicles Data Center at the National Renewable Energy Lab contains the locations of nearly 7,000 alternative fueling stations, including over 600 locations of electric vehicle supply equipment, EVSE.
Click here for the Alternative Fueling Station Locator, which uses Google Maps. The National Renewable Energy Lab has launched the GeoEVSE Forum to help develop a detailed, accurate database of electric vehicle charging stations, writes Yeung. "We'll be adding more EV charging locations to Google Maps as their database, and others, are updated."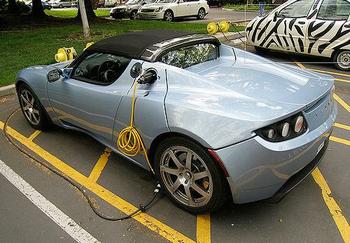 Tesla electric car in Google headquarters parking lot (Photo by Tristan Nitot)
The Alternative Fueling Station Locator also provides station locations and counts by state and fuel type for other alternative fuels: CNG-Compressed Natural Gas, E85-85% Ethanol, LPG-Propane, ELEC-Electric, BD-Biodiesel, HY-Hydrogen and LNG-Liquefied Natural Gas. The new EV charging station locator will be accessible by smartphone.
EV drivers with iPhones can locate charging stations and check their availability with a new app called PlugShare. This community-powered electric vehicle charging network provides an up-to-date listing of all public charging stations compatible with the newest generation of electric vehicles.
Another new project, Electric Car Stations which also uses Google Maps, is like a wiki, allowing community members to add and edit charging station locations and add photos, hours, phone numbers, and user comments to listings.
Google has been supporting environmentally-friendly cars through initiatives such as RechargeIT, an effort within Google.org to reduce greenhouse gas emissions, cut oil use, and stabilize the electrical grid by accelerating the adoption of plug-in electric vehicles. At Google headquarters in Mountain View, California, the company this week began trials of a wireless charging station for its own fleet of electric vehicles.
Developed by Evatran, LLC, Plugless Power is based on inductive charging pads placed under the cars, which eliminates the nuisances of cord and plug.
"We are thrilled to have our first public release of the Plugless Power technology installed at Google's headquarters," said Tom Hough, co-founder and CEO of Plugless Power. "The interest shown by Google and the cooperation we've received to retrofit their EVs provides evidence that a simple, convenient charging process is needed for the widespread adoption of electric vehicles."
Copyright Environment News Service (ENS) 2011. All rights reserved.