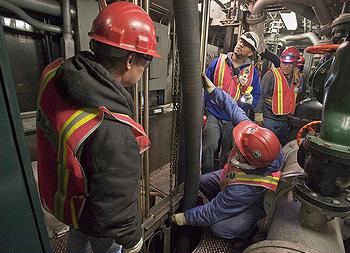 WASHINGTON, DC, August 11, 2015 (ENS) – The U.S. Department of Transportation is introducing new tools and resources to help states, transit agencies and local communities better prepare, plan, develop and manage their transportation assets for greater resilience in the face of climate change.
On Tuesday Transportation Secretary Anthony Foxx participated in a workshop to showcase these tools to more than 450 participants, who attended in person and online.
The threat from climate change is very real, Foxx wrote on the U.S. DOT blog. "Last year, we experienced our warmest year on record. And the data show this trend will continue – so that by 2050 our temperature will have risen another 2.5 degrees Fahrenheit. In some areas of the country, sea level is projected to rise a full foot by 2045."
Both droughts and floods are expected to become more frequent, Foxx reminded the public, citing the disastrous effects of Superstorm Sandy all along the East Coast in the winter of 2012.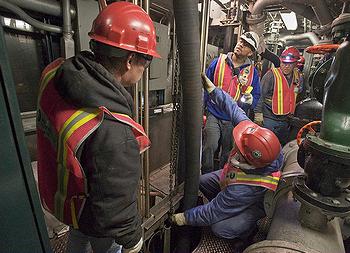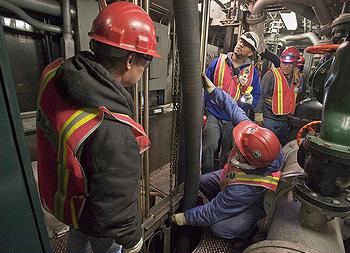 New York's Metropolitan Transportation Authority, MTA, has established a new Sandy Recovery and Resiliency Division dedicated to the rebuilding, which will require years of construction and billions of dollars in federal aid. Plans call for protecting stations, fan plants, under-river tubes, tunnels, ground-level tracks, signals, train shops and yards, traction power substations, circuit breaker houses, bus depots, train towers and public areas.
The goal is to protect all points where the subway system could be flooded during a storm, consistent with Governor Andrew Cuomo's directive to the MTA to flood-proof critical subway elements.
Foxx blogged that even with the steps the Obama Administration has taken to reduce U.S. greenhouse gas emissions, for instance, raising fuel efficiency standards for cars and trucks, and supporting increased investment in transit and intercity passenger rail, "We still need to protect our transportation systems from what lies ahead."
"If sea level continues to rise as projected, miles of coastal highways, railroads, and airports may soon become vulnerable to inundation and storm waves," the secretary warned.
"Meanwhile, higher temperatures could cause asphalt to wear out more quickly and rails to buckle more often," he wrote.
Foxx pointed out that the Obama Administration has been investing in transportation resiliency projects across the country and has been "developing tools and approaches that can be implemented at scale."
"We've awarded $3.59 billion in grants to 40 transit resiliency projects, and the Federal Transit Administration and the Federal Highway Administration have completed demonstration projects to identify vulnerabilities in our roads and transit systems and to analyze adaptation options," wrote Foxx.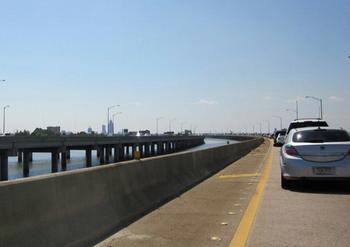 This year the DOT released its study of the Mobile, Alabama region, called the "Gulf Coast Phase 2" report. A city of 413,000 residents, Mobile is located on the coast of the Gulf of Mexico, with an elevation of just 10 feet above sea level on Water Street in the city's downtown area.
This study helped the DOT develop risk management tools that can help states, transit agencies, and communities across the country incorporate resiliency into the strategies they have for planning, designing, and managing assets.
Foxx blogged, "The great thing about these tools is that they are available to anyone! And they can help stakeholders do more with data, to see more clearly where vulnerabilities are and prioritize their work plans."
Two of the Federal Highway Administration's Risk Management Tools shared during the workshop are the Transportation Climate Change Sensitivity Matrix and the Vulnerability Assessment Scoring Tool.
The Transportation Climate Change Sensitivity Matrix, developed by the DOT, documents the sensitivity of transportation modes and sub-modes to 11 climate impacts: storm surge, wind, sea level rise/extreme high tides/coastal flooding, inland flooding, drought, increased temperatures and extreme heat, wildfires, dust storms, permafrost thaw, changes in freezing and thawing, and winter storms.
Users can select a specific mode, such as bridges, and explore its sensitivity to a range of impacts, or users can select a specific impact, such as wind, and explore the sensitivity of different modes to that impact.
The Vulnerability Assessment Scoring Tool, also developed by the DOT, provides a framework for conducting a quantitative, indicator-based vulnerability screen for vulnerability.
The tool is intended for state DOTs that are interested in assessing how components of their transportation systems may be vulnerable to climate stressors, including changes in temperature, heavy precipitation, sea level rise, and severe storms.
Anyone can use these and the other DOT climate resilience tools. Find them here.
Foxx warned that transportation infrastructure is way underfunded and urged Congress to pass a long-term transportation funding bill instead of the short-term bill lawmakers passed just before taking their summer recess.
"Continued uncertainty and underinvestment at the federal level have paralyzed our transportation system. We know of at least seven states pulling back valuable projects because of federal funding uncertainty," he wrote Tuesday.
Yet the U.S. population is growing and so are the country's transport needs, wrote Foxx. "Our recent Beyond Traffic report anticipates that we're going to have 70 million more people in our country over the next 30 years. So we'll need to find the resolve to maintain our current system – and strengthen it – while adding the capacity we'll need."
Copyright Environment News Service (ENS) 2015. All rights reserved.