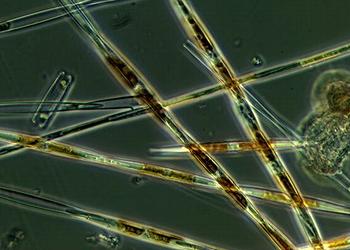 SEATTLE, Washington, August 12, 2015 (ENS) – A record-breaking algal bloom continues to spread across the North Pacific from as far north as the Aleutian Islands to as far south as southern California.
At the same time, this year's Gulf of Mexico dead zone – an area of low to no oxygen that can kill fish and marine life – is above average in size and larger than forecast by government scientists in June.
Coinciding with above average sea surface temperatures across the North Pacific and West Coast of North America, that bloom is laced with some toxic species that have had far-reaching consequences for sea life and regional and local economies.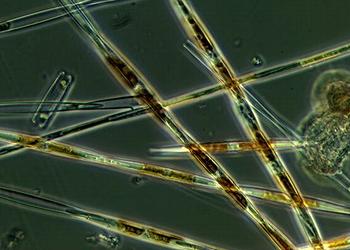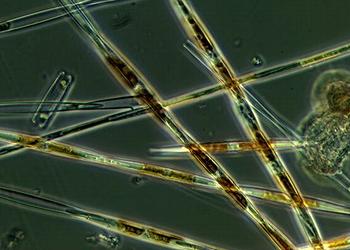 NOAA Fisheries' Northwest Fisheries Science Center in Seattle has mobilized extra scientists to join a fisheries survey along the West Coast to chart this extensive harmful algal bloom that has triggered numerous shellfish fisheries closures in Washington, Oregon and California.
Scientists have identified the bloom as being in the phytoplankton genus Pseudo-nitzschia. This genus includes several species of diatoms known to produce the neurotoxin known as domoic acid, a toxin responsible for the human illness called amnesic shellfish poisoning.
The bloom stretches from the Central California Coast north to Alaska, and involves some of the highest concentrations of domoic acid ever observed in Monterey Bay and off the Central Oregon Coast.
In early June elevated toxin levels led shellfish managers to close the southern Washington Coast to Dungeness crab fishing, the largest-ever closure of Washington's multi-million-dollar crab fishery.
"We're taking advantage of our active surveys to focus research on a serious concern for coastal communities and the seafood industry," said Eileen Sobeck, assistant administrator for NOAA fisheries. "The better we understand what's happening out on the water, the better we can address the impacts."
While localized blooms of marine algae that naturally produce domoic acid are common in spring, the bloom that began earlier this year has grown into the largest and most severe in more than a decade.
Sardines, anchovy and other fish that feed on the algae and other microorganisms known as plankton can accumulate the toxin, in turn poisoning birds and sea lions that feed on them.
"This is unprecedented in terms of the extent and magnitude of this harmful algal bloom and the warm water conditions we're seeing offshore," said Vera Trainer, a team lead for Marine Biotoxins at the Northwest Fisheries Science Center in Seattle. "Whether they're related we can't really say yet, but this survey gives us the opportunity to put these pieces together."
NOAA has awarded grant and event response funding to Washington State in particular to monitor and study the current algae bloom. And NOAA scientists from the Pacific Marine Environmental Laboratory are collaborating on a research cruise in the Gulf of Alaska cruise to determine the extent of harmful blooms in Alaska waters.
California officials have warned against consuming recreationally harvested mussels and clams, commercially or recreationally caught anchovy and sardines, or the internal organs of commercially or recreationally caught crab taken from Monterey and Santa Cruz counties.
Officials in Oregon have halted all shellfish harvesting from the Columbia River south to Tillamook Head and closed the entire state coastline to razor clamming because of elevated levels of domoic acid.
All coastal Washington beaches have also been closed to razor clamming, at an estimated loss of more than $9 million in revenue for coastal communities in the last month alone.
Further south, scientists have found this year's Gulf of Mexico dead zone – an area of low to no oxygen that can kill fish and marine life – is, at 6,474 square miles, above average in size and larger than forecast by NOAA in June.
The larger than expected forecast was caused by heavy June rains throughout the Mississippi River watershed.
The measured size this year – an area about the size of Connecticut and Rhode Island combined – is larger than the 5,052 square miles measured last year, indicating that nutrients from the Mississippi River watershed are continuing to affect the nation's coastal resources and habitats in the Gulf.
The size is larger than the target of 1,900 square miles set by the Gulf of Mexico / Mississippi River Watershed Nutrient Task Force for the 2015 dead zone.
Dead zones, also called hypoxia areas, are caused by nutrient runoff from agricultural and other human activities in the watershed and are highly affected by river discharge and nitrogen loads.
These nutrients stimulate an overgrowth of algae that sinks, decomposes, and consumes the oxygen needed to support life in the Gulf.
"An average area was expected because the Mississippi River discharge levels and associated nutrient data from May indicated an average delivery of nutrients during this critical month which stimulates the fuel for the mid-summer dead zone," said Nancy Rabalais, Ph.D. executive director of the Louisiana Universities Marine Consortium, who led a survey cruise earlier this month.
Computer models forecast a range of 4,633 to 5,985 square miles based on May nitrogen loading data provided by the U.S. Geological Survey.
Rabalais said, "Since the models are based largely on the May nitrogen loads from the Mississippi River, the heavy rains that came in June with additional nitrogen and even higher river discharges in July are the possible explanations for the larger size."
The Gulf of Mexico dead zone is the second largest human-caused hypoxic area in the world.
Dead zones are a major water quality issue with an estimated total of more than 550 of them occurring annually worldwide.
Copyright Environment News Service (ENS) 2015. All rights reserved.